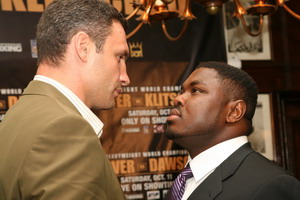 Photos by: Tom Casino/SHOWTIME – On a night that will electrify the boxing world, active World Boxing Council (WBC) Heavyweight Champion Sam Peter (30-1, 23 KOs) will defend his title against WBC Champion Emeritus Vitali Klitschko (35-2, 34 KOs), making his dramatic return to the ring after a four-year absence, on SHOWTIME CHAMPIONSHIP BOXING, Saturday, October 11. Immediately following the heavyweight world title fight, which begins at 9 p.m. ET/PT on tape delay, two light heavyweight champions will meet, live on SHOWTIME, when Antonio "Magic Man" Tarver and "Bad" Chad Dawson square off in a long-awaited grudge match.
The Peter-Klitschko showdown will be co-promoted by Duva Boxing, K2 Promotions and Don King Productions from the O2 Arena in Berlin, Germany. Tarver vs. Dawson will be promoted by Gary Shaw Productions in association with AT Entertainment and take place at the Palms Casino Resort in Las Vegas, Nev..
SAMUEL PETER
"I am very grateful to be here today. I want to clear up one thing. I am the true heavyweight champion.
Vitali, you never beat a champion. You say you are the champion, but you are not a champion. You can't be the champion until you beat me, and you can't.
"I have fought 31 fights and never ducked anyone. I fought with my eardrum broken and lost 25 pounds that night, but I still fought.
"I am making one promise today. I will knock Vitali out. Trust me. I will knock out Vitali, and then I will beat his brother (IBF/WBO Heavyweight Champion Wladimir Klitschko). There is no doubt about that."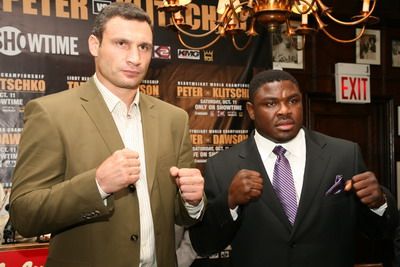 VITALI KLITSCHKO
"Thank you to everyone who put energy into making this fight happen."
"I am pleased to say that I am back. I am happy to be back in the ring, happy to fight for my title. I gave away my title freely because of my knee injury.
"I feel sorry for Peter that I must fight him. Skeptical people say that I won't win because I have been out of the ring for three years, but I did not lose the title. I am honored to fight for (WBC President) José Sulaimán, who gave me this chance.
"I have big respect for Mr. Lou Duva, but his fighters always say they will knock me out and it never happens. Mr. Duva is preparing Peter to knock me out, but this will never happen.
"I don't underestimate Peter. He is a good puncher. I will give my best to be the winner, to take my title back, and to make history where two brothers will be champions at the same time. It's a huge motivation for me.
"I promise the fight will not be easy and it won't go to the scorecards. It will probably end between rounds four-six. I have a lot of presents ready for Peter for October 11."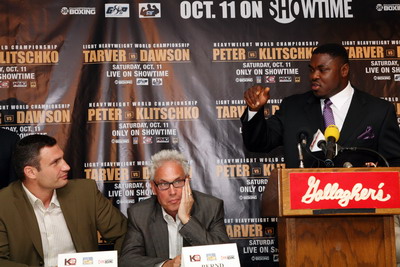 DINO DUVA (Peter's promoter)
"This fight was a fight that a lot of people never thought would happen. When the WBC ordered Sam Peter to fight Vitali Klitschko, I was the most skeptical about Klitschko's ability. But, a few weeks ago, I ran into Vitali at the Olympics in Beijing. I saw him walk toward me with a fire in his eye and he asked me if the fight was happening. When I told him yes it was, he promised me that he would show up as ready as ever. After seeing him and the fire in him, my doubts were put to rest.
"We are so happy to work with SHOWTIME. SHOWTIME is pound for pound the best network in boxing. We are proud to have this fight on SHOWTIME."
LOU DUVA (Legendary trainer)
Peter reminds me of Rocky Marciano, and he will definitely knock out Vitali. You're going to see a fight here, and I'll tell you what, on October 11, you will see Peter knockout Klitschko."
BERND BOENTE (Klitschko's Manager)
"This will be a great fight between two great punchers. I doubt however that this fight goes 12 rounds."