By Sebastian Swiecznik: During the European Soccer Cup and the Olympics there wasn't many activity in the German boxing scene, but in the next four months we get more promising fights overhere then normally in two long years..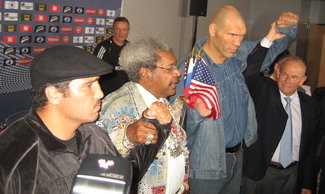 30.August 2008: Russian giant Nicolay Valuev (48-1-0, 34 KO) will make the start in Berlin with his rematch against former heavyweight champion John Ruiz (43-7-1, 29 KO). Although Ruiz is known for his "huggy bear" style, he showed some nice boxing in the first fight and, in my opinion, should have gotten the victory.
On the undercard british heavyweight Scott Gammer (19-2-1, 9 KO) will face the 23 year old undefeated Italian heavyweight prospect Francesco Pianeta (16-0-0, 10 KO) for the European title.
20.September 2008: Former IBF cruiserweight title challenger Marco Huck (21-1-0, 16 KO) will face the hard-hitting Frenchman Jean Marc Monrose (24-1-0, 15 KO) in his hometown Bielefeld.
27.September 2008: On maybe one of the best boxing cards since a few years in Germany, the Hamburg crowd will get three terrific fights in one night. First of all former WBC cruiserweight champion Juan Carlos Gomez (43-1-0, 35 KO) and the hard-hitting Ukrainian Vladimir Virchis (24-1-0, 20 KO) will clash for the right to face the winner of the Samuel Peter vs. Vitali Klitschko bout later this year.
Also on the card: Blue-collar champion Firat Arslan (29-3-1, 18 KO) will defend his hard earned WBA cruiserweight crown against the tough Panamanian Guillermo Jones (35-3-2, 27 KO), and last but not least we'll get a mouthwatering clash of two unbeaten prospects for the WBO super middleweight title when Denis Inkin (33-0-0, 24 KO) and Karoly Balzsay (19-0-0, 14 KO) face off.
4.October 2008: Germany's finest Arthur Abraham (27-0-0, 22 KO) will defend his IBF middlweight crown in front of the frenetic Bamberg crowd against the tough veteran fighter Raul Marquez (41-3-1, 29 KO), who earned his shot with a courageous points win against former undefeated Giovanni Lorenzo. The fight will also be televised in America on PPV for around 25 Dollars…
11.October 2008: Berlin is the place to be, when former heavyweight champion Vitali Klitschko will make his comeback after a four year layoff against WBC heavyweight champion Samuel Peter. Showtime will televise the fight in America.
18.October 2008: Top 3 super welterweight Sergiy Dzinziruk (35-0-0, 22 KO) and the always entertaining Joel Julio (34-1-0, 31 KO) will clash for Dzinziruk's WBO title. After his loss on points against Carlos Quintana, Julio won seven fights in a row. Dzinziruk showed some weakness in his last outing against the always dangerous Lukas Konecny, who will most likely get a shot at the winner.
25.October 2008: The Dane Mikkel Kessler (40-1-0, 30 KO) will defend his WBA super middlerweight title against German veteran Danilo Häussler (29-3-1, 7 KO) in Düsseldorf. Although you've gotta give Häussler credit for his heart he showed throughout his whole career, it's hard to find some arguments that this fight make any sense. Häussler's strength is to absorbe punishment, and that is what he'll be in for all night long.
On the undercard Arthur Abraham's younger brother Alexander (21-0-1, 15 KO) will fight undefeated Nikola Stevanovic (15-0-0, 5 KO).
Date TBA: The Argentinian Hugo Hernan Garay (31-3-0, 17 KO) will most likely defend his WBA light heavyweight title against Jürgen Brähmer (31-1-0, 25 KO) in Germany later this year.
Date TBA: In the late fall it's bad blood time when WBA middleweight champion Felix Sturm (30-2-1, 13 KO) and mandatory challenger Sebastian Sylvester (29-2-0, 14 KO) will face off in an all German middlerweight clash. Sylvester earned his shot with a brutal last round knock out win against former Sturm conqueror Javier Castillejo.
8.November 2008: After his hard way to the top, WBA light welterweight titleholder Andreas Kotelnik (29-2-0, 13 KO) will defend his title on the Calzaghe/Jones undercard on HBO-PPV against Dmitriy Salita (28-0-1, 16 KO).
Maybe Abraham's spectacular victory over Edison Miranda in the States was something like a wake-up call for the German Promoters. Hopefully they, especially Universum (Sauerland allready showed some cojones in the last 15 months), will continue with this nice evolution of competitive match-ups throughout the next years.