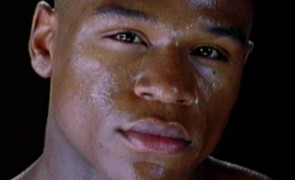 They are two of boxing's best, two of the most exciting fighters in the sport today, and both are undefeated. They stand atop their weight divisions and fight fans are in for a thrill as pound-for-pound king of the ring and welterweight champion " Pretty Boy" Floyd Mayweather will meet British icon and junior welterweight champion Ricky "The Hitman" Hatton on Saturday, December 8 for the 147-pound championship. With a combined record of 81-0, this is the biggest match-up of two undefeated welterweights since the record setting mega-fight between Oscar de la Hoya and Felix Trinidad in 1999.
The fight, officially announced today and aptly named " UNDEFEATED", will be promoted by Golden Boy Promotions and Mayweather Promotions and produced by and distributed live on HBO Pay-Per-View. With several sites interested in hosting this special event, a location will be announced shortly..
"I am extremely excited to announce Golden Boy's involvement in another boxing extravaganza such as Mayweather vs. Hatton," said Oscar de la Hoya, President of Golden Boy Promotions. "We are proud to continue to provide fans with the best match-ups and fights in boxing today. This will be an exciting way to end this record-breaking year for the sport."
"We are very happy that the first fight for Mayweather Promotions will be an event of this magnitude," said Leonard Ellerbe of Mayweather Promotions. "To be in partnership with Golden Boy Promotions working on another big event is a great way to show we are serious in bringing great fights to the fans."
"Mayweather-Hatton is a world-class showdown between two undefeated superstars in their prime," said Mark Taffet of HBO Pay-Per-View. "It's the biggest welterweight fight since De La Hoya-Trinidad, and figures to be a memorable night for boxing fans."
Mayweather, 30, is 38-0 (24 KOs) and the reigning world welterweight champion. He is a six-time world champion in five weight divisions including super featherweight, lightweight, super lightweight, welterweight and super welterweight. Coming off of his decision victory against Oscar de la Hoya-the largest grossing event in the history of boxing-Mayweather is one of the most gifted fighters to ever step between the ropes.
"I am the best fighter in boxing today and I'm prepared for any challenge my team puts in front of me," said Mayweather. "And with Ricky Hatton it's already personal. He has talked and disrespected me so much in the past months that I can't wait to get him in the ring and show him he is not even on my level. He's definitely getting knocked out."
Hatton, 28, is 43-0 (31 KOs), and hails from Manchester, England. He is also a multi-division champion and universally recognized world junior welterweight champion. He has fought once before at 147 pounds, winning the welterweight belt from Luis Collazo in May of 2006 before moving back down to 140 pounds and capturing his third world title. His most recent contest was a four-round destruction of Jose Luis Castillo in Las Vegas in June.
"It is a dream of every boxer to fight the best boxers in the world," said Hatton. " "I respect Floyd Mayweather immensely for his boxing ability and it will be an honor to share the same ring with him. He is rightly regarded as the best pound for pound boxer in the world. However, I am confident and determined that I will be the first boxer to beat him in the ring and I am looking forward to this fight."
A global press tour is being planned to promote this event. In addition, on-sale ticket information for this championship title fight will be announced in the near future.