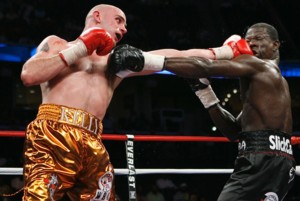 01.08.07 – By George Ulrich: Yesterday it was announced at a press conference in New York that Kelly Pavlik vs. Jermain Taylor is indeed a reality for September 29th. With Pavlik's KO of Edison Miranda, he could no longer be ignored by Taylor, thus creating a dream fight for many boxing fans. Pavlik is the number one contender for both the WBA and WBC championship belts which belong to Taylor. Pavlik also holds the NABF title himself. Here's a few quick thoughts on the match up that many boxing fans demanded.
In his last two fights, Taylor has looked very uninspiring against Kassim Ouma and Cory Spinks, especially against Spinks, whom came close to beating Taylor.
Emanuel Steward, Taylor's trainer for his last three fights, pleaded with him in the corner of his fight with Spinks, saying "he can't hurt you." He just wanted Taylor to go out there, show some aggression and throw more punches and try to exchange with Spinks. Why was Taylor not listening? I know that Spinks is a southpaw and has a punch and move style, but Taylor didn't make any real aggressive moves to pin him on the ropes or really press the action.
On September 29th, however, he'll be facing a fighter in Pavlik that might not be slick, meaning Taylor won't have to look for him. That said, Taylor is going to have to try not to get into heated punching exchanges with Pavlik, who with his monstrous power and heavy output, is a constant threat to take out Taylor at any moment. What's the old boxing adage? Hit and don't get hit? That might prove to be very difficult against "The Ghost," as he has a way of forcing his opponents to fight, whether they want to or not. Taylor will have to try, somehow, to stay on the outside and out-box the powerful Pavlik, and hope that he doesn't get pinned to a corner the way Edison Miranda did.
I have to say that Taylor still has great hand speed and good combinations, when he lets those hands go, that is. His jab – when he's using it – is very effective in keeping opponents at a distance, but I'm not so sure how effective that jab will be against Pavlik, as he generally gets quickly past it and starts throwing bombs, which cause his opponents to either cover up or trade with him to prevent getting snowed under. When Pavlik is throwing that kind of artillery, a jab isn't even a factor, since it doesn't slow him down and is a poor match for the kinds of vicious shots that Pavlik is throwing. Taylor has also been on the world stage quite a few more times than Pavlik, and that experience will count come September 29th.
As for "The Ghost," he's done nothing but KO just about everyone that's been put in front of him. (30-0, 27 KOs) How many of us really thought that he would dispatch Miranda so effectively? There's something to be said for his ring generalship and ability to make a fight plan. I suspect he'll have another great plan to deal with the hand speed and experience of Taylor. I believe Pavlik has the ability to box with Taylor, but I don't think that's going to be in the cards for this fight. Pavlik should be looking for a way to neutralize Taylor's jab and force him to exchange on the outside. At 6'2, he's wielding a pair of hammers. He can KO Taylor with either hand, and he seems to be able to maintain a work rate throughout his fights that his opponents haven't been able to deal with. When he does come in, it's behind a combination or long jab. He's very smart and his style is a joy for any boxing fan to watch.
In the end, I think it will be an exciting fight. Taylor is looking to silence his critics, so perhaps that will propel him to exchange more and try to display all the talent he possess. Make no mistake about it, Taylor is every bit as talented as the two championships he holds reflect. Pavlik is hungry and wants the world to know it. This has fight of the year potential and I for one will be glued to the television on September 29th.