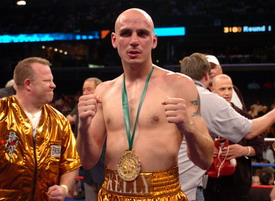 The following are quotes and the press release from Tuesday's Taylor vs. Pavlik press conference at Tavern on the Green.
Lou DiBella, President, DiBella Entertainment "This is a great fight for Jermain Taylor. This is a great fight for boxing. We are very excited that we could bring this fight to Atlantic City. I have always wanted to promote a fight in Atlantic City and now I have the opportunity to do that. I live in the area and this is my backyard. With a strong urging from Ken Condon, we priced the tickets so that they are affordable for all boxing fans. To get a fight of this magnitude and have the top ticket price at only $400 scaled down to $50, all boxing fans will have the opportunity to watch this great middleweight championship bout."
Ken Condon, Sr. Vice President, Bally's Atlantic City
"My part time job is to run a casino in Atlantic City. My full time job is to bring big events to Atlantic City, and we are very excited to bring Taylor vs. Pavlik to Atlantic City. The ticket sales for this fight are unbelievable. Tickets went on sale for this fight quietly, meaning we had no advertising and no billboards up, and we sold over 1500 tickets. The entire floor is sold out."
Ross Greenburg, President, HBO Sports
"We really wanted to have this fight live on HBO's World Championship Boxing. We will have a countdown special, just like we would have for a major pay-per-view show. It will debut on September 22nd in prime time and run on consecutive nights through the week. This fight reminds us that this sport is very much alive."
Bob Arum, CEO, Top Rank
"This fight reminds us of the 80's, when we had all of those great middleweight championship fights. This is a great competitive fight between the best two middleweights in the world. This fight is what boxing deserves and this is what boxing will get on September 29."
Ozell Nelson, "Coach", Team Taylor
"I watched Kelly Pavlik grow up. I saw him when he was an amateur. He and Jermain fought then, and I know he is going to bring it."
Emanuel Steward, Trainer, Jermain Taylor
"These are the two middleweights that everyone talks about. This is the fight that people are talking about. Jermain Taylor has the faster hand speed and better coordination. And Kelly is going to be right there the whole time – right in front of him. I predict a knockout. This fight will not go six rounds."
Kelly Pavlik
Emanuel, I can't get mad at your prediction, you're supposed to say that. I will take no chances, there is no playing around in this fight. I always put my best into it and I can't wait until September 29th, and there will be many more after that.
I'm 25, I've go the experience also. If he wants to come to fight, that is better for me. This is a great fight for boxing. Styles make fights. I predict a win. I predict pain.
I will exploit all of his bad habits. I can't tell you what they are right now, because I don't want to give him any ideas. He has picked up some bad habits along the way, but he has not regressed. Styles make fights. I put my time in and I am hungry and deserved my shot.
I don't know what my strengths are. I like to fight. People say I have a good chin and I can take a punch.
It is going to be a tactical brawl.
Jermain Taylor
I finally got a man that is not a lefthander, and I am excited about that. I'm a fighter, and I fight until the end of the fight. I give him respect – he is the No. 1 contender. He has proven to be a great fighter and I respect him for that. I expect him to come forward and try to overpower me. He will not run, he is not a southpaw, he is coming to fight. I know he hits hard and I am going to be aggressive.
I will not be defeated. I am the Middleweight Champion of the World.
I don't remember fighting him – "Coach" told me – I came in and saw him and said 'I never saw that guy in my life.
All of the talk motivates me. It motivates me when I get up early in the morning to run. That's all I think about. I am going to train for 12-rounds and I am going to win this fight. When all is said and done, I am going to win. Then after I whip this boy, we'll see what happens.
He's going to be looking for a fight – that's what it's all about.
UNDISPUTED AND UNDEFEATED WORLD MIDDLEWEIGHT CHAMPION JERMAIN "BAD INTENTIONS" TAYLOR TO DEFEND TITLE AGAINST UNBEATEN NO. 1 CONTENDER KELLY PAVLIK ON SAT., SEPT. 29, AT BOARDWALK HALL IN ATLANTIC CITY
***DiBella Entertainment to present boxing extravaganza in association with Top Rank, Inc.; Title Bout to Be Televised on HBO Sports World Championship Boxing***
New York, July 31— Undisputed and Undefeated World Middleweight Champion Jermain "Bad Intentions" Taylor will make the fifth defense of his two-year title reign when he faces the stiff test of number 1 contender (WBC, WBO) Kelly "The Ghost" Pavlik on Saturday night, September 29, at Boardwalk Hall in Atlantic City, New Jersey, it was announced today by Lou DiBella, president of DiBella Entertainment.
"Taylor/Pavlik is a classic middleweight showdown, a true throwback fight," said DiBella. "The tickets are reasonably priced and are already in high demand with a significant casino presale. Any fight fan wanting to see this historic battle should act fast and purchase their tickets as soon as possible."
"This is going to be a terrific fight, something that boxing really needs. The eyes of the sporting world will be watching these two great fighters in Atlantic City on Sept. 29," said Bob Arum, CEO of Top Rank.
Taylor, the favorite son of Arkansas, has successfully defended his middleweight crown against legendary Bernard Hopkins, Winky Wright, Kassim Ouma, and Cory Spinks since first taking the title from Hopkins in 2005.
HBO Sports World Championship Boxing will televise the world championship bout live at 10:15 p.m. ET/ 7:15 p.m. PT.
Taylor (27-0-1, 17 KO's) has yet to taste defeat since turning professional in 2000. Pavlik, likewise undefeated, gets his first chance at a championship on the heels of a spectacular knockout victory over Edison Miranda. No. 1 rated by both the WBC and WBO, Youngstown, Ohio's undefeated Pavlik is a bona fide knockout artist, registering 28 KO's in 31 career triumphs as a professional.
Taylor first captured the undisputed middleweight championship against the legendary Bernard Hopkins on July 17, 2005 at the MGM Grand in Las Vegas, NV, with a 12 round split decision triumph, and defended the title for the first time against Hopkins on December 3, 2005 at Mandalay Bay in Vegas with a unanimous decision victory. Taylor defended his title twice in 2006, first in Memphis in a controversial draw against Winky Wright on June 9, and last December 9 defeating former champion Kassim Ouma in Little Rock. Cory Spinks was next on the Taylor checklist, and Jermain was up to the challenge once again with a unanimous decision triumph in Memphis on May 19, 2007.
Tickets priced at $400, $300, $200, $100 and $50 are on sale now and can be purchased at the Boardwalk Hall box office, by calling Ticketmaster at 1-800-736-1420 or by visiting www.ticketmaster.com.