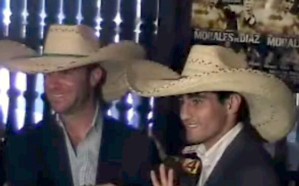 31.07.07 – By Joshua "Trvaz" Travilla: After coming from a bad 3rd round stoppage loss to the Filipino superstar Manny "Pacman" Pacquiao, in November 2006, Erik "El Terrible" Morales, (48-5, 34 KOs), will once again prove his mettle to be the first Mexican Warrior to win a legitimate world boxing championship crown in 4th different weight category. However, Morales, who has now lost four out of his last five fights, has his work cut out for him against the tough Diaz.
This time around, the pride of Zona Norte Tijuana Mexico will climb into the ring with a lot of determination to affirm himself and unearth once again his self – esteem and reputation among boxing communities against a formidable opponent in the person of David Diaz, a southpaw just like his former opponent Manny Pacquiao who quickly took Morales out on last November 18, 2006.
The last time Morales fought, he seemed to be exhausted and weight drained going into the fight from having to get rid of extra baggage just to make weight for jr. Lightweight division. Before even stepping into the ring against Pacquiao, Morales looked thin, pale and badly emaciated from having to take off a huge amount of weight while training for the bout. But this incoming bout, a comfortable weight must be on his side now.
The question is, does the confidence in Morales still exist? Let us try to consider the three bad losses he absorbed in the hands of a non-Mexican fighters in the likes of Zahir Raheem (via unanimous decision) and two bouts from Manny Pacquiao, with whom he suffered two knockouts. In each case, Morales appeared to fade badly after the first couple of rounds of the fights.
David Diaz, 31, with an impressive record consisting of 32 wins, 1 lost (via KO), 1 draw and 17 way of KO, is a great boxer too, and has been comfortable lightweight for a quite sometime. He had the power and aggressiveness instinct to topple the odds, which he showed in his last bout, a 10th round stoppage of Jose Armando Santa Cruz in August 2006, for the WBC lightweight interim title.
That said, Diaz must show some extra toughness to be able to trade punches with Erik Morales, while at the same time try to land enough shots to keep Morales off of him. Erik is always ready to square off whatever his opponent offers or dishes to him in a fight. One thing is certain, if Diaz doesn't bring enough offense and power – considered his weakness – he'll have big problems with Morales on Saturday night.