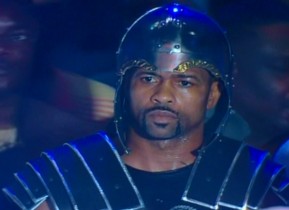 31.07.07 – By Gerard Wilson: Who can remember that feeling of excitement on Feb. 2nd 2002 when Roy Jones Jr. (51-4, 38 KOs) and Bernard Hopkins (48-4-1, 32 KOs) fought on the same HBO World Championship Broadcast? Roy was getting set for one of his many light heavyweight boxing championship sparring sessions against Glen Kelly at the American Airlines Arena in Miami, Florida.
Also, on that same broadcast Bernard Hopkins was set to defend his undisputed middleweight crown against Carl Daniels at the Sovereign Center in Reading, PA. The outcomes of both of these bouts seemed like a formality, as viewers watched these two champions walk through their respective opponents.
Both Roy and Bernard fighting on that HBO broadcast was supposed to serve as an appetizer to a proposed SUPER FIGHT between the 2 champions. However, these two proud boxing fighters were unable to agree on the financial split. This fight back in 2002 had the potential to do record numbers. Finally it seemed that Roy Jones Jr. had landed that "big fight" that had alluded him since his one sided clinic against James Toney back in 1994.
Bernard Hopkins was still flying high from his 2001 beat down of Felix Trinidad, in which he became the undisputed Middleweight boxing king. With all of that said, Roy Jones Jr. versus Bernard Hopkins at 170 pounds made so much sense in 2002. As I stated earlier, the financial split for the two fighters could not be agreed upon. Personally, I felt at that time that Roy Jones Jr. deserved the "lion's share" of the purse.
If Bernard could take less money than Felix Trinidad in their bout, why couldn't he take less against the man who was at the time considered by most if not all people within boxing, as the #1 pound for pound fighter in the world. This absolutely made no sense to me. Also, Roy had previously beaten Bernard Hopkins. Bernard claimed to want to a shot at redemption versus Roy. If he really wanted redemption then 60-40 should have been enough to take the fight and prove that he was and is the better fighter.
Now don't get me wrong, I am not questioning the heart of Bernard Hopkins (or any other fighter for that matter). Bernard Hopkins is one of the toughest fighters that I have seen in my lifetime. In my humble opinion, anyone who has the courage to step in that squared ring has nothing but respect from me.
Another point of view that I have is that Roy should have taken the fight at 50/50 (maybe Roy could have taken home more from PPV) just to show Bernard that he was still the "man" P4P. It would have been something of a gift to fight fans who always crave for a great match up.
Fast forward to 2007 and we say that the Roy Jones Jr. and Bernard Hopkins are still fighting on. Obviously to say that Roy has been better days is an understatement. His 3 straight losses to Antonio Tarver (twice) and Glen Johnson, lead many to believe (including myself) that Roy might be done as a fighter. However, his last two fights against Prince Badi Ajamu and more recently against Anthony Hanshaw showed that Roy still has something left in the tank.
Bernard on the other hand, is being called a modern day Archie Moore with his longevity. Although many people don't think that a fight today between these 2 Hall of Famers no longer matters, I have to disagree. I actually think that this is still an intriguing match up of styles. I would love to see what attributes of Roy that Bernard would focus to neutralize. Bernard totally took Winky Wright's jab away and that basically was the big difference in the fight.
Bernard seems to be an expert at defusing his opponent's greatest ring assets. Roy is an unconventional fighter who does things in the ring that most trainers would not allow their fighters to do. Add that to the fact that Roy has the confidence in knowing that he previously beat Bernard (and thinks that he can do it again), this could prove to be a very interesting fight.