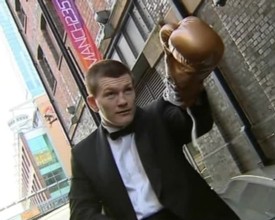 29.07.07 – By Ted Sares: If this fight is made and there is a great and growing clamor for it, here is how I see it playing out.
Unless Ricky Hatton can pressure and back up Pretty Boy Floyd, 38-0, he will be in for a long night. PBF will frustrate him with in and out and lateral movement, avoiding Hatton's bombs to the body. Unlike Castillo, Mayweather will be hard to find for the incoming Englishman. And unlike De La Hoya (and his left hook), Hatton lacks the wherewithal to trap and stop Mayweather in his tracks, though he does possess a devastating left hook to the body. Like Mayweather, Hatton, 43-0, is undefeated. Unlike Mayweather, he fights in a wild, all-out, all-action, incoming style. If a purist is one who appreciates the technical aspects of the Sweet Science, Floyd Mayweather Junior is a purist's delight and Ricky Hatton is a purist's nightmare, albeit an entertaining one. Their two respective styles are in stark contrast.
Mayweather
I am not a great fan of Mayweather (because of his unwillingness to engage in heated exchanges) and I'll be rooting for Hatton. However, I would be foolhardy to dispute PBF's greatness. He is an astute student of "old school techniques," likely resulting in his uncanny ability to use shoulders rolls to shrug off blows, deflect punches with his arms, and counter with deadly and crisp accuracy. He does it so well and so subtly, he is seldom given proper credit for it and just might be too good for his own good. His use of feints, parrying, upward jabbing, giving angles, crossover defense, strategic lateral movement, and deflecting punches is all part of the old school mix. So is his mastery of the basics…the three levels of defense, slipping punches, and fighting off the jab. His stamina is always top notch and his chin seems durable. In short, his skill set is complete.
Hatton
However, "The Hitman" does have one throwback quality that Mayweather seems to lack; namely, a vicious determination and focused tenacity inside the ring. If one definition of "Old School" is that it combines the full book on basics and technical aspects with a violent and malefic dimension (one that reflects a boxer's propensity to engage in a ferocious slugfest), then Hatton owns that part of the equation. His trainer Billy Graham says: "Ricky's always telling jokes, but in the ring he's cold, merciless and an awful man." (BBC Sport, November 27, 2005).
While PBF" win over De La Hoya was lees than stirring, Hatton's win over Urango (which featured some late-round holding) were not exactly of the "on- the-edge-of-your-seat" variety. His prior close win against Collazo suggested that he could be hurt, at least in that weight class. The Hitman did make up for it, however, when he took out Jose Louis Castillo with one ripping shot to the body. That knockout just might have been the breakthrough he needed to convince American fans he is the real McCoy at 140 pounds.
The Prediction
The contrasting styles here suggest an encounter between a Matador and a Bull. While PBF will not be able to showcase his full skill-set as he did with Phillip N'dou, I see him winning the fight by UD. Ricky's tendency to cut and swell could even result in a late-round stoppage. If that occurs, don't look for a Blue Moon in the evening sky over Manchester.
Every time Floyd fights, boxing experts say it's going to be his toughest fight. Then he kicks there [sic] ass, and they still talk —- about him…Give Floyd his dam credit, and shut Manny Stewart [sic] and that other dam fool the —- up. –Anonymous poster from the Web.
He's [PBF] got amazing skills, … He's pound-for-pound the best in the world, he's great to watch, skilful, lightning fast, I always watch his fights. But I don't think he's the biggest fighter in the world. I don't think he's got much physical strength. When I went to see him fight Gatti, I saw him at the weigh-in and asked myself the question whether or not he was big enough or tough enough to hold me off for 12 rounds. And that'll be the big question once the fight comes along. –Hatton.