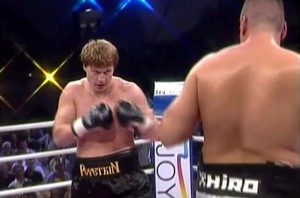 29.07.07 – By Paul McCreath: Last week the IBF announced the creation of an elimination tournament to determine the next mandatory challenger for their belt holder Wladimir Klitschko. The four fighters chosen to compete are IBF # 4 rated Calvin Brock, #5 Chris Byrd, #10 Eddie Chambers, and #13 Alex Povetkin. Those numbers may have changed since but they were on the IBF boxing web site the day the announcement was made.
Now the first question that comes up regarding this development is why the IBF would not chose their #1 to 4 rated boxing fighters for this competition. The first part of that is easy.
These pillars of logic don't have a #1 or #2 rated fighter and Lamon Brewster is #3. I think we saw enough of him against Wladimir earlier this month, but what about the others all rated above #13 Povetkin?
To be fair to the IBF, not all the fighters highly rated are available. They don't rate any champions of the other alphabet organizations but all three are tied up in various ways with other top fighters. WBA boxing champ Ruslan Chagaev and WBO belt holder Sultan Ibragimov are meeting each other in a unification bout. We don't want to criticize that match, of course, and the winner will meet Tony Thompson, who just won an eliminator with Luan Krasniqi. The third belt holder, WBC king Oleg Maskaev has finally signed to defend against his mandatory and #1 contender Sam Peter.
The winner gets to meet Vitali Klitschko, the champion emeritus if he gets by his tune-up with Jameel McCline. I wonder if Jameel will get a title shot if he upsets Vitali. Don't forget that Jose Sulaiman has promised Oliver McCall a shot at this same boxing title. Altogether these three organizations have eight of the best fighters in the world tied up and unavailable for the IBF tournament.
So what about the best of the rest? Nicolay Valuev, Vladimir Virchis, and Sergei Liakhovich are all rated higher than Povetkin. All three are rated in the top ten by Ring Magazine as well, so you can make an easy argument that they are the most deserving. The key question here is were they given the opportunity to join in the tournament? They may have declined to compete.
We just don't really know but I haven't yet heard any complaints from them about being passed over so this may well be the case. Valuev has been rumored to be looking at matches with both the other two. Virchis is the European champion and Valuev his mandatory so that bout could happen and would be a big money match in Europe.
There is, of course, the chance that these three were not invited in by the IBF. If not, why not? Well for one thing both Valuev and Liakhovich are former belt holders of one of the other sanctioning bodies and both lost their last bout. To place either one in the tournament would make the IBF look like they were using the leftovers from these other bodies, not a good scene for the IBF. Virchis on the other hand, while a pretty good fighter, is virtually unknown in America. He would not likely draw well for US TV.
Among those who are still left are the old dogs like Evander Holyfield, Corrie Sanders, Shannon Briggs, Hasim Rahman, or Ray Austin. The first two may be in line for a voluntary shot at Wladimir, so they won't be interested right now and the others hardly generate too much excitement these days. Young guns like Chris Arreola and Alex Dimitrenko are still unknown to the general public and not ready yet anyway.
That leaves us with the four named at the top and all things considered, I guess they could have done worse. They have a respected and well known ex-champ in Byrd, the universally recognized best prospect in Povetkin, the best American prospect in Chambers, and finally the former top American hope in Brock who after all has lost only once, that being in the title match with Wladimir Klitschko. Chambers and Povetkin are both undefeated.
As long as Chris Byrd does not win the competition the survivor will come out of this as a well respected contender. It would be very difficult to sell a third Byrd vs. Wladimir fight but any of the other three would work. I suspect the promoters are counting on Povetkin to come through on top with either Chambers or Brock as acceptable second choices. If Byrd wins it is going to be embarrassing for the IBF.
I hate to say anything positive about any of the sanctioning bodies but I think they may have done the best they could under the circumstances. That is assuming, of course, that Liakhovich, Valuev and Virchis are not available. Either way, we have a lot of good fights to look forward to and lots to debate in the coming months.