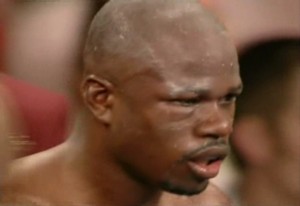 29.07.07 – By James Slater: Almost four years ago, while in Las Vegas for the De La Hoya-Mosley rematch, I ran into Vernon Forrest. I'd recently seen him being shocked to defeat two times by the ungainly yet hard punching Ricardo Mayorga. Vernon was now the ex-welterweight champ as a result of his two fights with the wild man from Nicaragua. Also fresh in my mind, however, were Forrest's two wins over the man who would be boxing on the big stage a few days from now – in "Sugar" Shane Mosley.
Forrest had looked sensational in becoming the first man to beat Shane and I knew, the losses to Mayorga aside, that he was a very talented fighter. Anyway, I asked him for an autograph, which he kindly and gladly signed for me. At the bottom of his signature he added "Vernon Forrest 3X world champ!" The message was clear; Vernon knew he'd reign again one day..
Technically, as he'd won the IBF 147 pound title with his win over Raul Frank in 2001, and had then captured the WBC version with his win over Mosley the year after, Vernon was already a two-time world champ. All he needed to make his written declaration come good was one more world title strapped around his waist. Well, back in late summer 2003, after his two defeats to Mayorga and then the shoulder problems the then thirty-two year old soon encountered, I didn't think his chances at being a world champ again were all that great. Last night, of course, against the rock-chinned Carlos Baldomir, "The Viper" achieved the goal he'd set for himself.
Vernon never gave up. Not after a series of painful operations on his shoulder. Not after nearly everyone cried robbery after his win over Ike Quartey. And not after seeing some of his peak years go to waste due to forced inactivity. Vernon knew he still had what was needed to rise to the top of his sport once again. I must say, I'm pleased for him. Never a guy to shout his mouth off, the thirty-six year old and newest claimant to the WBC's 154 pound title is a classy guy in and out of the ring. Last night, against the ever-game "Tata," Vernon reminded us of this in fine style.
Scoring a comprehensively wide unanimous decision over the once-stopped Argentinean, Forrest boxed quite beautifully, not to mention excitingly. Before the first bell many had anticipated a dull and boring fight. Due to Forrest's still thriving ambition – a desire his fit and chiselled body more than bore out – this was not the case, however. Both men came to fight and the fans got a good, fast-paced boxing match – a fight that was much better than a number of overly hyped bouts that have taken place this year, actually.
Now that he is a three-time wearer of a world title (IBF and WBC welterweight and WBC super-welterweight) the question is, what next for Vernon? There are potentially a number of mouth-watering options for him.
How about a third fight with the man he so shockingly brought back down to earth in Shane Mosley? Would "Sugar" risk his reputation while searching for revenge over the first man to ever have beaten him? Shane is a very proud man, and now that Vernon is very much back on the radar screen and a world champion again, Mosley just might go for a third encounter. Such a fight, were it to materialise next year, could well be a great one.
How about a unification match between "The Viper" and new WBA 154 pound champ, Joachim Alcine? This too would be a very interesting fight. Alcine, from Canada, is unbeaten and after having just beaten Travis Simms to capture his first world title "Ti-Joa" will be in no mood to lose. A fight between he and Forrest could well be another superb fight.
Also, though these two possibilities are admittedly long shots, what about either a Forrest Vs. Mayweather or a Forrest Vs. De La Hoya clash? A Mayweather fight is the most unlikely. What with Floyd's drop back down to 147, thus vacating the belt Vernon has just won, it would be surprising to see "Pretty Boy" moving back up to try and regain it. Stranger things have
happened, though. If Floyd's fight with Ricky Hatton fails to materialise, and if so too does a return bout with "The Golden Boy," who knows? Floyd might just sign to fight Vernon. A big, big long shot though, as I've said. As for Oscar, he and Vernon looked as though they might fight back in the early 2000's. Now, as both men enter the latter days of their careers, this fight could well be promoted as a sort of "Unfinished Business" type of match-up. Of course, Oscar is, like Mayweather, talking Hatton. But again, you never know.
I'd like to see Vernon get himself a super fight. The Mosley bouts aside, the thirty-six year old has had precious little in the way of blockbuster fights. In many ways, Vernon has always been a fighter on the outside looking in. Could he have beaten men like Mayweather, De La Hoya, Wright and others all along if given the chance? Maybe, maybe not. But with the talent he has always had, and, judging by last night still has, Vernon Forrest deserves one final mega fight before he retires.
For now, though, let's just congratulate Vernon on last night's great win. He now has those three world titles on his ring resume!