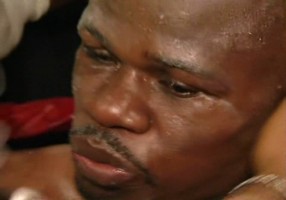 28.07.07 – By Brian Blackwell: Light middleweight Vernon Forrest (39-2, 28 KOs) after having been away from the boxing ring for almost a year, he met up with former welterweight champion Carlos Baldomir (43-11-6, 13 KOs), who was fighting for the first time at junior middleweight. Forrest, 36, had last fought against Ike Quartey in August 2006, in a fight that many people thought Forrest had lost. While Baldomir, also 36-years-old, had lost his last fight to Floyd Mayweather Jr, in a humiliating experience for Baldomir, who was much too slow to deal with Mayweather's speed.
Round 1 – Forrest comes out looking in great shape, much better than his last fight against Quartey. Baldomir, however, looks old and flabby, as if he put on the extra weight too fast without proper training.
Hopefully, Buddy McGirt's man can win one for him this time. As the round starts, both fighters come out flinching. Baldomir misses a lot of punches during the round, as he showed that his skills are eroding. Forrest connects with a left hook to the head. Forrest looks fast. Good exchange by both fighters. Forrest needs to jab more.
10-9 Forrest
Round 2 – Baldomir swings at air. Forrest goes to the body. Baldomir is slow. Jab looks great tonight for Forrest. Right hook lands for Baldomir. Baldomir swings at a lot of air. He needs to get inside. Forrest needs to jab. Big right hand at the end of the round by Forrest.
10-9 Forrest
Round 3 – Forrest's right eye is beginning to swell. Not one, not two, but THREE big right hands connect for Forrest. Left hand lands for Forrest. Good round for both. Baldomir begins to open up on offense. Baldomir takes the second half of the round.
10-9 Baldomir
Round 4 – Baldomir pressing. Big shot for Forrest! Baldomir is stunned! Forrest smiling. Baldomir is taking a beating, but he keeps smiling! They clash heads. It appears accidental. No blood. Forrest lands, but Baldomir thinks that the 10 second warning was the bell. Forrest takes advantage and knocks Baldomir into the ropes! Baldomir is confused and totally off his game tonight.
10-9 Forrest
Round 5 – Forrest landing with left hand. Fires away with the jab. Baldomir hitting gloves. Good shot by Forrest. Forrest looking too quick tonight.
10-9 Forrest
Round 6 – Baldomir scores to the head. They hit heads again. Baldomir looks frustrated. Referee warns Forrest for low blows. Both exchange in the center. Baldomir lands to the body.
10-10 Even
Round 7 – Forrest firing clean punches to the head. The jab looks beautiful. He needs to use it more often. Solid left hook to Baldomir's face. Baldomir sure can take a punch! Good exchange at the end of the round.
10-9 Forrest
Round 8 – Baldomir looks beat up. Forrest's eye doesn't appear to be swelling anymore. Forrest scoring with the jab. Baldomir chasing. He is clearly frustrated. How did Mayweather not knock this guy out? Shame on you Zab for losing to him!
10-9 Forrest
Round 9 – Forrest comes out jabbing. 1-2. 1-2. Forrest is on target! Big right hand by Baldomir! Forrest is STUNNED! He is frozen! Forrest fires a desperate low blow! That was intentional! Baldomir takes a very short break. Good exchange at the end of the round.
9-9 Forrest (Referee deducts a point for the low blow)
Round 10 – They box at the center of the ring. Big right hand by Forrest. Good 1-2 by Forrest. Baldomir chasing. He looks more tired as the fight goes on.
10-9 Forrest
Round 11 – Forrest working the jab. Baldomir lunging. They clinch. Forrest landing clean shots. Baldomir continues to press the fight, but he is getting hit by a lot of shots.
10-9 Forrest
Round 12 – This could be Baldomir's final round in a professional bout. They exchange at the center of the ring. They clinch. Baldomir pressing. Left hand stuns Baldomir. He sure does look tired. Another left hand lands for Forrest. Forrest keeps on firing and landing. Baldomir loses badly!
10-9 Forrest
118-110 Vernon Forrest
New WBC Light Middleweight Champion
Carlos Baldomir announces his retirement after the fight.