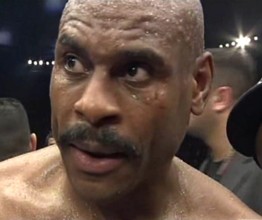 20.07.07 – By Jonny Oakley: Oliver McCall is still travelling the lonely road but is getting closer, step by step, to achieving the landmark of any memorable career and one that has eluded him to this very day- having people care about what happens to him.
The lonely road has been light years away from easy going, and at age 42, it certainly hasn't been a short cut. After unexpectedly knocking out Lennox Lewis to steal his WBC heavyweight crown in 1994, McCall crumbled in the rematch and suffered an emotional breakdown in the ring as disastrous as it was bizarre. People under great pressure often testify to having invited further punishment, an act of complicity, having accepted their fate as the way things ought to be in the geometry of the situation. In tears, McCall dropped his guard and gestured Lewis forward.
This was no kind of complicity; McCall sought out and expedited his own demise. Lewis was an errand boy for McCall himself, the master of his own destruction. The heavyweights are top of the card in boxing, the marquee division, and to demonstrate such profound emotional frailty on the biggest stage in prize fighting still didn't make people care – it made them curious: 'What the hell was Oliver McCall thinking?' Parents see their children go through the same thing every day in the playground and don't ask this question of them, they hug them, give them some encouragement and send them right back out the next day. There was little such clamour to console Oliver McCall.
Instead there were volumes of amateur psychoanalysis lining yesterday's waste paper basket. McCall went into his shell, and the curiosity went away. When McCall returned to the ring nine months later, it occurred to few that he might suffer the same fate, so bizarre was his last ring appearance.
So now McCall is making people curious again, but they still don't care about him. With a recent win over the frustratingly mediocre Sinan Samil Sam, McCall moved to 51-8, and in range of a title shot unbelievably promised to the winner by WBC President Jose Sulaiman. Instead, it has emerged that the credibility of the beleaguered governing body is about to crash with the announcement that the creation of an 'interim belt' is imminent. Evidently, this is for the sole benefit of Nigerian Samuel Peter and McCall, the two fighters promised a world title shot. Sulaiman is adept at being his own worst enemy it seems. Having won two title eliminators, both against an occasionally dangerous and rotund James Toney, Peter was initially denied a title shot against Oleg Maskaev with the return of 'champion emeritus' Vitali Klitschko.
With Peter finally vindicated after a lengthy litigation process, now it seems WBC champion Maskaev, or more likely his eccentric promoter Dennis Rappaport, are blowing hot and cold about a Peter – Maskaev bout. Rappaport is an astute businessman, if one considers his track record of purse negotiations, (Holmes vs. Cooney stands out), and realises the potential for remuneration that a 'world' title generates. In reality, obviously the Maskaev camp quite rightly suspects their man is as worthy of holding a 'world' title as Pol Pot is of holding a Nobel Peace Prize. Maskaev is another paper champion. Enter Oliver McCall, issuer of a challenge to Samuel Peter for the 'interim belt' which both could just as easily have land on their doorstep with six tokens from a cereal box and a process payment of £4-99.
Out of sheer, morbid curiosity am I willing to see this continue, and again I am asking myself 'what the hell is Oliver McCall thinking'? True, Peter is not the finished article, but McCall is beyond finished. Despite fighting 5 times in 2005, the most active year of his career since 1986, His first noteworthy win for years was against a capable but fat Sam who looked sluggish, as if he had eaten his own bodyweight in pies before the fight. At this point, with the amount credibility that win affords him, he should start planning an exit strategy.
Two more fights. Peter is more mobile than Oliver, and possesses a punch to rattle you all the way to your boots, a lethal combination. McCall fans say he has a solid chin, which is true, but is perhaps by implication a concession that he's going to take a lot of punishment, and regardless of who you are that takes its toll. Should he win, a championship clash is fitting as a final fight. Should he lose, a decent journeyman opponent is suitable, allowing him to retire on a win.
To make people care, you need two things – a story people can identify with and that sets you apart, and the ability to make some noise and have people listen to you. McCall projects his retirement age as 44-45. At 44, People care about Evander Holyfield's story. His unique determination leads the chase for an unprecedented fifth world title and because they care, his supporters plea for his retirement. McCall is old, that's his story. He doesn't have an effective sales pitch. Everything he is currently doing has been done before, and better. Remember George Foreman?
Of course you do. So what actually is Oliver McCall thinking? It would seem he is thinking about world titles and not about his far more valuable health and sanity. Personally I don't blame him, with the WBC fiasco and the current crop of heavyweights. However, McCall will slow down, and if he continues to fight big men in the upper echelons of the sport until he is 44 or 45, we'll start to care about him for the wrong reasons. Retire yourself soon Oliver, before someone does it for you.