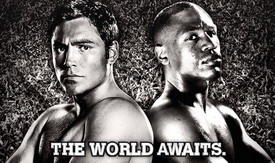 By John Herndon, BoxingConfidential.com: CHICAGO – An estimated 300 boxing fans were on hand Thursday morning at the UIC Pavilion, hoping to catch an eye of two of today's most celebrated boxers — Oscar "The Golden Boy" De La Hoya and Floyd "The Pretty Boy " Mayweather.
In the promotion of their soon to be over-hyped May 5th clash in Las Vegas, fans were able to witness the world of boxing at its most hyped best. The glitz, the glam, the trash talking has not stopped. Chicago was number four on a list of the 11 cities to be covered in the much anticipated bout, which is being forecasted to be the highest grossing boxing event in history.
I have no doubt about that but will the fight be as good the hype? We can only hope..
The Pavilion was packed with a very excited crowd of fight fans and most were there to cheer on Oscar. The whole presser was buzzing with excitement as it was open to the public. Video cameras were in the front as HBO began their taping of the 4 – part documentary program De La Hoya-Mayweather 24/7, behind the video cameras were various photographers and members of the press.
The presser was scheduled to start at 10:00 a.m. but it didn't begin until 10:38 a.m.
It was certainly worth the wait. After everyone was seated, 'Another One Bites the Dust" by Queen started to play over the PA and making his way down the runway was none other than Floyd "Pretty Boy" Mayweather.
The crowd greeted him with a roar of boos. It was a pro-De La Hoya crowd. And Mayweather played to the entire crowd. He danced. He smiled. He laughed. He appeared to be having the time of his laugh. He held court from the beginning until the end. He signed t-shirts, posters, gloves and was quite gracious.
Next up was De La Hoya. He was dressed in his Golden Boy executive sharp suit and never wavered as Mayweather continued to struts and dance.
HBO's Mark Taffett, impressed with the Chicago turnout, praised the fans for such a great turn out. To add more juice to the promotion, HBO has created a 4-part countdown series that will take the fans inside the minds and camps of the fighters.
I must say that HBO's Countdown shows have been A-Plus in quality. This 4-part series should be no less than just stellar.
"The show will debut after the season premiers of the Sopranos and Entourage on April 8th," said Taffett.
" On May 5th everything comes to a halt except Mayweather vs De La Hoya. And all for the suggested retail price of $54.99!," said Taffett.
He lost the crowd after quoting the price as Boos filled the room. But Taffett didn't skip a beat even after the roar of Boos. He continued on and then Floyd's adviser, Leonard Ellerbe stepped up to the podium and gave De La Hoya a stern warning.
"There is a reason Floyd is 37-0 with 24 KOs. And come May 5th we are going to bust that ass!"
Unfazed by the banter, De La Hoya continued to wear a look of a stock broker, who knew when the market was going to crash and only he had the inside know how.
While Mayweather smiled like kid in the candy store.
" The whole crowd can root for him or me. Only God can judge us. But inside the ring its going to be just me and him. On May 5th! " said Mayweather as the pro-De La Hoya crowd chanted his name.
Mayweather even led the cheer as he raised both of his hands.
"Oscar! Oscar! Oscar! Cheer him on because after May 5th you will be my fans because I know I am a great fighter. Look, he got my dad to train him because he wanted to fight like me."
Later, Mayweather would up the heat as he praise and trash saying that he loves Mexico and there are four ways to beat Del Hoya Hoya but that there is no one to beat me. I am undefeated.
"Winky Wright, Shane Mosley, Del La Hoya and Bernard Hopkins are the four Golden Girls," said Mayweather.
While Mayweather was at the podium, a fan yelled, "Floyd, don't run!"
Quickly, Mayweather countered, " I am going to run. I am going to run combinations on him. I am the truth. Remember a hot offense beats a cold defense. My time is up and its time for Golden Girl Promotions."
Oscar would walk up to the podium and delivered a spirited message to the fans in Spanish. I have no idea what he said but whatever it was, the crowd ate it up. They cheered loudly. Than Oscar after speaking in Spanish for few more minutes. Oscar thanked the fans of Chicago in English.
" I give him credit. He beat Gatti at 140. He beat Baldomir at 147. We have a saying in spanish. The dog that barks doesn't bite. May 5th he will feel these fists. I love it. His talking gives me fuel. " said De La Hoya.
Where was Bernard Hopkins when you need him. Trash talking is not De La Hoya's forte but it doesn't matter, because all we can hope is that Mayweather's trash talking will fuel him the same way that Fernando Vargas and Ricardo Mayorga did.
In the customary face-off pose. Both fighters stood face to face. The barking thankfully didn't turn into any bites.
I think Oscar is getting a bit tired of Mayweather's mouth. While Floyd seems to be enjoying holding court.
Mayweather continued to reaffirm that the bout was to be his last in a hall of fame career.
A fan yelled, "Is this your last fight?"
"Yes sir," said Mayweather Jr.
Expect more hype and antics during this tour as the goal of the promotional tour is to drum up interest for the viewers.
My question to this is, when did any bout involving De La Hoya needed this much marketing buzz? Not much really, not since he became the Goose who lays the Golden Eggs.
One day, Oscar will really retire and than what? But this is a question that will be answered at a later date.
E-mail John Herndon at jerichostudios@yahoo.com