23.02.07 – By Matt Stein: Last night at the Mountaineer Race Track, in Chester West Virginia, 33-year old Joe Mesi, claiming that he's 100% healed from the two subdural hematomas to his brain, which he suffered during his bout with Vassily Jirov in August 2004, knocked down 40-year old journeymen George Linberger (29-9-1, 25 KO's) twice in the 1st round before the referee stepped in and stopped the bout at 1:55 of the 1st round, with Linberger on the canvas, flat on his face and badly hurt..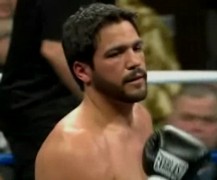 Only the fifth fight since being away from boxing for two years due to a suspension by the Nevada Athletic Commission, Mesi looked surprisingly sharp against Linberger, particularly when compared to his previous four bouts in his boxing comeback. Sporting a beard and in arguably the best shape – at 229 lbs – he's been in years, Mesi (34-0, 27 KO's) started off quickly in the 1st round of last night's fight, landing hard left labs, and powerful lead right hands to Linberger's head.
At 1:28 of the 1st round, Mesi hit Linberger with a left hand, followed with a pulverizing right hand that crashed into Linberger's face, sending him stumbling back against the ropes, badly hurt.
Mesi quickly followed after him, and threw a volley of punches, missing most of them, before connecting with two powerful left hooks to the head of Linberger, sending him down to the canvas.
The referee then stood over him and counted to nine, before Linberger staggered to his feet to continue fighting. Linberger then stepped three feet forward, obeying the commands of the referee, who looked undecided whether he should let the fight continue or not, before the bout was eventually continued. Mesi, looking eager to end the fight, quickly came at Linberger and flurry of punches again, again, missing most of them in his urgency, before landing a right hand to the back of Linberger's head and then another right, this time to Linberger's face, which sent him down to the canvas. The referee immediately stopped the fight with Linberger face down on the canvas and badly hurt. In fact, Linberger was down on the canvas for at least two minutes, before he was finally allowed to stagger to his feet.
By and large, Mesi appeared to look as good as he did before he experienced his brain injury against Jirov three years ago, although it is still difficult to tell if he's well enough to fight, because he didn't get hit with anything from Linberger, aside from three meager jabs. What's more, Linberger, at a soft 266 lbs, hadn't fought in 16 months, and clearly wasn't even close to being a tough opponent, the kind with huge power that could worry someone like Mesi.
More or less, Linberger was nothing more than a punching bag against Mesi, meaning that this win answers none of the questions about whether or not Mesi can withstand big punches from an opponent. To be sure, in his last fight, against Jason Weiss, Mesi didn't look good while taking punches to the head, seeming to freeze for a second after absorbing the shot. The same goes for his fights against Stephane Tessier and Ronald Bellamy, two of his other comeback opponents, both of which stunned Mesi with shots.
"I'm back. It took four fights to be back, but I'm still not 100%. You haven't seen me peak yet. I'm a young thirty-three. Three or four more fights, and I'm going to be back in the top 10. I'm the most exciting heavyweight out there. I generate money for me and my fans. I don't know if I'm the best (heavyweight), but I'm the most exciting. I'm at no greater risk than any other fighter out there. I'll be back in the top 10 soon, and then be number one again," Mesi later said.