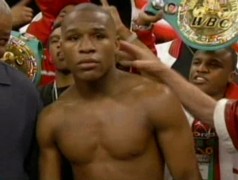 By Neil Thompson 23nd February 2007 – The Welterweights are one of the most talented divisions in boxing today. Mosley's return to this division he once dominated has added to the excitement. Floyd Mayweather is generally seen as the best although there are many challenges for Floyd at this weight. Cotto, Margarito and Mosley would all love a shot at ripping the 147 crown off Floyd's head.
1. Floyd Mayweather 37-0 (24)
Having beaten Carlos Baldomir, Floyd has earned the right to be called the true world champion of the Welterweight division. Next up for Floyd is a super fight with De La Hoya at 154-lbs. I don't expect Floyd to stay at Light Middleweight no matter what the result. Mayweather v De La Hoya should be the biggest boxing fight of the decade so far.
This fight should prove to be Floyd's toughest contest to date. After 5th May, he has hinted at retirement although I doubt Floyd's ego would let him retire so early. Generally to be considered to be the 'pound 4 pound' number one, there are still a lot of big challenges out there. Big money can be earned from fighting Mosley, Hatton, Margarito and Cotto. With all these fights out there for Floyd, it would be pointless for Floyd to retire. If Floyd beats Oscar De La Hoya in April and then goes on to clear up the rest of the welterweight division, then in my opinion Floyd would belong with the very best in boxings prestigious history.
2. Sugar Shane Mosley 44-4 (37)
He's back, back at the welterweight division, back with the 'elite' of boxing and is ready to fight Floyd Mayweather or anybody else at 147. I must admit that I thought Luis Collazo would outpoint this aging fighter and send him straight into retirement. Shane Mosley has proven to the skeptics like me, that at 35, he is still a serious force at welterweight and a big threat to any of the alphabet champions. It will be interesting to see where Shane goes from here. Hopefully he'll fight the winner of De La Hoya and Mayweather. There are a lot of big fights out there for him at 147 and the Shane Mosley story is not over yet. The former Lightweight, Welterweight and Light Middleweight champion appears to have a few fights left in him. Eventhough he's workrate has slowed down slightly, he proved against Collazo that his work ethic is still impressive and his speed, power and accuracy are still formidable. I think Mosley could give Mayweather all the trouble he could handle.
3. Antonio Margarito 34-4 (24)
The long reigning WBO welterweight champ has struggled to get the big fights and his career has suffered for it. Because of this it's hard to assess how good Margarito is. Some actually feel that, if he was given the chance, he could prove the best of the division and could even beat Floyd. I doubt that but he would certainly be a tough test for any of the more established stars of the division. He does have the style to give Floyd some very uncomfortable moments but I think Floyd and Mosley would outpoint him. Margarito is big, strong and powerful at this weight. He looked very impressive beating the now IBF champ Kermit Cintron and would beat him once more if he faced him again. There has been a little bit of confusion as to whom Margarito will fight next. At first it was a fight with his WBA counterpart Miguel Cotto which would have been a great 50-50 contest, but instead Margarito has signed to face the lesser challenge of his mandatory Paul William's.
4. Miguel Cotto 28-0 (23)
Next up for Cotto is a mandatory against Oktay Urkal which shouldn't test Cotto too much. After this defense he has a date with former 2-weight world champion Zab Judah on the 9th June, in what will be a highly anticipated duel. Cotto has been ready for a fight like this for some time but his promoter, Bob Arum, has been holding him back. Cotto is a sound boxer with strength and power, he is also a precision puncher with a great defense to match his formidable offense. This will be Cotto biggest challenge to date and in my opinion Zab Judah represents a jump in class for the Puerto Rican power puncher. An impressive victory over Judah could propel Cotto into most people's P4P top 10 lists.
5. Carlos Baldomir 43-10-6 (13)
The former WBC welterweight champion has done it the hard way. At 35 years old I would not be surprised if Baldomir decided to retire. If he does retire he can hold his head up with pride. He got his title shot by beating fighters that he was expect to lose against in his opponents back-yard. When he finally got his chance at the big time, against Zab Judah, Boldomir surprised everyone by outpointing him. Months later he once again upset the odds by stopping Arturo Gatti. Unfortunately for Baldomir his next fight was against Mayweather and was a step too far for the Argentinian toughman. Mayweather soundly outpointed Baldomir and Floyd was clever enough not to get involved with Carlos, boxing him on the retreat all night. This tactic worked perfectly for Floyd and Baldomir lost a wide decision. With the exception of Mayweather and Mosley, Baldomir will be a big threat to anyone in the division.
6. Zab Judah 34-4 (25)
Next for Judah is a routine contest with Israel Cardona on the 27th April. Then on the 9th June, Zab returns to the big league with a fight with Miguel Cotto for the WBA title. This is a mouth-watering match up and a hard one to predict. Cotto will start favourite but Judah has the power and speed to give Cotto hell. Actually, Judah has the southpaw awkwardness of a Demarkus Corley and the sharpe, fast, powerful punches of Ricardo Torres. As most of you know both Corley and Torres came very close to beating and stopping Miguel Cotto whilst he was at campaigning at 140-lb's. I really hope this fight is shown in the UK as I feel it will be one of the best fights of 2007. If I had to give a prediction, I'd say Cotto wins by late stoppage but I can see Cotto having to come through some very scary moments.
7. Luis Collazo 27-3 (13)
Luis Collazo can hold his head up high after his defeat to Mosley and he's young enough and talented enough to come back and win another version of welterweight crown. The Mosley fight proved that as good as Collazo is he wasn't ready for someone as experienced and as great as Sugar Shane Mosley. I like Collazo, I like the way he conducts himself, the way he fights and the way he gives it his all in every contest. Kermit Cintron would be a good fight for Collazo and a winnable one aswell.
8. Kermit Cintron 27-1(25)
The 27 year old IBF champion has responded well from his crushing defeat to Margarito almost 2 years ago. Exciting, aggressive and powerful, Cintron will always be a popular fighter. I have only had the chance to watch him a couple of times, but to me he seems a bit one-dimensional and may be champion for only a short time. Out of the 4 main alphabet title holders, I consider Cintron to be the weakest. Thankfully, from Cintron's perspective, the Mosley fight never materialized as I think Cintron would be made for Mosley the way Vargas was. With no mandatory defenses forthcoming, expect Cintron to make one or two easy defenses. A brawl with Arturo Gatti would be a natural fight to make.
9. Paul Williams 32-0 (24)
Next up for Paul Williams is a shot at Antonio Magarito's WBO Welterweight title. Many people feel Williams, 25, has the ability to beat Margarito but I am not jumping on the Williams-bandwagon just yet. He is unproven and the only notable 'name' on his record is a 'ring-worn' Sharmba Mitchell. His fight with Margarito is the perfect 'acid-test' for Williams. At 6' 1" with an 82" reach, Williams is freakishly tall for a welterweight and that combined with his southpaw stance should make him hard to beat. Because of his height, some comparisons have been made with the great Thomas Hearns but from what I've seen upto now Williams is nowhere near that good.
10 Arturo Gatti 40-8 (31)
There has been talk of Arturo Gatti fighting Paulie Malignaggi in July although nothing seems to be signed just yet. One thing that does seem certain is that Gatti wont to be hanging up his gloves just yet. It looks like he'll be having at least one more fight, if successful, expect another one after that as well. I would like to see Gatti call it a day, with all the wars he's been in he is risking his long-term health. A fight with Kermit Cintron would be a good one and would be his best bet at winning another alphabet title before he retires. Cintron comes to fight and Gatti would accommodate him. Personally, I'd rather see Gatti retire now.
Thank you for reading
www.myspace.com/neilthompson300