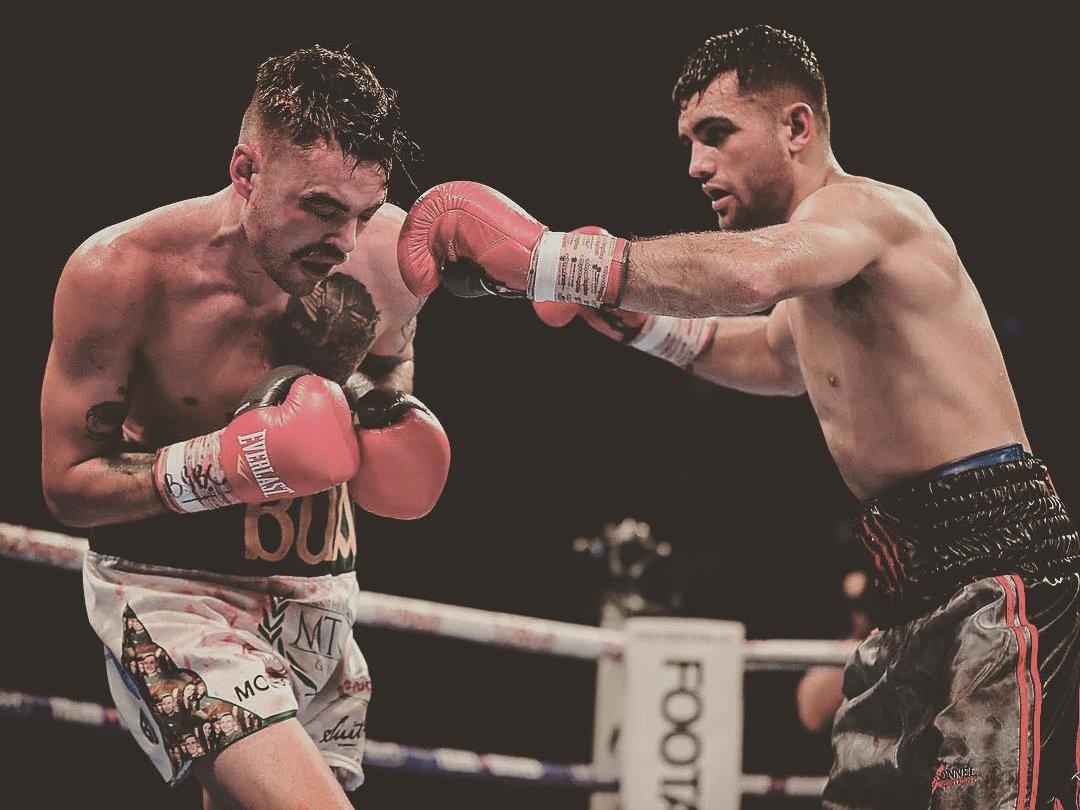 Jack Catterall believes Ohara Davies' famously powerful right hand will be rendered useless by the Lancastrian's superior boxing intelligence. (Photo: (Instagram: @jackcatt1)
'El Gato' (22-0-KO12) and 'Two Tanks' (18-1-KO14) face off at the Leicester Arena on Saturday night with Catterall's WBO world ranking title on the line – but the 25-year-old incumbent believes there's a significant gap in guile.
Catterall said: "I honestly believe I have a much better boxing brain than Davies.
"He can practice all that shoulder roll stuff with his coach but I've got a better boxing IQ than him and he's just playing at it.
"Against lower opponents, he can do that kind of thing but when push comes to shove, he's not going to be able to do that against me.
"Against better opposition, I perform better. I'm going through the levels. When I was an amateur, I'd come down to my opponent's level sometimes but if I'm in against another top fighter, I rise to the occasion.
"I've been too comfortable at times against certain opponents but since I've been trained by Jamie Moore, these three fights things have started really coming together. It helps being surrounded by great fighters in the gym.
"You can never disrespect anyone by looking past them but ultimately I'm on the hunt for that world title. I've had this WBO ranking belt a few years and I believe I'm close to the full version now."
Catterall vs. Davies tops an impressive bill in Leicester, where another MTK Global star Archie Sharp challenges Leon Woodstock for the WBO European super-featherweight title.
Watch the action live on BT Sport.
Ohara Davies & Jack Catterall Quotes & Notes
JAMIE MOORE LIKENS the chances of Ohara Davies landing a jackpot punch on his charge Jack Catterall to him buying a lottery ticket and hoping for the best.
Two of the best super lightweights in the country will take to the ring in Leicester next Saturday (October 6) with the winner expected to be in pole position for a shot at a world title in 2019.
The unbeaten Catterall is putting his perfect ledger at risk against the thunder-punching Davies, but trainer Moore believes his man is too smart an operator to leave openings for the Londoner to exploit.
"Obviously I don't expect him not to get hit, but Ohara Davies is going to really struggle in pinning Jack down," reasoned Moore, also the trainer of Catterall's promotional stablemates Carl Frampton and Martin Murray.
"He might catch him or clip him a couple of times, but after that, one the best things about Jack's game is he rarely gets hit with the same shot again.
"We understand the dangers of the fight, don't get me wrong, we know that there is the possibility of getting clipped, especially with that dangerous right hand, but to me that is like Ohara Davies trying to buy a lottery ticket.
"Every other ticked box is on our side of the court. The better boxing brain, the better engine, the better body puncher, better jab – all those boxes are ticked in our favour.
"The one thing Ohara can win the fight with is by landing that power shot and it is up to Jack not to let that happen.
"That is Ohara's jackpot and it is a big one, don't get me wrong, and he has landed it many, many times in his career so far. But he has always struggled landing it against good defensive fighters and the only loss on his record is against a southpaw who took the fight to him, worked his body and had a good jab.
"Those three things are all in Jack's favour."
Moore does acknowledge, however, that the fairly unique dimensions of Davies have had to be taken into account during preparations for Catterall's defence of his WBO Intercontinental title.
"Urm, a little bit. It is not just about styles and stances, sometimes you've got to take into consideration the unusual aspects of opponents and one of the things that is unusual about Ohara Davies is the length of his arms.
"We've done a bit of sparring with taller fighters, which isn't ideal range-wise because you are sort of aiming at a different height, but you do get a better perception for distance when you are thinking that people are out of range.
"To be fair, Tommy Coyle, who is one of our fighters and in the same gym, he's got quite long arms for his weight and it has worked out perfectly really so we have done a lot of it in-house and Tommy has got a fight coming up against a southpaw so they have worked a lot with each other during this camp.
"It will be about judgement of distance and that is one of the things Jack is really good at. He's got good anticipation, along with a really good defence and excellent timing."
'The Time Is Now' is headlined by Jack Catterall v Ohara Davies. Leicester's own, Lyon Woodstock defends his WBO European Super-Featherweight title against Archie Sharp. Heavyweight prospect Daniel Dubois takes on former world title challenger Kevin Johnson. Olympian and double gold medallist Nicola Adams will be fighting Isabel Millan for the Interim WBO World Female Flyweight Title and Leicester's British Super-Featherweight champion Sam Bowen also feature on a major night of boxing televised live on BT Sport.
Catterall: Davies more dangerous than Hooker will be
World-ranked super-lightweight Jack Catterall will not look past Ohara Davies at world champion Maurice Hooker – primarily because he sees the Londoner as a harder fight.
Chorley's 'El Gato' (22-0-KO12) takes on Davies (18-1-KO14) at Leicester Arena on October 5 – live on BT Sport – and despite being favourite to earn a shot at WBO king Hooker, Catterall has a one-track mind.
Catterall said: "Of course I eventually want the Hooker fight but first I've got to put my energy into this one and win it first.
"I was at the fight when Hooker beat Terry Flanagan to become world champion. I watched him up close then and have watched a bit more of him since. When he beat Terry, he didn't 'wow' me.
"Terry did things wrong and came up short but I simply believe I'm a better boxer than Hooker. He does things well but nothing great and that fight is an easier one than my next one.
"Davies clearly holds some power. He's shown that in fights he's had but I've plenty of time to prepare for what he possesses. I'm not going to get carried away with what he does – I'm just going to be the best version of me.
"He's got a better knockout percentage than me but look at the opponents I've fought and the opponents he's fought. You can argue mine are a higher level. Plus, he's lost to Josh Taylor, who I rate, but still…
"You can never disrespect anyone by overlooking them but ultimately, of course I'm on the hunt for that world title. I've had my WBO ranking title for a while now and I believe I'm close to the full version now."
Alongside the mouthwatering Catterall v Davies clash on the bill, MTK Global's unbeaten super-featherweight Archie Sharp challenges Lyon Woodstock for the WBO European title.
Stay up to date at mtkglobal.com and on social media @mtkglobal
Tickets are priced at £40, £60, £100, £150, £200 and are available to purchase from Eventbrite and Ticketmaster.