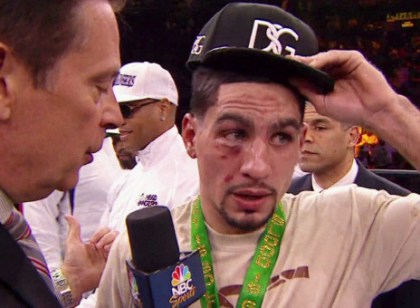 Markus H. (Orlando, FL): You were pretty down on Gary Russell Jr. in the past. I wanted to know what were your thoughts about his recent performance and what do you see next for him?
Vivek W. (ESB): There was a point in which I just felt that Russell simply wasn't showing any evolution. We knew he possessed great speed and a certain level of skill, but we never really saw it translate against the level of opposition good enough to bring all of it out. After seeing him coast to easy victories over guys who had no business in the ring with him, it simply got old. All that being said, just as he once warranted criticism, I think at this stage he clearly deserves praise! And a lot of it!
As I look over my scouting report going into the Gonzalez fight, I saw a lot of things checked off as potential issues for Russell, which ultimately led me to feel that he could very well be on his way to another "L". From the very first bell, Russell came out with something to prove! He didn't let up, and he damn sure didn't let down! I walked away feeling that he had finally "arrived"! And the Russell we saw against Gonzalez supported all of the hype we heard prior to.
I'm not a good source to support the conspiracy theories, or go along with alibi's, but he performed strong enough to make me truly question whether or not he was in fact "sick" the night faced Lomachenko like he later said he was. There's no way that a fighter who fought like he did against Gonzalez would have been white-washed the way he was against Lomachenko. No question, Lomachenko is arguably the cream of the crop….but fighting the way he did against Gonzalez, Russell would have been a clear and present danger, even for him!
I like to caution myself when it comes to swinging on that proverbial "pendulum", going from fighter to fighter every time someone does something noteworthy; but I really think the confidence and sheer ability Russell showed makes him a tough out for anyone. At Featherweight, you have the likes of not only Lomachenko, but also Nicholas Walters, Abner Mares, and many others. I don't know if he beats all of those guys, but one thing for sure: he's good enough to enter those bouts with a credible chance. Hopefully we get to see some of them unfold! Stay tuned.
Jose A. (Raleigh, NC): I think fans could argue that the Garcia v Peterson fight was a "draw", but I didn't think Garcia necessarily won. How did you see the fight in the end?
Vivek W. (ESB): I didn't agree with the decision, but I don't think it was necessarily "wrong" either. I hear people using the term "robbery", and again, although I didn't agree, I've seen far worse in the sport. We have to remember that this sport is notorious for catch-phrases such as "you have to take it from the champ". Although there were no belts on the line, Garcia was considered both the champ, as well as the hometown guy.
When you consider that he was the aggressor, and the challenger (Peterson) was the "boxer", it's a classic case of an unfortunate outcome that technically "adds up", yet subtracts from the moment, causing division amongst the fans while multiplying cash generated on hand! Read that again and let it soak in! In lamest terms, Garcia lived to die another day, which allows them to do a rematch or a bigger showdown with him right back in this region. What's that mean? Cha-Ching!
I would lie some of the blame on Peterson for starting out slow like we've seen him do over the years. That being said, I think my biggest issue is that many of the early rounds that weren't decisive were given to Garcia as a basic formality. One with no true warrant, because despite Peterson's inactivity early, Garcia didn't really do anything either. But it goes back to the aforementioned statement. The hometown/bigger name or champion fighter will routinely get the nod in those 'close calls', and Peterson was content letting it happen because he showed zero urgency in the first 3-4 rounds. The fight was decided by two (rounds).
Moving beyond the outcome itself, I think we all learned something about Garcia that many of us didn't quite want to know. Several of his victories in the past ended in KO because he was able to use his 'eraser' (left hook) to make up for other short-comings. Unfortunately, what Peterson taught us is that a bona fide welterweight isn't fazed by that power. So when you take away the left-hook and realize that this is a guy who has an ineffective jab and very little desire to in-fight or bang with a man he feels can hurt him, you basically have a fighter whose ceiling potentially taps out at '40, because he will have very little success above that weight limit.
When you think of the welterweight landscape, you see proven names like Mayweather, Pacquiao, Thurman, Guerrero, Bradley, Maidana, Brook, Khan, and beyond. Amidst that group, I can't pick 2 men whom I feel Garcia decisively beats. He's a tough kid and he comes to fight. But aggression is only effective when you're connecting. And if he wasn't able to cut the ring off with Peterson, there's no way he'd do it to a head hunter like Thurman or the others listed. I think we've seen him hit his ceiling. But I welcome the opportunity for him to prove me wrong.
Dexter I. (Ontario, CA): I hear some writers call Quillin "elite", but I don't really see it. How did you grade his performance and what do you think about him in comparison to the top fighters at 160?
Vivek W. (ESB): I thought Quillin performed well for the most part, but similar to Garcia, uneven performances like this (in some respects) shed light on why Haymon may have opted to take a more scenic route for him at times. I love Quillin's power, speed, and underrated Michigan-built toughness, but there's a transition I've waited to see take place and it hasn't. And I don't really know what to make of it. I absolutely think he has the tools to be on that 'elite' level, but something just hasn't quite clicked.
Quite easy to take that position as if it's a given, but the reality of it all is that we need to give Lee more credit. Styles make fights, and I think Lee's style is a very tough fit for Quillin. To show how difficult to dissect Boxing can be, consider this 'triangular theory': Lee is a struggle for Quillin, yet some would argue that stylistically, he's a walk in the park for GGG; while Quillin's speed, power, and measured defense would make him potentially a tougher puzzle to solve for GGG. That scenario is as good a glimpse into the Sweet Science as one can get.
Styles make fights, and the wrong style could mean a long night! I raise this point to articulate the fact that we really don't know and perhaps won't know how 'elite' Quillin truly is any time soon. His past resume certainly hasn't placed him on that level. You add a "Draw" with Lee to that equation, and a fight with GGG that seems doubtful to happen and I think all of these guys remain entrenched in a situation that bears questions raised with few answered. We'll see what the future changes, but for now, they all need a signature victory to make them 'elite'. Hopefully two of them will sign their "signature" so they can finally earn a 'signature'. Stay tuned.
(Vivek "Vito" Wallace can be reached at wallace@boxing247.com and 754.307.7747. He can also be heard on "Left-Hook Lounge Radio", or followed on Twitter (@lefthooklounge1), Instagram (ViveksView), and Facebook).