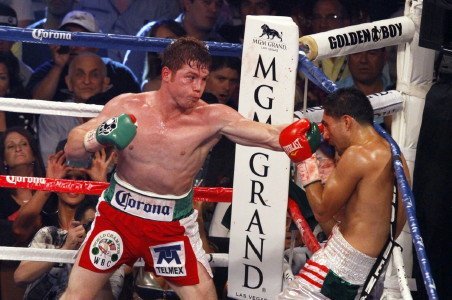 (Photo credit: Leopoldo Gonzalez) By Rob Smith: WBC Siver welterweight champion Josesito Lopez (30-5, 18 KO's) will reportedly be moving back down to 147 after losing by a 5th round TKO in his title challenge against WBC junior middleweight champion Saul "Canelo" Alvarez (41-0-1, 30 KO's) last Saturday night at the MGM Grand in Las Vegas, Nevada. Lopez, 28, will be fighting either a rematch against Victor Ortiz or a bout against Marcos Maidana. Of the two, Lopez would probably stand a better chance of beating Ortiz. Maidana hits too hard and the chances would be high that he would basically the same thing that Alvarez did to him by blasting him out with hard power shots.
Lopez moved up from welterweight to take the fight after being selected by Golden Boy Promotions to be the lucky guy to get the payday fight against the young 22-year-old Alvarez. However, things didn't go well for Lopez, as he was knocked down three times by Alvarez and stopped in the 5th when he was getting snowed under by a heavy storm of punches from Alvarez in the corner.
Lopez made a huge mistake by trying to punch with Alvarez instead of trying to box with him. Why he did this it's hard to say. Lopez has good boxing skills, but he chose not to use them for some reason. After fighting a fairly competitive first round, Lopez was then knocked down in the 2nd from a hard left hook to the body from Alvarez.