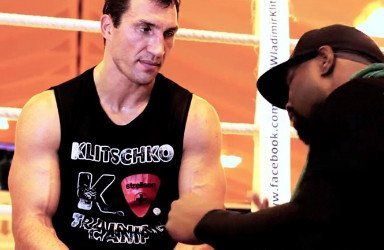 IBF/IBO/WBA/WBO heavyweight champion Wladimir Klitschko (62-3, 52 KOs) is reportedly working really hard in training camp for his title defense against #1 IBF Kubrat Pulev (20-0, 11 KOs) on September 6th at the O2 World Arena in Hamburg, Germany.
Wladimir is training in Austria, and he's working with 15 sparring partners, one of which is 2012 Olympic super heavyweight gold medalist Anthony Joshua. With Wladimir's deep pockets, he can afford to have a large number of sparring partners and in train in beautiful surroundings.
The sparring partners are doing their best to try and copy the fighting style of the 6'4" ½" Pulev, who throws a lot of jabs in his fights. The key to Wladimir's spring partners imitating Pulev is for them to jab frequently and back away when Wladimir moves forward to land.
Pulev rarely stands his ground when his opponents come forward unless he's fighting someone that is no threat. He'll back off and wait until the danger has passed before he goes back on his attack with his jab.
"Wladimir is training like a beast. He is the only heavyweight boxer in the world who can box for 15-16 rounds at such a fast pace," Wladimir's trainer Johnathon Banks said to Bild.
Wladimir is taking Pulev as a very serious threat to him, as he's unbeaten and he's got a great jab going for him. Pulev has been totally dominating all of the opponents he's been matched up against since he turned pro, and he'll be coming into the fight with a high degree of confidence.
Pulev has wins over tall heavyweights close to the same size as Wladimir in 6'7" Alexander Dimitrenko and 6'7 Alexander Ustinov. Neither of them is in the same class as Wladimir, of course, but Pulev still looked very impressive against them.
For Wladimir to beat Pulev, he's going to need to beat him with his jab and then look to hurt him with one of his left hooks and right hands. Wladimir can't just stay on the outside for the entire fight throwing nothing but jabs, because this would play into Pulev's hands. His jab is good enough to inflict a lot of punishment on Wladimir. It's possible that Wladimir could win a jabbing war, but he'll end up with a puffy face and possibly some cuts if he chooses to take that approach to the fight.