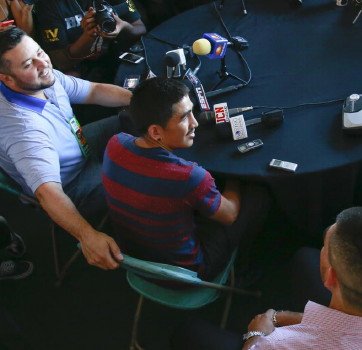 Share the post "Santa Cruz feels pressure of fighting in co-feature on Mayweather-Maidana 2 card"
(Photo credit: Esther Lin/Showtime) WBC super bantamweight champion Leo Santa Cruz (27-0-1, 15 KOs) feels like he's got to put in an especially impressive performance next month when he defends his title against fringe level bantamweight contender Manuel Roman (17-2-3, 6 KOs) in the co-feature on the Floyd Mayweather Jr vs. Marcos Maidana 2 card at the MGM Grand in Las Vegas, Nevada.
Santa Cruz knows that millions of boxing fans will be watching the fight, and he wants to look good so that he doesn't let anyone down.
The selection of Roman was a very odd choice as an opponent for Santa Cruz, because Roman isn't even a super bantamweight. He's ranked #13 WBC in the bantamweight division and he has 2 defeats and 2 draws in his last 7 fights. Roman is getting a title shot with record of 3-2-2 in his last 7 fights.
It doesn't seem like Roman deserves a title shot, especially with him fighting in the bantamweight division and not in the super bantamweight division. He's being given the chance to leapfrog over the top 15 contenders in the super bantamweight division to get the title shot. This fight is like Danny Garcia vs. Rod Salka 2.0. Santa Cruz isn't getting much criticism for the match-up for some reason.
It's possible that fans don't mind if he faces a smaller fighter than him from a lower weight class as long as that fighter is ranked in the top 15, which Roman is at #13 WBC. But it's still not a great match-up for a co-feature bout.
"I need to look spectacular September 13 because I'm the co-main event and millions of people will be watching," Santa Cruz said. "I have known Manuel for a long time. He is a good, hungry fighter. Those are the most dangerous."
"I am inspired. Just to have this opportunity means the world to me," Roman said.
I know Leo Santa Cruz is a warrior, that's why I'm training so hard too. I'm ready."
Roman has lost recently to Randy Caballero and Anthony Villarreal.