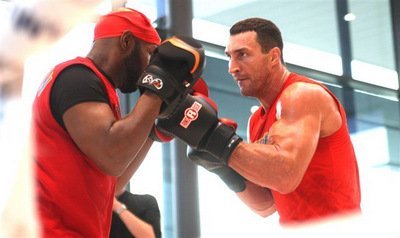 by Richard Smith: Not for the first time, heavyweight king Wladimir Klitschko and fellow Olympic champion Alexander Povetkin are rumoured to be a on a collision course. Ordinarily, a fight between the dominant champion of the era and an unbeaten Olympic gold medalist would be a thrilling prospect. Instead, even if the fight finally takes place, its lustre will have dimmed considerably since the matchup was first proposed in 2008.
Four years ago, Povetkin was coming off consecutive victories over former Vitali Klitschko conqueror Chris Byrd and undefeated prospect Eddie Chambers. From that point on, his career stagnated. In fact, it was Chambers who would ultimately get a shot at Wladimir, suffering a 12th round stoppage defeat in March 2010. Meanwhile, Povetkin was picking up victories over such boxing notables as Taurus Sykes, Leo Nolan and Teke Oruh. Since claiming the vacant WBA 'regular' title with victory over Ruslan Chagaev in 2011, his most exciting win came over Marco Huck, a cruiserweight.
As for Wladimir Klitschko, public perception of him has changed in the past four years. While he still has his detractors, gone are the days when large groups of fans saw him as a glass jawed pretender who feasted on low level opposition while waiting to lose to the first decent contender he faced. The ease with which Wladimir dispatched the likes of Chagaev, Chambers, and even the much hyped David Haye has reduced fans interest in seeing him face yet another undersized opponent.
None of this should suggest that a potential fight between the two would attract no attention. Povetkin remains one of the biggest names in the heavyweight division, and both he and Wladimir can draw sizeable crowds in Germany. In theory the fight could even take place in Povetkin's home country of Russia, as Klitschko is not averse to traveling if a tidy cash profit can be made. Certainly most fans would prefer this matchup to seeing Klitschko face another faded fighter eager for a payday. Nevertheless, Povetkin's star has faded as new generation of young contender emerges.
As things currently stand, names like Kubrat Pulev, Tyson Fury, David Price and Deontay Wilder all stand a better chance of dethroning Klitschko than Povetkin. Pulev has both an impressive set of skills and an impressive amateur background. Fury has all of the physical tools to push Wladimir to the limit, in addition to being a far smarter promoter than many seem to realise. Both Price and Wilder (the latter especially) have yet to be tested, yet each has demonstrated the type of devastating power that could have Wladimir down for the count.
As nice as it would be to see Klitschko and Povetkin finally face off, excitement levels have been dimmed by four years of stagnation on the part of the challenger. Whether or not the two sides can reach an agreement, fans now have better and more competitive prospects to look forward to in the future.