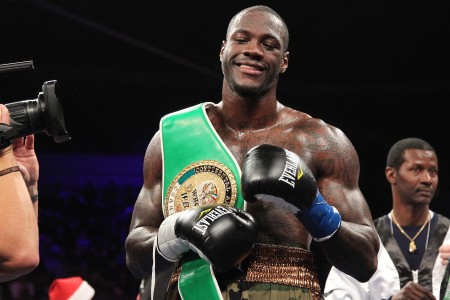 By Brad Cronich, photo by Tom Casino/Showtime – Unbeaten heavyweight prospect Deontay Wilder (26-0, 26 KO's) seems immune to the criticism leveled at him from a lot of boxing fans who saw him look less than spectacular last Saturday night in his 3rd round knockout win over Kelvin Price. Wilder thinks he did a great job in blasting out the 6'7" Price, and he doesn't seem to be aware of how other people saw his performance.
Wilder said RingTV I thought that I did a great job. I have a lot more that I can do, but when you're fighting against a fighter like Kelvin, different fighters bring out different styles, so you have to adjust to what they're bringing."
It's not that Wilder didn't do his job by knocking Price out. Wilder certainly did a great job of finishing Price with a right hand that not too many heavyweights would have been able to take had they been in the position that Price was in. However, Wilder looked really flawed in that he didn't throw jabs or use his left hand to throw power shots.
All he seemed capable of throwing were big right hands. Wilder's left arm was mainly used as a measuring tool to target the proper punching distance for him to get maximum power. He was a little like Thomas Hearns with the way he'd measure his opponent with his arm stretched out and then land a big bomb, but it wasn't enough because he so badly flawed.
Even Wilder's promoter Oscar De La Hoya wasn't altogether pleased with Wilder's performance even though he got the knockout. De La Hoya said he wants to see Wilder throw more jabs and to move his head. De La Hoya thinks Wilder will be a complete heavyweight if he can do those two things, because he already sees his power as being more than enough for him to make it all the way to a world title.