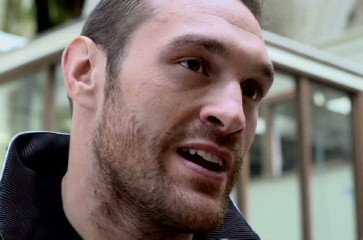 Vitali Klitschko and Wladimir Klitschko have dominated the heavyweight division for the last several years and since this time there has been no viable contender that has been able to dethrone them. Samuel Peter, David Haye, Odlanier Solis, Thomasz Adamek, Chris Arreola, among others, tried, however, they were all unsuccessful in their attempts to become a new world champion. The trash talking, extremely confident, undefeated Irish Heavyweight Champion and World Boxing Organization (WBO) Intercontinental Heavyweight Title Holder, Tyson Fury (20-0, 14KOs) believes he`ll be the pugilist to end the Klitschko`s reign in the heavyweight division.
"The heavyweight division, especially the Klitschko brothers are no good. They are all bums. All pins, should would have beens and I`ll knockout all of them and clean up this division once and for all," said the 6'9" 250 pound, Fury. "We need a change in the heavyweight division and I`m going to bring that change soon."
In order for Fury to climb up the heavyweight division and gain that opportunity to fight either the Klitschko brothers in the future, he`s going to have to defeat a tough two time world champion, Steve "U.S.S." Cunningham (25-5, 12KOs) in a bout that will take place on April 20th at the Theater at Madison Square Garden in New York City, New York. This will be Fury`s first bout in the United States and it will be televised on NBC. It will be for the second spot in the International Boxing Federations`(IBF) rankings.
"I`m not concern about Cunningham because he means nothing to me. I hope he`s ready for this fight because I`m in great shape and I`m going to knock him out earlier," said Fury. "After I knock him out, I`m going to fight someone else and knock them out as well."
Cunningham, ranked number twelve by the IBF, dominated the cruiserweight division where he beat Guillermo Jones, Krzysztof Wlodarczyk, Marco Huck and Troy Ross. This is Cunningham `s third fight in the heavyweight division. He defeated Jason Gavern in his first heavyweight bout and then in his last outing he lost a controversial decision to Adamek, in a fight that many fight fans though he won.
Fury is ranked number eight by the IBF, number five by the WBO and number five by the World Boxing Council (WBC). The 24 year old orthodox boxer beat Vinny Maddalone, Martin Rogan, Derek Chisora and in his last outing, he boxed a complete shutout over Kevin Johnson. Fury is positioning himself for a potential showdown with the Klitschko brothers as soon as possible, but until that showdown, he`ll continue to fight the best the heavyweight division has to offer.
"I`m the best heavyweight contender in this weight class. I`m the only one willing to fight anyone, anywhere. I go to people`s backyards to fight them, " said Fury. "I`m a world traveler like Muhammad Ali. I`ve and will continue to fight the best this division has to offer and no one can say that except for me."
Fury has the physical stature to compete with the Klitschko brothers as he`s their same weight and he`s a bit taller than they are. He also has a great boxing pedigree from his amateur career. He received a bronze medal at the 2006 World Junior Championship, a gold medal at the 2007 European Union Junior Championship, a silver medal at the 2007 European Junior Championship and was a 2008 ABA Super Heavyweight Champion. Fury, in the professional ranks, has dominated every opponent he has faced and he has never been hurt. He also has faced high-quality competition, especially of late, which is more than comparable to anyone else in the top ten in the division. He probably needs another two or three more bouts against good top ten heavyweight fighters, like Povetkin, before he`s ready to take on Vitali Klitschko and or Wladimir Klitschko, nevertheless, Fury would vehemently disagree with this assessment.
"I`m ready to fight the Klitschko brothers right now but they are avoiding me. I`ll fight anyone in the top ten in the heavyweight division but no one wants me," said Fury. "It`s ridiculous and extremely frustrating for me. This is going to be my second eliminator bout and after I win this fight, I still willn`t have a title fight line up and Vitali Klitschko and Wladimir Klitschko still willn`t fight me."