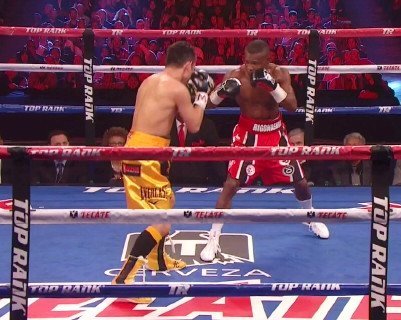 Christopher N. (Atlanta, GA): How would you rate Donaire's performance? And would you entertain the thought of placing Rigondeaux on the P4P list?
Vivek W. I think the best way to address your questions is to point to something I said a long time ago and have maintained ever since. The way I see the whole P4P topic is totally abstract from what the rest of the sport feels. I once touted Donaire's talent as much as anyone else, but when the topic shifted to such accolades as "Fighter of the Year" and "P4P" worthy, I openly stated that I would take no part in such dialogue. The kid is better than average. His heart is bigger than average. He's a good lookin' kid, and a very likable guy outside the ring. All that being said, for those who understand the greatness behind pure fundamental skills, there's no hesitance to address the fact that he simply isn't on that level.
Donaire has one solid weapon to take out an enemy. And my fear was always that he would stall if faced with an opponent who he never got a shot to use that weapon on. Rigondeaux was that guy. Everyone, Donaire included, was so quick to say that Rigo did not have enough experience to deliver against a talent like Donaire. I viewed things a bit differently. When we look at something technical like flying an aircraft, there's a reason there's a certain amount of hours required to become eligible. It all comes down to experience. Some say the pro level is different from the amateur level. In a sense it is. But at the bone, both require a man to hit more and be hit less. The defining difference typically comes down to stamina and ability to weather the storm if an opponent does connect.
In this case, Rigondeaux displayed incredible skills and proved that true fundamental skills are clearly indefensible. And when a fighter has that level of experience to display those fundamental skills, few things get in the way of victory. Without doubt Rigondeaux has to be viewed a P4P fighter. He defeated the man every major media source declared "Fighter of the Year" and best fighter below 140lbs. And it wasn't even close. This was a great way to prove the difference between the type of fighter the media backs and the type of fighter who truly has elite skills. This isn't to say Donaire was a hype job. But it is to say politics led many to think he's better than perhaps he truly is. In the end, the best man won. And it was definitive. Only question was the pathetic scoring. Rigondeaux has arrived!
The truly fundamental fighters of the sport have a way of making it look easy on their biggest stage. Mayweather….Ward…..Hopkins….now Rigondeaux. All fighters who possess a level of balance – offensively and defensively -that far outweigh any talent in close proximity. The only reason the K-Bros don't make that list is because the talent level of their opposition hasn't been there. But make no mistake: Rigondeaux proved he is one of the most skilled fighters in the sport. And ONLY Mayweather has shown a better balance of offense and defense collectively. Donaire will be back. How far he goes when he returns will depend on how much he is able to evolve beyond this setback.
Wanda G. (Denver, CO): What do you see in Donaire's future after this loss and how do you think he will fare if he does get a shot at Mares?
Vivek W.: I have no doubt that Donaire will eventually return to prominence. Despite the rather one-sided loss, you'd have to agree that there's no other fighter sub-140 who would even come close to defeating him this convincingly. And yes, that does include Mares. This isn't to say he will lose to Mares. But it is to say that regardless of the outcome, it won't be nearly as definitive either way. Mares would be a very tough fight and a very different fight. Donaire just went to battle with a man who uses foot work, intelligence, power, speed, and toughness to get the job done. Those are a lot of elements to overcome. In Mares, the plot isn't as thick, yet it's equally difficult.
Mares brings not only durability, but power as well. And with his smothering style, the damage Donaire sustains could ultimately result in a loss too. But the odds on that aren't nearly as strong or definitive as those associated with such a fundamental purist like Rigondeaux. Unfortunately, I don't think we'll ever get a chance to see what a fight between the two would look like, for the simple fact that Top Rank won't be doing business with Goldenboy any time soon. Bearing that in mind, it's safe to say that Donaire will be back in his winning ways real soon, as no one else south of 140 (that he could be matched with as a Top Rank fighter) post any true threat.
Donovan O. (Reseda, CA): Yesterday on FB you touched on Top Rank and how the promotional company has hindered Donaire in some ways. And that Donaire may be at a crossroads. Can you elaborate on that?
Vivek W: Actually, I was just extending a point that Goldenboy Promotions leader, Oscar Dela Hoya, had established earlier. Oscar tweeted that Donaire "should have taken the $3M offered" (referring to the money GBP put up to stage a fight between Donaire and Mares. As we know, Donaire promoter Bob Arum declined and Donaire instead took $1.3M in a fight that he ended up having no chance in. Can't be a great feeling to take a near $2M loss in the bank account and an "L" on the resume. And trouble is, it may not be the last time considering the cold war between Top Rank and Goldenboy.
They're talking about a fight with JuanMa Lopez, but Lopez doesn't bring Mares type money, either. So Donaire is in a situation that may only get worse. Unfortunately, I think the Top Rank connection is basically a curse and a blessing for Donaire. Without Top Rank, he probably isn't who he is today. Pacquiao paved the way through Top Rank, and it made it that much easier for Donaire. But now, with him losing so decisively to Rigo and there not being any other non-Goldenboy promoted fighter with good drawing power, you have to ask yourself where do they go from here for marquee money matches?
Overall, I think Donaire has to go back to the drawing board in more ways than one. Not only does he have a promoter that could somewhat cap his earning power, but he also has a trainer who's great, but my opinion is that he's great at training a different kind of fighter. Roach is a brilliant coach. But he didn't work well for Khan because Khan has far more tools than a coach like Roach understands how to help him employ. Same thing with Garcia. Both Garcia and Roach use templates heavy on offense and toughness, but limited on defense and fundamental skills, as noted in Pacquiao, Margarito, Rios, Mikey Garcia, etc. Donaire has far more tools to work with. Yet we haven't seen them under Garcia.
This isn't a knock on Garcia and Roach. It's a reality that neither has ever presented the sport with a solid fundamental skills fighter who they have proven to take to another level. Skill wise, Donaire needs to learn how to employ more than speed and a left hook. He has far more than one bullet in the chamber. Yet that's all we've seen. In all fairness, Garcia was away from most of his camp to assist Rios. But either way, there's a disconnect. Donaire will need to really do some soul searching to see what steps he needs to take to reach that next level. A very crafty promoter and successful trainer had him thinking he was already there. What he received last Saturday night was confirmation that perhaps he isn't. Only time will tell.
(Vivek "Vito" Wallace can be reached tonight on Left-Hook Lounge Radio. Also at 954.300.5692, vivekwallace@ymail.com, Twitter (@vivekwallace747), and Facebook).