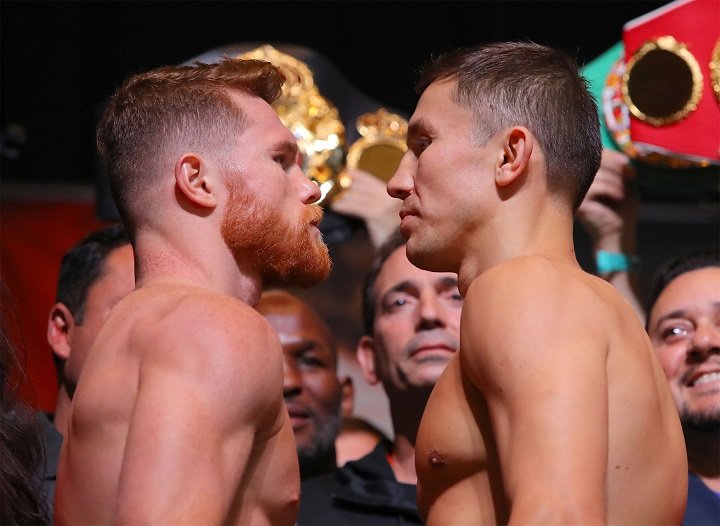 There's no such thing as too much of a good or a great thing, right? As fans everywhere are still celebrating how middleweight rivals Gennady Golovkin and Canelo Alvarez, who are both placed highly in the mythical pound-for-pound rankings, will fight their return bout on May 5, there is even talk of a third fight between the two stars; of boxing's next great trilogy.
And there could indeed be something to be settled after the second fight. Barring the unlikely scenario of a quick KO blast-out, one way or the other, the loser (should we actually get a winner this time) of the May 5 sequel is going to feel he is owed a third fight. Fight-one was a draw, suppose Canelo gets a points win in May, or suppose GGG gets a close decision win – the desire from all concerned for that third fight will be big.
Promoter Oscar De La Hoya certainly feels this way, going as far as to say "it has to go to a third fight, there's no doubt about it."
"We haven't seen a fight like this in such a long time," De La Hoya told The Desert Sun. "You have two great middleweights banging away and going at it, nothing but excitement, and this is what boxing is all about. It has to [go to a third fight], there's no doubt about it. The first one was a draw, whomever wins the next one, the loser is going to want to get revenge."
Again, if we get a second close fight that goes down to the wire, as most people expect will be the case (even though GGG has vowed how judges "will not be needed" in the rematch) a third fight will be a natural; even more so if the action is great on May 5. You have to back quite a ways to the last great world middleweight title fight trilogy, a trilogy where all the major belts (bar-one: the WBO title) were on the line. As such, fans would recognise the importance of a third shoot-out between the Kazakh and the Mexican.
This rivalry has to be settled finally, and it may well take a third fight for this to happen. But one man has made his case for getting himself a fight with the winner of the May 5 rematch: reigning WBO middleweight boss Billy Joe Saunders.
"If the winner doesn't face me in a unification, we know someone is ducking someone," the unbeaten Saunders told BBC Sport just after GGG-Canelo II was officially announced. "They are in a big-money rematch. Business-wise I don't hate them or despise them for it. After that, there is no excuse for any of us. If I don't fight the winner, I'm ducking; if he doesn't, the same."
Providing we do actually get a winner on May 5, what would be the most exciting next move for that winner, a third go with the May 5 loser, or a big multi-belt unification clash with Saunders?
The middleweight division is in good hands in terms of excitement, that's for sure.