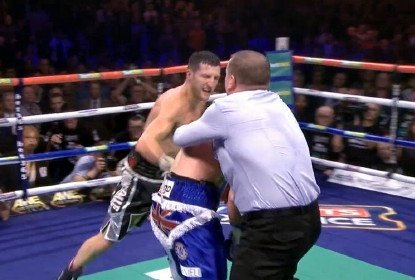 Carl Froch's good friend Tony Bellew (20-2-1, 12 KO's) was literally bludgeoned into submission in a 6th round stoppage loss last Saturday night at the hands of WBC light heavyweight champion Adonis Stevenson (23-1, 20 KO's) at the Colisee de Quebec, Quebec City, Quebec, Canada.
That couldn't have been a good experience for Froch to see Bellew getting manhandled by the Canadian-based Stevenson like that for 6 rounds, but then to make matters worse, Stevenson put Froch on notice by saying to the entire boxing world that he wants to fight him next rather than WBO light heavyweight champion Sergey Kovalev.
This puts Froch in a situation where not only was his friend Bellew beaten but now he's also being called out by the fighter that beat him in Stevenson. Does Froch ignore the challenge and ignore what Stevenson did to Bellew or does he choose to face him and make things right? Stevenson has made it clear why he wants to fight Froch.
Stevenson's rationale is that Froch beat two fellow Canadian-based fighters in Lucian Bute and Jean Pascal in the past, so Stevenson wants to beat Froch in front of his Canadian fans to make things right. In other words, Stevenson appears to want to avenge their defeats by beating Froch and likely knocking him out in front of the Canadian fans.
Stevenson was confident enough in his own abilities to challenge Froch last Saturday night. Froch hasn't responded to challenge and there's no way of telling whether he'll accept it or not. But you'd have to think that a Froch-Stevenson fight would be a huge one in Canada and around the world. It would also go a long ways towards building Froch's legacy if he were to win it.
Fans would forge all about Froch's less than stellar performance in defeating George Groves two weeks ago, and focus on what Froch did in beating Stevenson. But if Froch chooses not to accept Stevenson's challenge, it could make him look a bit like a ducker and someone that is afraid of facing Stevenson.
You can't blame Froch if he chooses not to fight Stevenson right now, because he's looking invincible right now. I'm sure his friend Bellew would see it as a brave move by Froch if he were to agree to fight Stevenson because it would be seen as him trying to avenge his loss. But I'm not just no so certain that Froch is willing to take that risk at this point in his career.