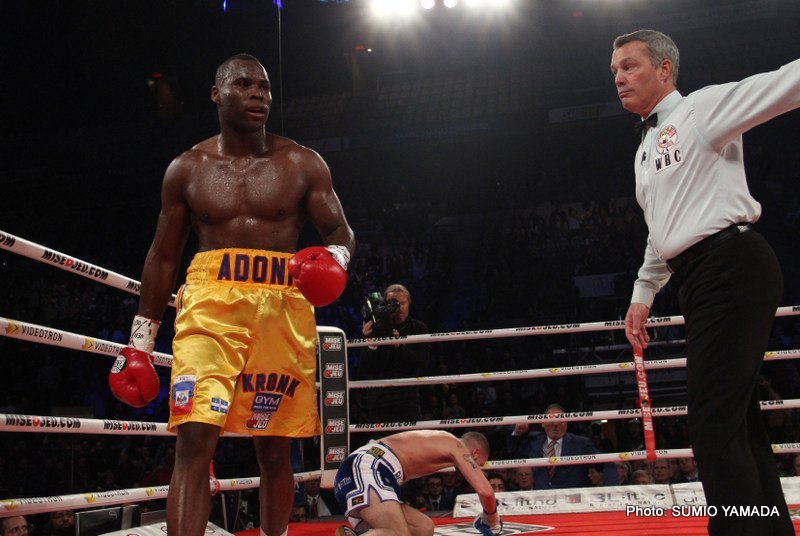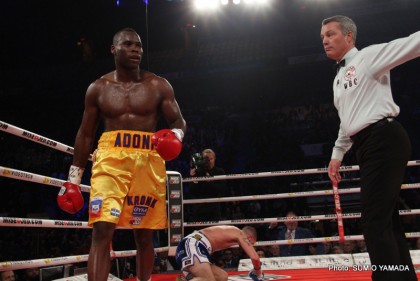 Anthony I. (Long Island, NY): I saw a recent interview with a reporter talking to Larry Merchant where Merchant stated that the media needs to "put pressure on Ward and Stevenson". I have mixed thoughts on his position, but I'd like to get your thoughts on his remarks.
Vivek W. (ESB): I did get a chance to read the interview you're referring to. It was a piece of work done by Chris Robinson. I'll preface my comments by saying that you're not the only one to walk away with mixed emotions. After taking a moment to read the direct quotes, I definitely found myself looking at things from a different angle, as well. Larry Merchant is a man I respect. We've always had respectful conversations in the media room, and as an elder statesman of the sport, I'm a bit more cautious in how openly critical I am in my analysis of him. That being said, the commentary appeared to be both personal, and corporate driven. I mean no disrespect to Merchant, but coming from a man who never laced up, I think it's a bit odd to hear him say Rodriguez wasn't a threat. Any man that size, throwing punches that hard with that many KO's is a threat.
Again, there truly seems to be an element driven by a personal perspective, and an HBO directive….as it's all about the current state of business within the business, if you follow me. Consider this: when Bernard Hopkins was ripping off a ton of defenses as a middleweight on HBO against men few knew, we didn't hear this. But in this modern era of the sport where HBO feels the heat applied by a very deep and dominant Showtime network, there's suddenly a penchant to make fighter risk more? As a fan of the sport, I would certainly like to see the best fights made. But I do have reservations towards the fact that this "desire to see the best fight the best" isn't applied across the board. It only seems to be applied to certain fighters. Some will say the comment was made and directed towards Andre Ward because he "has run out of valid options at 168lbs". Here's my response:
Golovkin has put three entire divisions "on notice" (160, 168, & 175) . When we analyze things closer and look at the men he could be facing in his own division, the reality is that none of them are on his fighting network, (HBO), which means he is also somewhat out of meaningful opposition unless he goes north. I can't recall one excerpt where Merchant and others questioned this or tried to change it. Why is that? As a fan of the sport, I'd much rather HBO come to the negotiating table and try to make some of these fights with star fighters on the other side of the ledger. Instead, we're seeing a large campaign designed to press certain fighters into fights they may or may not be ready to take, which is their own decision to make. Mikey Garcia recently went up in weight because he had to. Donaire recently went up in weight, because he needed to, as well.
How much emphasis (in the media) has been placed on either man facing a "more dangerous level of opposition"? Ward and Stevenson are looking for mega fights. I don't agree with the logic, but every fighter in the sport aims in that direction. Roach admittedly stated that the best money to be made for Pacquiao is with Mayweather or Marquez. So, he has this option, but not Ward (who wants Chavez jr. or Froch in the U.K.?) Not Rigondeaux who wants Donaire again? Not Stevenson, who is open to facing Kovalev, but also wants Froch or Hopkins? I have an issue with that. For the popular fighters, it's "smart business decisions". For others it's "avoiding a challenge". Until I see HBO and the Merchants of the world either make fights with Showtime or press guys like GGG, I'll continue to have an issue with it.
Kyle R. (Miami Lakes, FL): I'm a fan of both men and I really think a fight between Kovalev and Stevenson would be amazing! If they don't face off next, who would you like to see them face individually?
Vivek W. (ESB): I probably fall in a complete minority here, but I'm one that would love to see them face off with a Bernard Hopkins. Either one of these men versus Hopkins is a litmus test that tells us everything we need to know about them. And the reason I choose Hopkins is because we know what happens when these men are able to land early and often. We have no idea how things pan out for them when they're in against someone who they won't knock out as easy, if they're able to land flush at all. I really think Hopkins' defense would make for interesting nights against both men. If I had to judge, I think it would be safe to say that I found more flaws in Stevenson than Kovalev. Kovalev seems a bit more complete to me on many levels. Stevenson, in my opinion can be both touched and frustrated a little more.
Bellew was considerably slower than Stevenson, yet even with his limited speed, there were openings to land. I really think a crafty fighter with a solid defense and a good chin would defeat Stevenson on points. This isn't to say he can't make adjustments, as I think he's very capable. But all things remaining equal, I really like Hopkins over him on a not-so-close decision. Kovalev is a bit more of a question mark. I don't know who gets the nod in that, but Kovalev isn't a fast guy, himself. Which means Hopkins' defense and toughness could land him a decision here too. Very tough to say on the surface, but I would really like to see these matches made. Considering that they probably won't, I think Ward would be a great fight for either of these men too. Ward's skill level is just so superior to these guys that I really question whether the fights would be close or not?
Ward has touched the canvas at the hands of far less threatening punchers. That said, when those knockdowns happened, he wasn't nearly as solid as he is now. I think Wards overall skill level earns him victories over both men if the fights were to happen. Both Kovalev and Stevenson would both actually have better chances against an older BHop than the younger, more polished Ward. KO is the only way I see either man winning against Ward. There's no network battle to prevent the fights, so if Ward decides he wants to take make either of those moves, it could happen. HBO has tried to prevent Ward from looking at men like Chavez Jr. because there's limited risk involved. Lets see if they're willing to put their money where their mouth is and make these fights happen. Stay tuned…..
Carlo L. (Cincinnati, OH): This weekend we have two major cards happening at once. Of the HBO and Showtime card, which do you find more appealing, and which fight do you think will be the best fight of the evening?
Vivek W. (ESB): Personally, I think the Showtime card is better! It's a quadruple header and each of those four fights are very solid fights with big implications. At the bottom of that card, Anthony Dirrell is a man who has remained in the shadow of his brother, but as we look closer, some would argue he may indeed be the better, more polished talent between the two. Where does he fit inside an already talent-rich middleweight division? He's anxious to let us know and I'm anxious to find out! Beyond that, the Lara vs Trout fight will be an interesting chess match between two counter-punchers who I feel always does enough to lead one to believe they COULD have won; but not always enough to to make sure that they do win.
Lara has dropped a couple decisions in his career because of an inability to put a stamp on it! Will this be the fight he actually keeps his foot on the gas? Or will Trout bring a few new wrinkles and keep Lara at the doorstep of the elite crowd, but not quite part of it? The Alexander vs Porter fight isn't one that truly interest me. I like both guys, but I don't think Porter is ready for this level. Good thing about it is that this is the very stage in which men who aren't supposed to be ready for a certain level prove that they are. Is this his time? Again, there are so many solid fights on this card, but the Judah vs Malignaggi fight is truly one I look forward to. I think both men have just enough in the tank to remind us why they're still prominent enough to even land as a headliner on a major card. I really see fireworks in this one!
Even though I think the Showtime card is the better of the two, I'll go out on a limb and publicly admit that the best fight of the night (between the two cards) will be the Rigondeaux vs Agbeko fight. I like that fight because it's the one that will tell me more about what I don't know. Rigondeaux is a guy that I place at a #3 P4P spot in the sport. And his ability is so refined that to be honest, I wouldn't argue with a person who actually places him at #2 behind Floyd Mayweather. He's that good! But this time around he isn't facing a guy who will try to counterpunch or hunt for one big shot. This time, he'll be facing a man who will press the action and give him far less time to think. Speed kills! Rigo is the faster fighter, but he doesn't fight at the faster pace he'll be required to keep up this time around. That's where it all gets intriguing. Can Rigo keep up?
Will Rigo find himself uncomfortable with the pace and make a mistake in the process that could cost him the fight? Has Rigo put on his "silk pajamas" and stopped dedicating himself to his craft after winning a career defining fight only a few months ago against Donaire? This is a fight that will answer most of those questions. I really think this is the fight of the night, but I feel the Showtime card is clearly the better of the two. The only other intriguing element to the HBO card is the return of Kirkland. I don't think he'll get the win here, but if he's in good enough shape to pull it off, we may have a new name to add to the mix at '54. Canelo? GGG? I can think of quite a few people within striking range that would make for a very interesting night against an in-shape and ready Kirkland. I won't hold my breath, but I will hold out hope. Should be a great night of action.
(Vivek "Vito" Wallace can be reached every Tuesday night at 9ET/6PT on "Left-Hook Lounge Radio"! He can also be reached at Twitter (@vivekwallace747), Instagram (ViveksView), and Facebook).