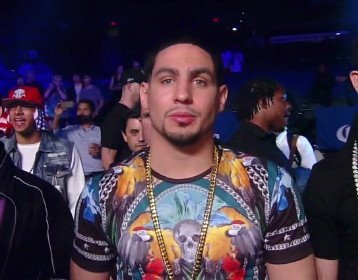 WBC interim light welterweight champion Lucas Matthysse (34-2, 32 KO's) appears to have finally cornered WBA/WBC light welterweight champion Danny Garcia (26-0, 16 KO's) after chasing him with no luck for the past year. Garcia, 25, is now in a situation where he has to fight Matthysse this September or else risks having the World Boxing Council strip his WBC strap from him for failing to face his mandatory challenger.
One would hope that Garcia will agree to voluntarily face Matthysse, but after noticing how shook up Garcia appeared moments after Matthysse demolished Lamont Peterson in three rounds on May 18th of this month, you can't be certain Garcia will agree to take the fight with him. Garcia has two titles, so he can safely give up the WBC title if he likes and hold onto the WBA strap and avoid what could be a potentially embarrassing fight for him.
As good as Garcia looked in destroying the fragile chinned Amir Khan last year in July, it's probably not going to be enough for him to beat Matthysse. Garcia doesn't have big power in his right hand, and Matthysse will likely take away Garcia's left hook as Judah did. Without the left hook working for him, Garcia is going to have a tough time trying to beat Matthysse.
Golden Boy Promotions wants the Garcia vs. Matthysse fight to take place in September, and so there shouldn't be any obstacles from them in putting this fight together. It's an all-Golden Boy promoted fight, and it should be easy to make in theory as long as one of those two fighters doesn't set up any roadblocks in trying to get the fight done.
Matthysse wants the fight, so you can't expect him to make negotiations difficult. I just hope Garcia wants it as much because he needs to finally face someone good. He's beaten Khan with his questionable chin and beaten past their best fighters like Erik Morales, Kendall Holt and Zab Judah. Now it's time for Garcia to prove himself against a fighter in his prime with a good chin and a lot of power in Lucas Matthysse. Will Garcia duck the fight? I hope not.