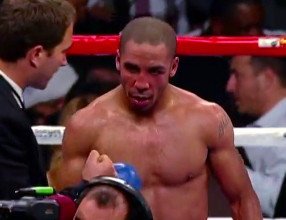 If IBF/WBA super middleweight champion Carl Froch chooses to face Andre Ward in his next fight, he believes he now holds the knowledge of how to beat him this time. Froch's plan involves him coming on late in the fight when Ward tends to tire out a bit and win by outworking him.
Froch said to the guaradian.co.uk "If we fight again, I know what to do. Late on, he tires. At super middle, he struggles…he's got to come here."
Well, Froch won't ever get to test his theory if he never faces Ward again and right now the rematch between them will likely not happen. Froch's promoter Eddie Hearn appears more interested in putting Froch back in with Mikkel Kessler again for a third fight.
Froch beat Kessler by a 12 round unanimous decision last Saturday night in London, UK, and both fighters made a lot of money from the fight. Hearn no doubt sees dollar signs in a rematch between the two of them, and he probably sees nothing but trouble for Froch in a rematch against Ward.
Froch's idea of beating Ward late in the fight is probably based on how Ward seemed to let up on Froch in the last four rounds of their fight in 2011, allowing Froch to steal some rounds. However, that wasn't because Ward was tired. It was more of a case of Ward fighting with a broken left hand that was giving him major problems late in the fight as it began to swell up.
Ward broke his hand in training and rather than cancelling the fight, he went ahead and took it broken hand and all. Through the first half of the fight, Ward was able to use his left hand to jab and tag Froch in the head. However, after his hand began giving him more problems, Ward used it less and less and he became pretty much a one-handed fighter in championship rounds. This allowed Froch to win rounds that he otherwise wouldn't have won.
Froch won't beat Ward by coming on late in the fight because he'll have likely lost the first 8 or 9 rounds of the fight, so he'll be in a position where he'll need a knockout to win, unless the judges come up with some strange scoring for the fight and have Froch neck and neck with Ward.
Like I said, I don't think Froch's promoter Hearn will allow him to fight Ward again, not when there's money to be gotten in fights against Kessler or Bernard Hopkins.