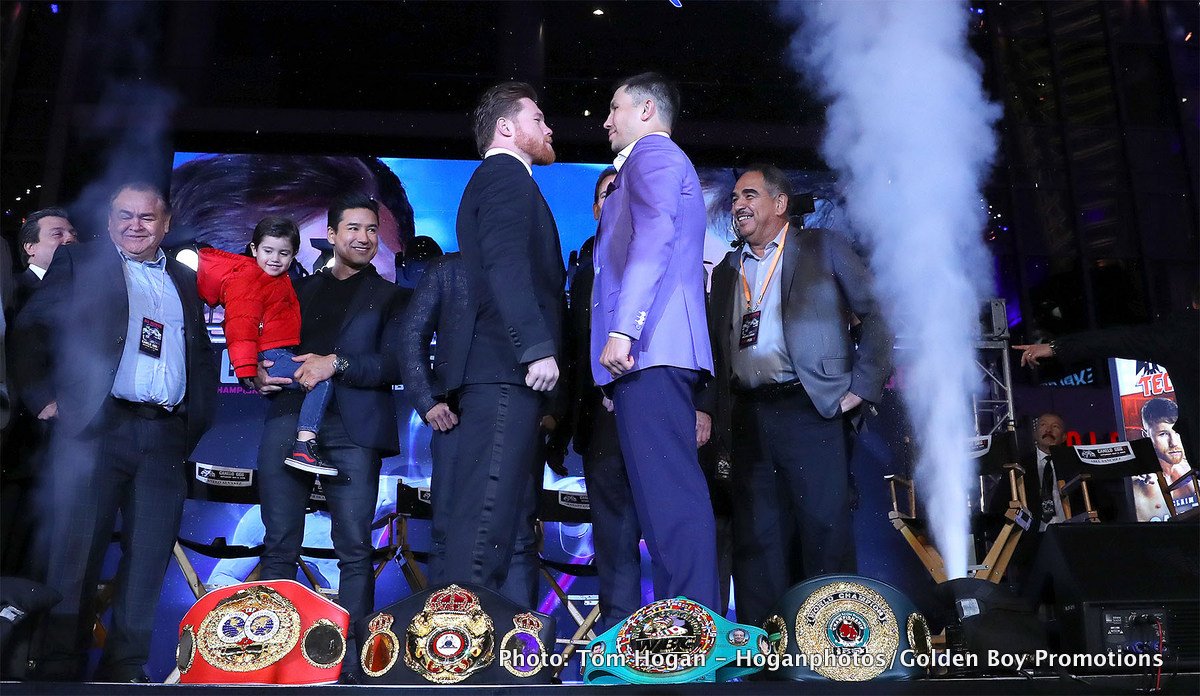 The stakes are high enough – as high as can be in fact – ahead of the May 5 return bout between Gennady Golovkin and Canelo Alvarez. Both men will, once again, be battling it out for world middleweight supremacy, and the May 5 winner (if we actually get one, that is; and the possibility of a second draw between these two cannot be dismissed) will hold all the belts at the weight. Apart from one: the WBO crown that is currently in the good hands of British southpaw Billy Joe Saunders.
And, as fight fans know, the unbeaten Saunders has made plenty of noise about fighting the May 5 winner (BJS, by the way, had GGG winning the September clash, as did most fans). While as for Triple-G, he has long since said it is a dream of his to hold all four recognised titles at 160: WBC/WBO/IBF/WBA. So it seems that if Golovkin gets the win in May, he will then (providing he is permitted to do so) agree to fight Saunders in a big four-belt unification shoot-out in his next fight.
But what if Canelo wins on May 5; will we see a third fight between the Mexican star and the Kazakhstan pound-for-pound star? What if Canelo wins and decides that (for now at least) he has had enough of GGG? Does Canelo want a piece of Saunders? Then there is Danny Jacobs, the man who pushed GGG so hard and close when the two met over 12 rounds a while back.
Who deserves a shot at the GGG-Canelo II winner more: BJS or Jacobs? Have fans got any real excited interest in seeing Golovkin and "The Miracle Man" do it again? Would fans prefer to see a Canelo-Jacobs fight?
It's easy to see how there are plenty of questions going into GGG-Canelo II – not least who wins – but also, who should the winner fight (again, should we actually get one this time)?
Saunders is probably more deserving, the superb display of boxing skill he put on to totally defuse dangerous banger David Lemieux making him so deserving. But Jacobs, in the opinion of some, the second or third-best middleweight in the world, insists he should get next crack at either GGG or Canelo. In an ideal boxing world (which doesn't exist), BJS and Jacobs would be fighting each other next (and not Martin Murray in the case of Saunders, and not Maciej Sulecki in the case of the man from Brooklyn) and then we would see, in clear and present danger, who is most worthy of a go at the May 5 victor.
Right now, assuming both men win their upcoming fights, Saunders is the man we need to see test the May 5 winner (again – yawn – if there is a winner in Vegas).
Wouldn't it be great to see one man hold all for major middleweight belts, if only for a short time?