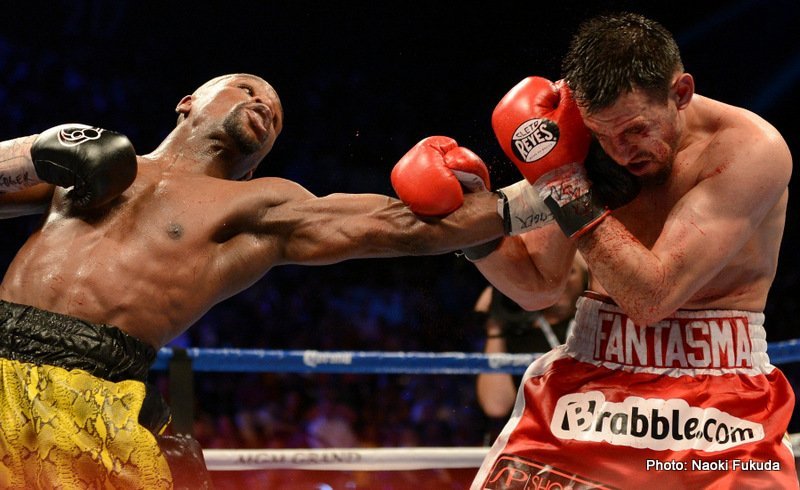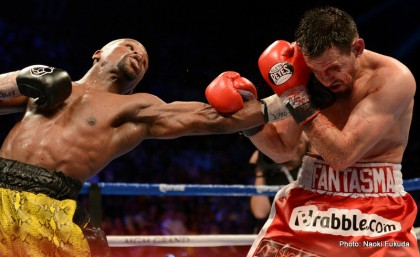 So much for Floyd Mayweather Junior slowing down even a little due to age/inactivity/jail time. "Money May" may be 36-years-old now and he may have fought just four times in the last three years, but, as he showed last night in totally dominating a tough but outclassed Robert Guerrero, Mayweather is as great as ever. The two months in jail proved to be totally irrelevant, and any suggestions Guerrero or anyone else might have made about Floyd having slowed down a little were blown clean out of the water.
In short, Mayweather made it look easy last night. Looking as razor-sharp as ever, his right hand especially, "Money" made "The Ghost" look like a somewhat clumsy amateur on occasion. The problem, once again, was Mayweather won so easily the fight became boring for many fans; some of them leaving The MGM Grand before the fight ended. These people may be guilty of failing to appreciate a master at work, but fans want entertainment and, bottom line, there is no fighter out there capable of making Mayweather work hard enough for a thrilling, competitive fight to break out. Floyd is simply head and shoulders above everyone else at 147 and 154-pounds. It might be that Mayweather will have to take on a big name from the talent-rich 140-pound weight class soon.
Indeed, who will be the next five fighters Mayweather faces as he completes his six-fight deal with Showtime?
Post-fight last night, promoter Richard Schaefer said it will be much easier to match Floyd with non-Top Rank fighters, so guys like Tim Bradley might well be ruled out unless some tough negotiating takes place. Bradley, though, despite his speed, toughness and amazing conditioning, would likely come up short were he to face Mayweather.
The general opinion is that the unbeaten, hugely popular Saul "Canelo" Alvarez is the biggest threat to Mayweather's perfect record right now. Mayweather, 44-0(26) was asked about a potential fight with the light-middleweight champ as soon as he'd dealt with Guerrero. "Pretty Boy," however, was noncommittal about who he will fight in September (assuming his right hand, the weapon he injured last night, permits him to box again in four months).
But if it isn't Canelo next, who will it be? And who will the final five opponents be as Floyd wraps up his massively successful boxing career?
Here are some fighters who might get the call, and the monster payday:
Amir Khan. Khan, who was at ringsider last night, has craved a shot at Mayweather for months. Currently ranked at #2 in the WBC welterweight rankings (despite never having boxed at 147!), Khan has plenty to keep him occupied at 140, yet he just might land the dream fight. Could this one even happen in England?
Danny Garcia. Garcia was also at ringside last night, and though "Swift" has a ton of big fights at 140, it's possible he could face Mayweather, maybe next year. And Garcia will be an even bigger name if he can defeat the winner of the upcoming Lamont Peterson-Lucas Matthysse fight in the meantime.
Marcos Maidana. The always-exciting and thoroughly dangerous "El Chino" has won his last two at welterweight and if he can do a good, impressive job on Josesito Lopez in June, who knows, he might land the big one. One thing Maidana can be relied upon to do is swing for the fences and give his all.
Victor Ortiz. Ortiz, who fell foul of that 4th-round sucker punch when he faced Mayweather in September of 2011, has not won a fight since, yet he somehow remains in the frame for a return with "Money." This one, despite the controversial nature of the first fight's ending, would likely prove a tough sell with the fans.
It's clear to see, aside from Canelo – and maybe middleweight king Sergio Martinez (who Floyd has shown no interest in fighting) – there are precious few real challenges out there for Mayweather. A fight between Floyd and his 'clone," Adrien Broner would certainly be a smash hit at the box office, but this fight seems certain to never take place.
Let's face it, Mayweather looks well on his way to retire after his Showtime contract is up. And "Money" will almost certainly walk away with one hugely impressive 49-0 record when he does so!
That's when the question of just where Mayweather belongs amongst the all-time greats will be seriously looked at.