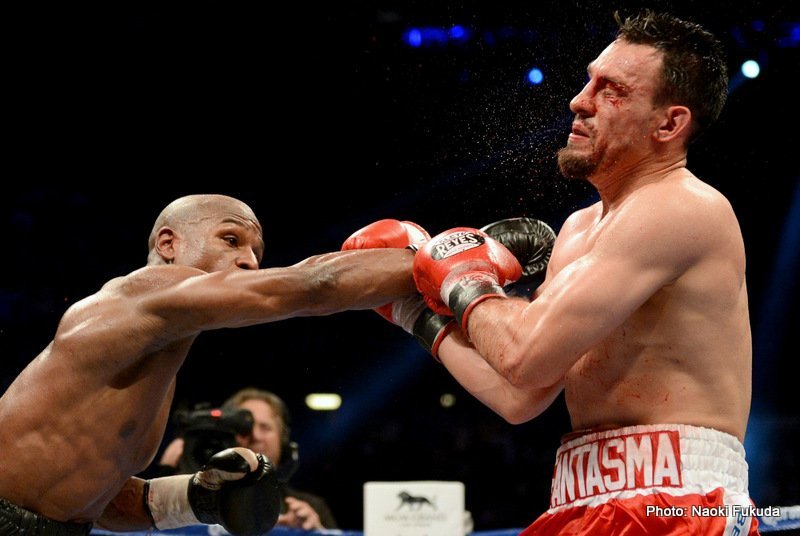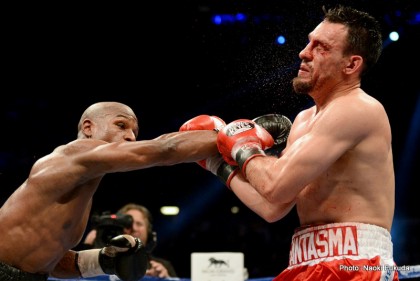 Floyd warned Robert "The Ghost" Guerrero that soon he would be discoveingr the real thing and not just exchanging words and verbal threats. Guerrero nodded and like Mick Dundee expressed hi had "No worries!" The Ghost was envisioning being able to beat down this man he was exchanging stare downs with. He was convinced he would be ready to deal with Floyd's slick movements and fast hands. He was convinced he could make Floyd pay for lead rights he knew would be coming once they stepped into the squared circle. Guerrero was dead serious nothing was going to deter him from victory.
However, the reality of the night was similiar to a story Freddie Roach tells about getting ready to fight Hector "Macho Man" Camacho. Freddie prepared by getting the fastest sparring partners around. He worked hard with these guys, against their speed, and was confident he was ready for the "Macho Man". But the reality of his night in the ring was similiar to that of Guerrero's on Saturday night at the MGM Grand. Robert discovered just like Freddie had their real opponent's speed was much greater than any sparring partner could duplicate. The real thing was at another level all together.
Robert Guerrero was honestly convinced he was going to be able to punish Floyd's left side with right hooks. He was convinced he was ready to make Floyd pay for throwing lead rights with his own countering left upper cuts. He seemed to get more and more determined hearing the often repeated instruction when he got back to his corner between rounds, even though he knew he had just lost another one. Yeh, yeh his head would nod. But, then he would go back out to face the P4P best, and once again fail to execute the game plan. It wasn't for lack of trying. It was because the man he was fighting was much faster, and more elusive than any sparring partner he ever faced.
No matter how hard he tried, he just couldn't time his foe's movements. He tried and tried to land the planned shots, but after the first couple of rounds, he discoverd the painful reality that the reverse was true. Floyd started to time his movements, and get through with that dreaded lead right. At times it would come straight up the middle between The Ghost's guard, and other times it would come around his guard, more like a big hook. Guerrero was getting frustrated. He was continually left ready to launch his punishing left uppercut to Floyd's body, but Floyd was no longer there. All this took a split second, and left Guerrero swinging at air.
A few times The Ghost managed to back Floyd against the ropes, but even there, he found Floyd's speed still prevailed. Robert was left eating leather, shoulders and elbows. He just couldn't get through with more than a few clubbing shots, nothing clean, sharp or damaging. His plan was to get to the body early, and slow down those quick feet of Floyd's, but it never happened. Floyd remained just as quick in the twelfth round as he was in the first. In fact, he was probably quicker, because he had shook off the ring rust.
In the post-fight interview, Guerrero understandably expressed disappointment with his failure, but was proud of himself for working hard enouugh to have gotten the opportunity in the first place. His seemed unfazed by the beat down he just suffered, and instead he acted all the more convinced that he would fight his way back for another shot.
Both fighters were gentlemen after the final bell. The exception was Robert Guerrero's father. He was the only one who kept spouting the macho stuff, cackling things like "you promised a slugfest!" The only one he got was a vocal one with Floyd, Sr. The fight itself turned out to be yet another boxing lesson conducted by the master named Floyd Mayweather, Jr. Floyd wasn't waving a wand. Instead, he was delivering heavy blows that had a different sound altogether.
We're left with Robert going back to the drawing board, and Floyd heading over to the cashier. Five more times Floyd has promised Showtime he will be giving repeat performances. Can Floyd junior beat off five more challengers? Is there anyone out there with the good enough to penetrate the P4P fighter's skill and talent? Hope shifts now to another undefeated fighter. This one recently managed to slow down a pretty fast and slick boxer named Austin Trout, but will Saul "Canelo" Alvarez really be any different than the others? Will he too experience the same kind of shock that Freddie, and now Robert experienced? Will the P4P best continue to keep pushing father time back long enough to be able to dazzle five more challengers and keep that "0"?