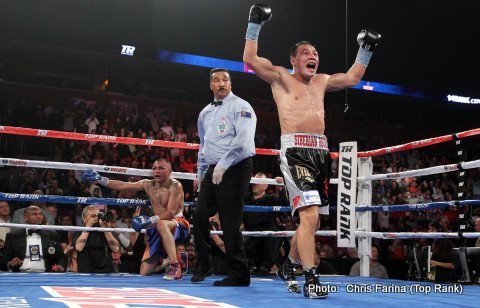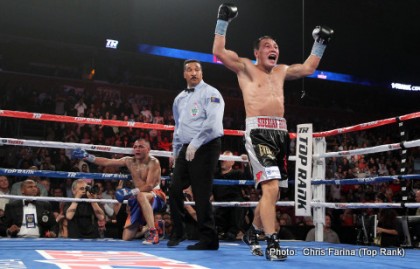 The look on Russian warrior Ruslan Provodnikov's face said it all. Moments after he'd taken all the fight out of the tough and gutsy Mike Alvarado, Provodnikov, blood trickling down his swollen face, let loose with his emotions. Proud to be a world champion, stating afterwards what it means to him to be "a world champion like Leonard and Duran," Provodnikov saw all his years of toil come to the good.
Last night's terrific fight was advertised as just that and Provodnikov (and Alvardo) delivered as he usually does. Now 23-2(16), the 29-year-old who came short in that January classic with Tim Bradley can now look ahead to some well deserved big fights and big pay days.
Post-fight last night the subject of a rematch with Alvarado came up, but Team-Provodnikov said that such a return would have to take place somewhere other than Denver, maybe in Russia. A second fight would definitely sell, but there are other mouth-watering fights for Provodnikov.
Bradley II? This one would be very pleasing to the fans. Bradley, who somehow managed to take Provodnikov's bricks-for-fists attack, might like the idea once again defending his welterweight belt against the man who gave him hell nine months ago.
The Pacquiao-Rios winner? How incredible would it be seeing Provodnikov in with either "Bam Bam" or Pac-Man? Provodnikov made it clear he wants Pacquiao and should the Filipino superstar get past Rios next month, the Russian could well get his dream fight.
Promoter Bob Arum has certainly got a number of exciting options for his latest world ruler. And what's more, all the above mentioned fights would prove relatively easy to make.
Enjoy Provodnikov while he's on top. As much as he gives in each and every fight, he ain't gonna have too long of a career!