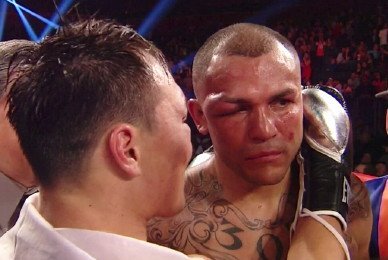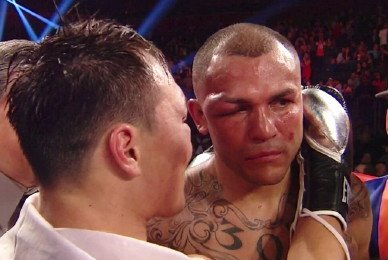 Saturday night Mike Alvarado felt good. Why shouldn't he? He was in front of his hometown fans at 1st Bank Center in Broomfield, Denver, Colorado. He was feeling very confidant and ready to give the 29 yr old Ruslan Provodnikov a boxing lesson. He was eager to tee off on the head of this straight forward Russian from Beryozovo. He watched Timothy Bradley win a tough fight against Ruslan. He also knew "Desert Storm" came close to getting stopped. But, Mike wasn't going to get sucked into a slugfest with Ruslan, but even if he did he still had the size and strength advantage, right?
HBO's Jim Lampley, Max Kellerman and Roy Jones, Jr. weren't so sure. They wondered which Mike was going to show up Saturday night? The one who got stopped in the first fight with Brandon Rios, or the Alvarado who showed up in the 2nd fight, the Alvarado who boxed beautifully to get a win over Rios. They collectively thought there was a real danger that once Mike got tagged, he would get pulled into the trenches and start trading with Ruslan. Bad idea. Roy Jones, Jr. accurately predicted how Mike would feel in front of his loyal fans. Roy felt there was a real danger that Mike would feel compelled to be overly aggressive in hopes of providing an exciting fight for his fans. That could prove disastrous.
When the opening bell sounded, Mike and Ruslan circled, trying to sift out what they were going to be faced with. Mike wanted to establish a favorable distance, so he could land his jab and combinations without getting clobbered by Ruslan's counters. He planned to take advantage of his height and reach advantage. Ruslan, on the other hand planned to slip Mike's jab and slide in close enough to fire off one of his left hooks, or even a big right hand.
As the fight progressed, both men had success. Just as he had in the Bradley fight, Ruslan willingly ate leather in order to get in his own shots. In between rounds, he was told, through an interpreter, to go to Mike's body. In the other corner,Mike was told to box and to continue using his jab and to stay away from Ruslan.
Unfortunately for Mike, he has a habit of bending in or bowing down to his opponent. When he does that, he gives the other guy an opportunity to tee off . Ruslan was no different. He accepted the courteous gift by banging away at Mike's head and body. Mike made things even worse by choosing to trade with Ruslan, thinking his speed would prevail. But, it was yet another present for the Russian.
Initially, Mike apparently thought he could stay safe with his gloves up high and tight. He must have thought Ruslan would waste his efforts and get punched out or winded in the mile high atmosphere. However, he only got him into more trouble. The smaller George Chuvalo type fighter started to place some powerful shots to Mike's kidneys and liver. That made Mike bow down even more.
The right cheek areas of both men started to swell from all the left hooks. It was harder to discern on the Russian, because he comes into fights with those large high cheek bones. Before the action begins, he looks like he's been in a fight. Going into the seventh round, Mike was beginning to act like a battered and beaten fighter, but he was managed to open a cut over Ruslan's right eye. Ruslan ignored it and kept up the pressure. Mike was finding it hard to keep from getting discouraged. He landed his best shots and still the Russian kept coming. When he bowed down with gloves (and elbows) up high, it exposed his kidneys, and Ruslan threw more and more right hands under and behind the elbow to the soft kidney area. That made Mike bow even more.
In the eighth round, Mike was felled twice from numerous shots, all painful. He bravely got up leach time, and gestured his willingness to take more punishment. Thankfully the bell soon sounded after the second knock down, and he had a minute to try and recuperate. Ruslan too was tired, but from throwing and landing punches, not from receiving them. Mike kept himself vertical by staying away and quickly moving side to side. Ruslan pursued him, but found it hard to throw on the move. When Mike did stop, he once again tried to use his hand speed to punish the relentless pursuer, but nothing he landed had the desired effect. Ruslan just wouldn't stop coming.
Mike knew he had only one chance to win, and that was by knockout. In addition to the 10-7 eighth round, he had been getting battered and beaten around by the squat man from Beryozovo. Mike's family members, seated at ringside, looked away with worried expressions. It was obvious to them and everyone else that Mike couldn't endure much more of the pounding he was taking.
Finally, at the end of the round, referee Tony Weeks leaned in to ask Mike if he could continue? Mike said "No". Weeks repeated the question, so as to make no mistake about what Mike wanted, and he got the same response ….."No." Weeks straightened up and waved his arms above his head to signify the fight was over. Officially, it was 3:00 of the tenth round. Ruslan had won the fight and the WBO light welterweight title.
Now, Mike goes away wondering what's next. He entered the ring on top of the world, ready to reward his loyal fans with talent laden performance. Now, reality had set in, and he began pondering, with disappointment, what's next? Ruslan, on the other hand, began dreaming about his possibilities ……..Pacquiao (doubtful), Rios, or maybe Bradley again. He's one happy Russian, and why not, there's lot's of other possibilities out there. He can already hear the sound of rubles ca-chinging to his good fortune.