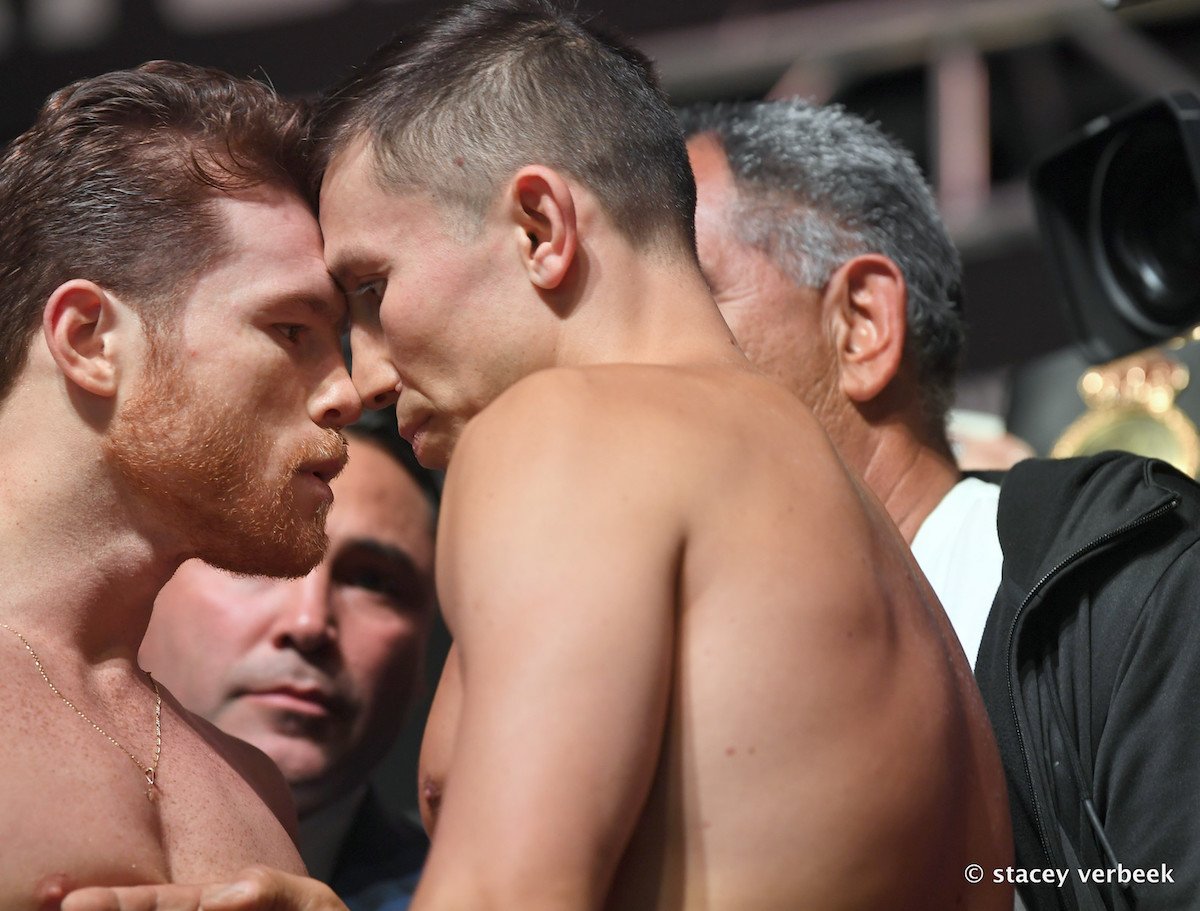 Saul Canelo Alvarez made it interesting at Friday's weigh-in by running at middleweight champion Gennady 'GGG' Golovkin when it came time for their face-off. Canelo was so amped up that he had to be separated by from Golovkin after he came head to head with the Kazakhstan fighter.
This was last chance for a face-off between the two fighters after numerous press conferences in which Canelo refused to meet with Golovkin face-to-face. Instead of Canelo standing to look GGG in a face-off, he stuck his head in his face and had to be pulled away. It didn't look staged on Canelo's part. He looked angry and ready to start slugging it out with the unbeaten Golovkin (38-0-1, 34 KOs), but it was still a letdown that the two fighters couldn't stand for a traditional face-off.
Only Canelo knows why he didn't want to face-off with Golovkin. Maybe Alvarez was seeing red from all the trash talking that Golovkin and his team have done about him testing positive for clenbuterol, and for the highly questionable draw he was given in the first fight last year.
Canelo weighed in at 159.3 pounds on Friday, and looked in identical shape as he did in his last fight with Golovkin. It'll be interesting to see how big Canelo will be after he rehydrates overnight. Canelo looked bigger than Golovkin when they fought a year ago. If Canelo is equally big on Saturday night, then he could be a problem for GGG. Golovkin weighed 159.6 pounds. Golovkin looked more muscular and defined than the previous fight with Canelo. He's clearly been working hard in preparing for the second fight with Canelo.
Canelo and GGG will be fighting on HBO PPV on Saturday night at the T-Mobile Arena in Las Vegas, Nevada. The HBO card will start at 8:00 p.m. ET.
Golovkin didn't think much of Canelo's face-off with him. "I saw he's like a clown," Golovkin said. "You'll see real war. Not regular fight, special war. I want knockout."
Golovkin said similar things before his first fight with Canelo, and yet he failed to deliver. Golovkin wasn't putting his punches together in the way he needed to for him to have a chance of knocking out anelo. Golovkin was admiring his work too much, and being methodical. If Golovkin had put his shots together without let up like he did in the final moments of round 12, then he would have given Canelo major problems. Canelo can't handle that kind of pace, but fortunately for him, Golovkin doesn't fight like that. He's not another Aaron Pryor.
The 28-year-old Canelo was booed by a lot of the boxing fans that were in attendance when he weighed in. A lot of those fans are likely unhappy with Canelo's two positive tests for clenbuterol and his subsequent contaminated meat excuse. Canelo is going to need to win over those fans by beating GGG and then testing negative for drugs afterwards. It would help Canelo if the judges score the fight in a more logical manner this time than they did in his previous fight with GGG.
"Look, I got excited seeing all the fans," said Canelo after weighing in. "I defeated the weight and now it's time to defeat him on Saturday."
Canelo has leaned out his physique in hopes of improving his stamina. It might not work any better for him than it did last time, because Golovkin will be improved as well. He plans on throwing more body shots and pushing a faster pace. That could be bad news for Canelo if he's unable to match the pace that Golovkin pushes in the fight.
Other weights on the card:
– WBO junior middleweight champion Jaime Munguia weighed in at 154 pounds for his defense against Brandon Cook of Canada. He weighed 153.2 pounds.
– Middleweight contender David Lemieux weighed at 160 pounds for his fight against Gary 'Spike' O'Sullivan. The Irish knockout artist O'Sullivan weighed in at 159.2 pounds.
– Former Ring Magazine pound-for-pound #1 Roman 'Chocolatito' Gonzalez weighed 114.8 pounds for his confidence booster fight against Moises Fuentes. For his part, Fuentes weighed 116 pounds