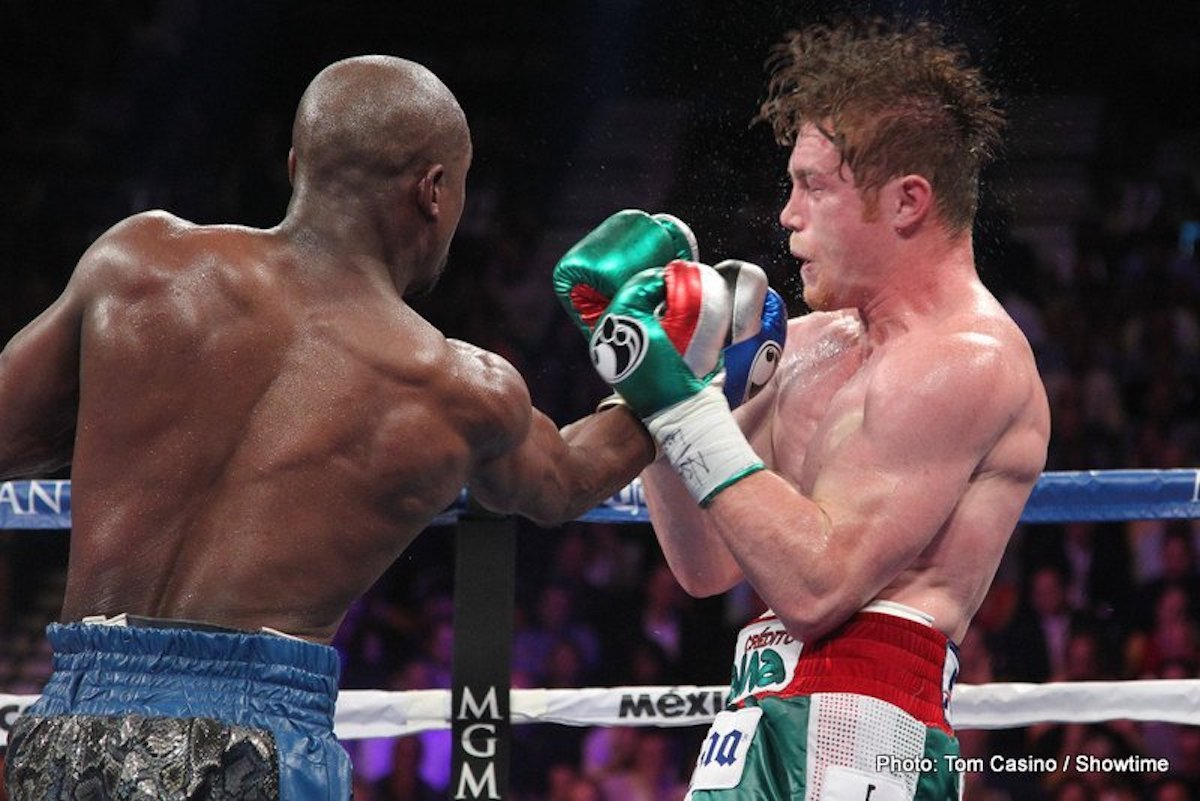 Five years ago today in Las Vegas, superstar and pound-for-pound king Floyd Mayweather boxed the much younger, also unbeaten Saul Canelo Alvarez in a pay-per-view monster. In many ways this fight was Mayweather's masterpiece. He certainly put on an absolute masterclass of pure boxing brilliance.
For 12 full rounds Canelo was unable to hit Mayweather's chin, or his body; not with anything approaching a significant shot anyway. Mayweather was expected by many to have a tough and testing time with Canelo (an admittedly biased Oscar De La Hoya, managing to sound sincere, went as fas as predicting a Canelo stoppage win) yet "Money" instead cruised to a wide and clear decision win that netted him many additional millions of $dollars. Well, it SHOULD have been a clear and wide decision.
Instead, almost unbelievably, a certain CJ Ross handed in a card that had the fight scored all-even as a draw. Only in boxing could such an atrocity occur. It goes to show that even superstar fighters are not safe when it comes to crazy cards and downright awful judging.
Floyd shook his head upon hearing the 114-114 card but he quickly smiled and celebrated, knowing he had bumped off yet another future Hall of Famer. The knock on Mayweather has been how he cherry picked his opponents, in the latter stages of his career especially if not exclusively; a career that we all know eventually saw him reach perfect 50-0 numbers. But Canelo was no cherry pick.
The sole argument the Mayweather critics have with this great win is the fact that the bout was fought at a catch-weight of 152 pounds, not Canelo's then natural 154. But Canelo and his team agreed to this and Mayweather, a smallish welterweight anyway, would almost certainly gave won the fight had the Mexican star been permitted to weigh-in carrying those additional two pounds.
Now, five years on, Canelo is a solid middleweight and nobody has managed to defeat him since Mayweather. Will this change tomorrow night? Middleweight king Gennady Golovkin fights nothing like Mayweather, yet the tough, relentless and powerful Kazakhstan warrior has come closest apart from Mayweather to beating Canelo (in fact most fans had GGG winning the first fight with Canelo last year, hence the massive return fight).
If Mayweather has a number of big fights and big wins he can point to as his defining fight (really, he can pick from at least three or four standout wins) Golovkin has yet to attain his. A win tomorrow night would likely you do it for Triple-G. And a win he must get tomorrow, lest he be defined for coming up short in his two biggest fights (albeit controversly in fight-one).
But Canelo, an improved fighter since the Mayweather schooling, is looking to define his own career with a big win tomorrow. Canelo, if he can put everything he has been through behind him – and Canelo sure has been through a lot these past 12 months or so – and convinicingly defeat Golovkin, will have shown how far he has come. Of course those two failed drugs tests will never go away, but with a clear win, a definitive win, Canelo will have proved plenty – to himself at least.
Who gets the career defining victory in Vegas tomorrow night?