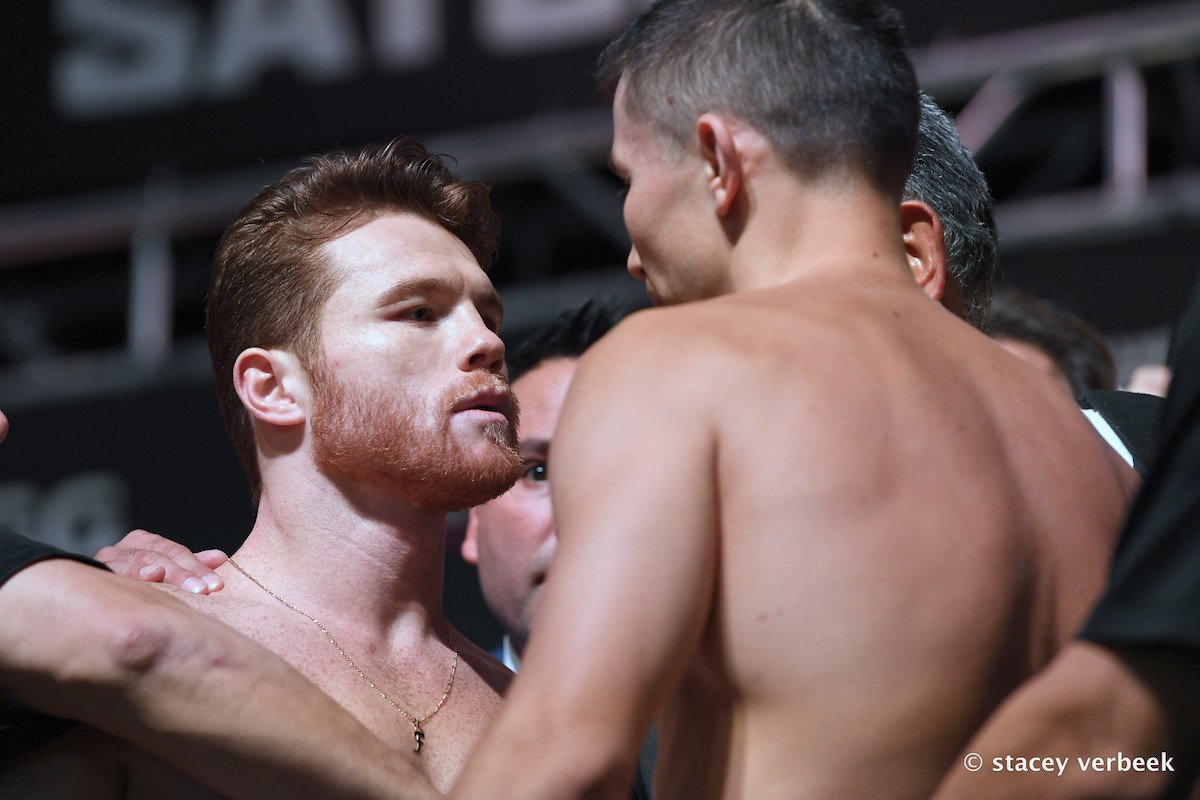 This Saturday night live on HBO PPV, at the T-Mobile Arena, in Las Vegas the bell rings for the 13th round between Canelo Alvarez and Gennady Golovkin. Adalaide Byrd's disgusting 118-110 scorecard still stenches the streets of Sin City. A few questions on both sides came to light from their first meeting. Which fighter can make the minor adjustment to settle the score from a highly-controversial draw?
A year later and the dust is getting kicked up again from both camps, especially Golovkin's. Last year's fight lived up to the all hype which is more than can be said about most PPV's.
Canelo looked great in the first three rounds, countering well and landing the cleaner shots. Golovkin was apprehensive to open up with his full onslaught because of Canelo counters off the ropes. Finally Gennady took advantage of Canelo taking breaks on the ropes with combinations. It seemed as though Canelo was gassed and sinking fast. Saul rose to the occasion and finished the last few rounds in grand fashion.
The definition of re-hashed is to put old ideas or material into a new form without significant change or improvement. The elephant in the room is Canelo Alvarez popping for clenbuterol prior to a schedule matchup in May. Without sending accusations about the first fight, Canelo's body transformation to a husky middleweight was a tad suspect. Now that the cat is out of the bag, what do we take out of the fact Canelo's body looks smaller and more lean. An argument can be made Canelo doesn't need to have buff muscles. The less muscular and more ripped, would lend itself to not gassing this time around. The counter of course is Canelo off the stuff will not be able to deliver another excellent performance in the rematch.
Many of the same folks who claimed Golovkin was a psychopath killer now use the age cop out, completely ignoring he finally was in the ring with two high quality fighters. Yes, Golovkin could be slowing down a touch but to only think he's over the hill is a shortsighted viewpoint. In 2017, Golovkin faced his toughest tests in Daniel Jacobs and Canelo Alvarez, both with good hand speed and punching power. What we found out last year is Golovkin has an impressive jab and iron-clad chin, but he's not the top pound for pound best in the world. He may not even be the best 160-pounder.
Normally a rematch favors the boxer capable of making adjustments and more options of attack/retreat. Canelo will need an uptick in activity and to stay off the ropes for long stretches. Golovkin can't be hesitant to throw combinations and implore more body punches to slow a moving target.
A few variables exist for both men but more so for Canelo. A year out of the ring, knee surgery, and a clear difference in body type, all could be important factors.
Canelo will likely start fast again implementing movement but maybe a bit more subtle this time similar to Daniel Jacobs. Jacobs didn't burn excess energy on the run instead he would land clean punch or two and take a walk out of harms way.
Golovkin will push the pace, look to attack the body and land something of substance behind the jab. Gennady's aggression will lead to counter shots to the head and body by Canelo. The action remains nip and tuck until Golovkin begins to slowdown or becomes gun shy in spots.
Expect a somewhat similar fight with Canelo not taking as many breaks the second time around.
My Official Prediction is Canelo via Majority Decision.
Side Note: Jose Ramirez brings his belt back home in Fresno, California making a first title defense against unbeaten Anthony Orozco this Friday on ESPN.
Written by Chris Carlson Host/Producer of The Rope A Dope Radio Podcast Available at www.blogtalkradio.com/ ropeadoperadio
Follow on Twitter @RopeADopeRadio