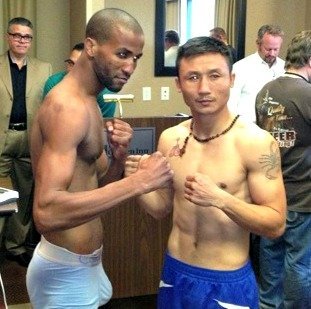 Weights for the Espn2 Friday Night Fights Card-Minneapolis Convention Center
Rances Barthelemy 129 vs Fahsi Sakkreerin 128 IBF 130 Eliminator
Donovan George 161.8 vs Caleb Truax 162 -10 rounds 162
Jeremy Mclaurin 134.6 vs Tony Lee 134 -8 rounds 135
Gavin Quinn 154 vs Kenneth Glenn 158(over)-4 rounds 154
Charles Meirer 154 vs Tyler Hultin 153.6 -8 rounds 154
Pat Quinn 363 vs Josh Schimon-4 rounds Heavyweight
Lewayne Hardiman(no show) vs Dustan Perton 155.7 – 4 rounds
Adrian Martinez 135.7 vs Leonard Overstreet 139.2 -4 rounds
Tickets to Friday Night Fights at the Convention Center start at $35 and can be purchased through www.sofights.com.bIn addition to the 12-round Barthelemy vs. Sakkreerin main event, seven more fights are scheduled including the 10-round televised middleweight co-main event between local hero "Golden" Caleb Truax (21-1-1, 12 KO) of Osseo, Minnesota, and Chicago's Don "Da Bomb" George (24-3-2, 21 KO).

An eight-round crosstown battle will highlight the night's undercard, as St Paul's Jeremy "Lights Out" McLaurin (10-5, 5 KOs) will face St Paul's Tony "2Sharp" Lee (7-1, 3 KOs) for the vacant Minnesota State Lightweight Championship.
Local bragging rights will be on the line for these two local scrappers, so expect fireworks. McLaurin has been in with the better opposition in his career, while Lee has fewer losses.
Also scheduled is an eight-round junior middleweight scrap between "Sir" Charles Meier (7-2, 3 KOs) of Coon Rapids, MN and Tyler Hultin (5-1-2, 3 KOs) of Fergus Falls, MN and a four-round junior middleweight contest between Gavin Quinn (1-0) of Circle Pines, MN and Kenneth Glenn (2-0, 1 KOs) of Minneapolis.
Several fighters will make their professional boxing debuts that night, including a four-round junior middleweight match-up of pro debuters between LeWayne Hardiman of Las Vegas and Dustin Petron of Rosemount, MN; a four-round heavyweight bout featuring the pro debut of Pat Quinn from St Paul, MN against John Schimon (0-1) of Minneapolis; and a four-round lightweight tilt between Milwaukee's pro debuting Adrian Martinez and Kurtis Erhorn (0-1) of Grand Rapids, MN.