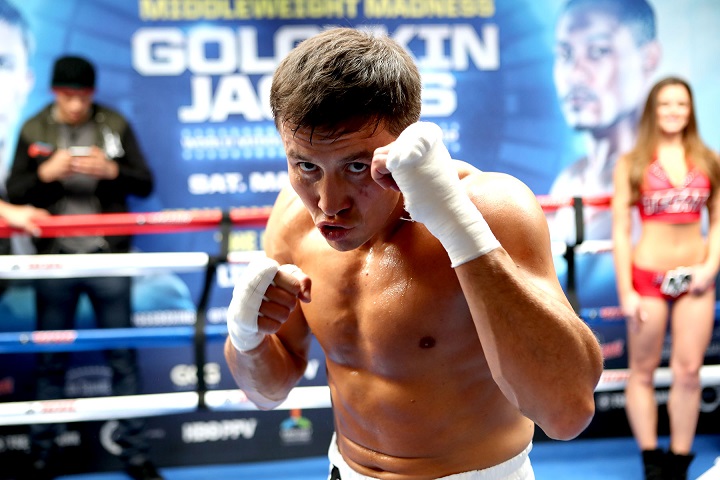 Just what will middleweight champ Gennady Golovkin's next move/fight be? The last we heard, GGG's Dream Fight was to face reigning WBO boss Billy Joe Saunders, thus being able (if he won the fight) to walk around with every single middleweight strap there is that counts.
According to BJS promoter Frank Warren, Saunders has signed the contract, and is now merely waiting for Triple-G to do likewise; the fight a real possibility for June in Golovkin's home country of Kazakhstan. But Warren, in speaking with iFL TV, recently said that he has been informed by a member of Team-Golovkin that GGG is currently nursing an injury of some kind, and is holding out on putting pen to paper, contract-wise, as a result.
"At the moment, they're saying that Golovkin is injured. So we're waiting to see where this is all going. But as far as I'm concerned, we agreed terms (for the Saunders-Golovkin fight)" Warren told iFL TV.
But upon hearing about this, GGG's trainer Abel Sanchez, when being contacted by RingTV.com, said he has "no idea what Frank is talking about."
In talking with Ring earlier today, Abel said that he is completely unaware of any injury, niggling or serious, currently suffered by his fighter.
"I have no idea what Frank is talking about. There was no injury per se but every fighter goes into every fight with little nagging things," Sanchez said today. "They never go in 100-percent. If you come out of a 12 round fight with [Danny] Jacobs, I'm sure there was soreness. But what I know of? No, you saw pictures of him in New York after the fight."
So, if GGG is not injured – and there seems no real chance Sanchez would not be aware of it if his fighter was injured – what is the delay in Golovkin signing the Saunders fight? Has Oscar De La Hoya's recent warning – that if GGG fights in June the huge Canelo fight, still (optimistically) set for September, would be in jeopardy – given Golovkin pause?
Who knows. Maybe we will all know a lot more after Canelo has fought his big May 6 clash with Julio Cesar Chavez Jr. But how long will Saunders be willing to play the waiting game?