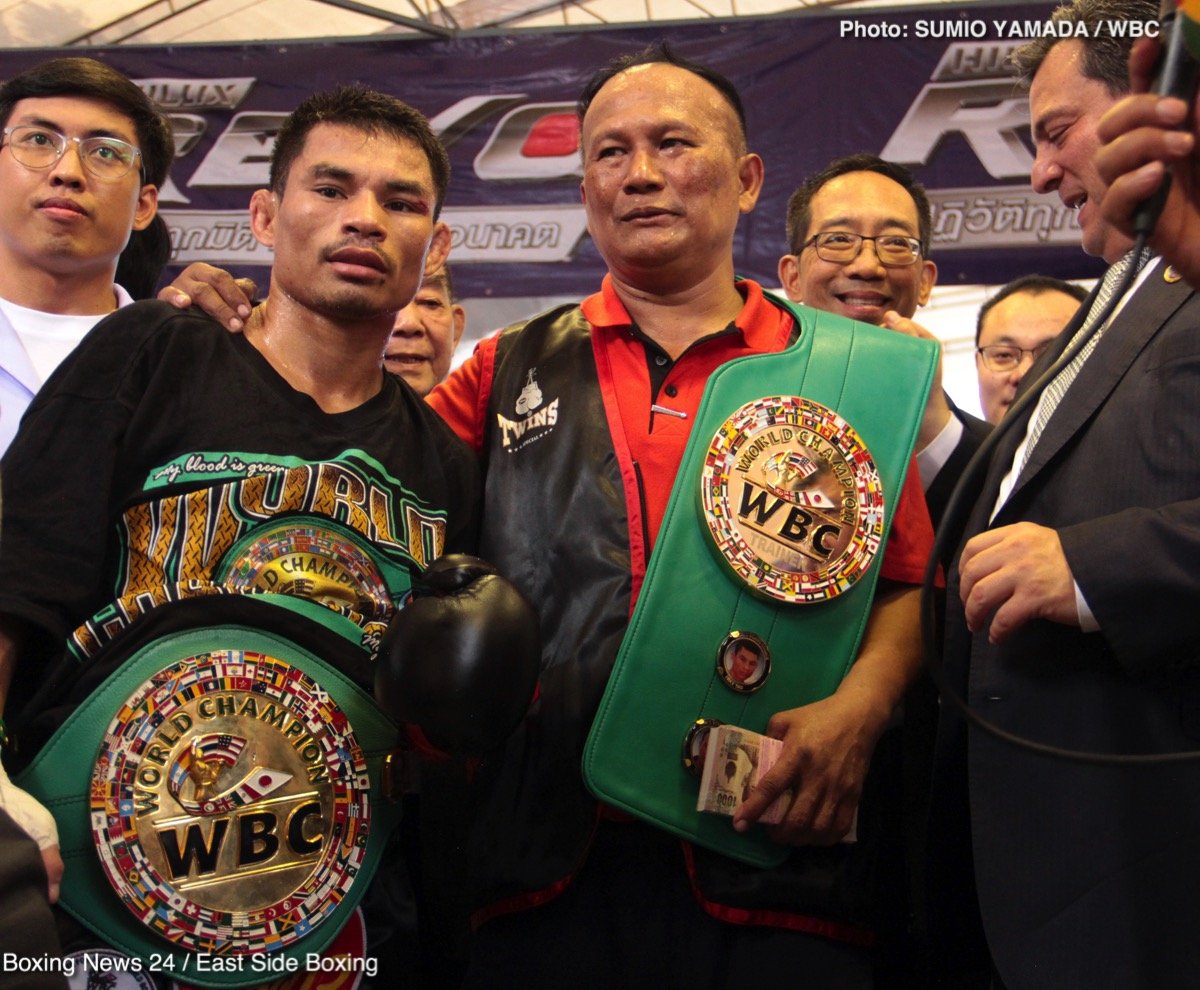 Superstar Floyd Mayweather is not the only boxer to have "beaten" Rocky Marciano's famous 49-0 record and reached fifty straight pro fights without a loss. Yesterday in Thailand, WBC minimumweight champ Wanheng Menayothin crushed Panamanian challenger Leroy Estrada inside five one-sided rounds. With the fifth-round stoppage win, "Dwarf Giant," Menayothin earned the most impressive record of all current fighters (Mayweather currently inactive, unlikely to ever box again – perhaps "Money" will fight again but in MMA).
Challenger Estrada came out fast against the defending champion and he did manage to inflict a cut over Menayothin's eye, but soon the difference in punching power told the story. Menayothin dropped his man twice in the third-round, again in the fourth, before getting the historic victory in round-five when referee Jay Nady waved the fight off after yet another knockdown, having seen enough.
Menayothin is now 50-0 with 18 of his wins coming inside the distance. Last night's fight was the 32 year old's eighth world title defence. Estrada falls to 16-3(6).
Menayothin spoke of how pleased he is to have equalled Mayweather's record.
"I thought it would be tougher," a victorious Menayothin said after the win. "He is young and fast, but he lost his guard early and I took the opportunity. It was easy from then on. I was never confident that I was winning as it was a 12-round fight. Now I'm happy that I have matched Mayweather's record.
Now, can Menayothin go on to break Mayweather's record? In terms of heavyweight legend Marciano and his 49-0 record, most feel it still stands as neither Mayweather (who, most said, deserves an asterisk placed next to his 50th win, as it came against a non-boxer) nor Menayothin is a heavyweight. Certainly, despite his fine achievement, nobody is comparing Menayothin to either Mayweather or "The Rock."
Still, Menayothin has now made a name for himself far and wide outside of his home country and fans are curious to see how good he really is. And to see if he can reach 51-0 or perhaps even further.