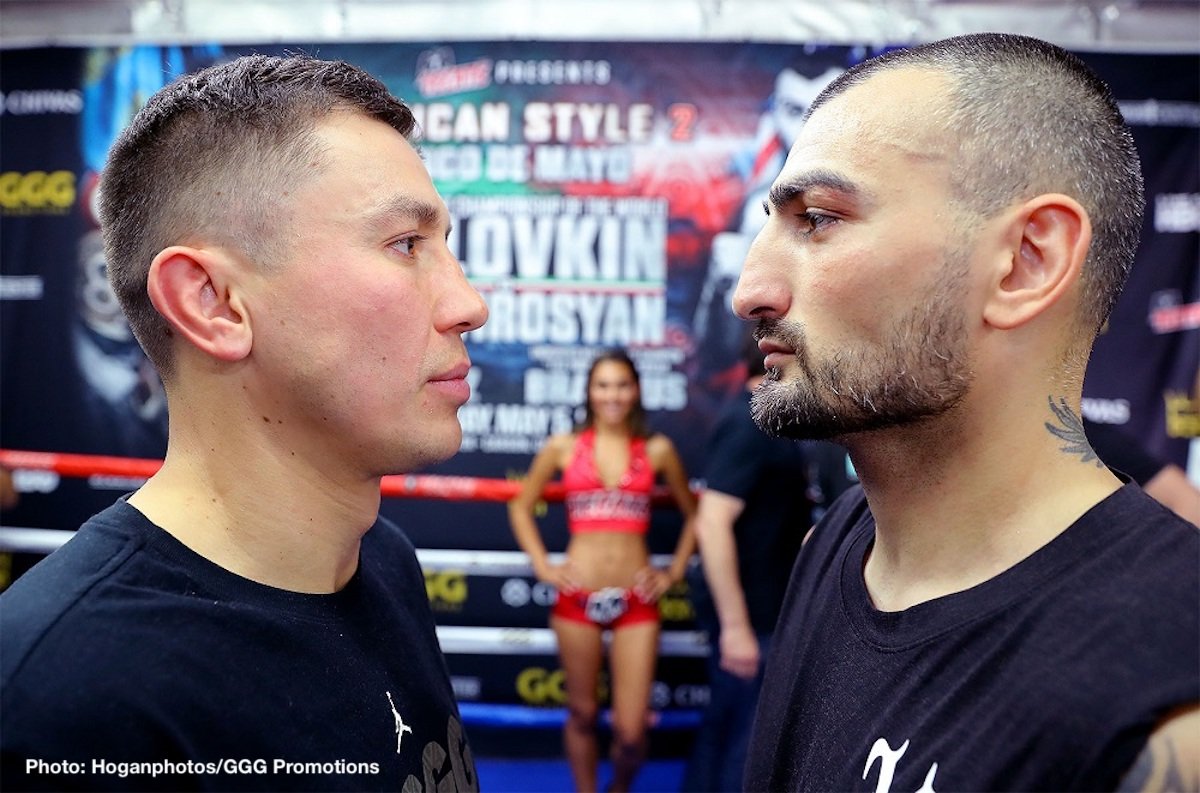 What would it mean to you to tie the middleweight defense record held by Bernard Hopkins?
GENNADY GOLOVKIN: It will mean a lot but compared to Bernard Hopkins my record is much bigger. – Stronger and bigger. This is a good situation for me and for my fans and that's it.
What does tying the record mean to you?
GENNADY GOLOVKIN: It is numbers. Only numbers.
Do you have plans to break the record after the fight whether it be against Canelo or someone else?
GENNADY GOLOVKIN: That would be a new story. You know, maybe. Why not?
TOM LOEFFLER: I think it's bigger for everyone on the team like Abel Sanchez and myself we understand the historic perspective of what Gennady has accomplished in his career and could potentially accomplish on Saturday and be successful in another title defense. He just wanted to fight. He told me he didn't care who and he didn't care where just 'I want to fight on Cinco de Mayo,' and that was my job. He's just focused on his training and winning on Saturday and anything else that comes after that is what he feels the fans and the media want to see.
Abel, how do you feel about tying the record?
ABEL SANCHEZ: I think it's great for his history and for boxing history. If you look at his record he hasn't had any rematches in there. Everybody he fought has been a new opponent. The great Bernard Hopkins fought twice against Echols and three times against Robert Allen. We are fighting new guys every time. By tying it and if he decides to stay at middleweight and break the record in the future is great for boxing history and good for historians to look back upon.
Have you noticed any difference in the way he has approached his training since he is not fighting Canelo?
ABEL SANCHEZ: The disappointment was only for a couple of hours then he got right back in the gym and continued to work. You have to understand this opponent (Vanes) here was training – he was training for a fight against Sulecki, who just fought Daniel Jacobs and gave Daniel Jacobs a very difficult fight – those two guys were set to fight each other in the near future and Sulecki decided to fight Jacobs and Vanes is fighting us. These are two very good fighters. Vanes is rated No. 1 by the WBC and for a couple years nobody wanted to fight him because he's too much of a threat. Sulecki fought Jacobs and gave him all he could handle. I think we are fighting a guy that is not only rated highly but has only three losses against elite fighters at 154 but if Vanes gives us the kind of fight that Sulecki gave Danny Jacobs we are all going to be treated to a great night.
Do you plan to defend the IBF belt?
TOM LOEFFLER: The IBF did grant our request for an exception and we are in the process of clarifying some of those conditions because there was some uncertainty on those. We are dealing with that on our side and Gennady and Abel are completely focused on getting in the ring on Saturday.
Vanes has never been stopped and you have gone 12 rounds in your last couple of fights – are you going for a KO?
GENNADY GOLOVKIN: This is boxing. Nobody knows. If he gives me a chance to stop him, I will stop him. If not, then I don't. This is boxing. If we exchange punches and I hurt him, then it can happen.
How soon do you plan to fight if you are successful on Saturday night?
GENNADY GOLOVKIN: After this fight we will look at the situation – the situation in the middleweight division. I know my second step will be what's better for boxing and better for us.
How important was it for you to keep Gennady active on this date?
ABEL SANCHEZ: We had already been in the gym for about a month when we got the news about Canelo. I didn't want to waste that month and when Tom sat down with Gennady and me, he promised us he was going to try and keep the May 5 date together and get us a fight and he promised it would be a right-hander so we could continue to work like we were fighting Canelo. We knew it was going to be an elite fighter – we knew it was going to be someone at the top, so this guy's a little taller than Canelo but he is still an elite fighter. We stayed focused and tried not to lose that concentration while training to be prepared for the 5th.
ABEL SANCHEZ: The fans have been asking for his activity like it used to be. It used to be we fight three or four times a year and the fans got to see him whether it was at StubHub or overseas and the questions I get from a lot of fans is why isn't he fighting often like he was before. We wanted to make sure we didn't have two fights per year like we have been having and Gennady made sure that Tom understood that he wants to keep a more active schedule. Obviously we are concentrating on the 5thbut hopefully we fight again in September and then December. That way the fans get to see him more. He just turned 36 on April 8th and we may not have him for that many more years so let's enjoy as many fights as we can for as long as we can.
How difficult was it to move from HBO Pay-Per-View to HBO?
TOM LOEFFLER: HBO has a packed schedule of premium programming and everyone was planning on an HBO Pay-Per-View fight. There was not boxing slated on the HBO network for May 5 and going off the pay-per-view platform, then we had to create a slot on the HBO network. We give a lot of thanks to Peter Nelson for supporting GGG and his desire to continue to fight on that date. The easiest thing for HBO to say would have been let's postpone it for a month and put him on in June but that totally messes up Gennady's schedule as Abel said, both from a training standpoint and having turned 36 he wants to get in the ring as soon as possible and as often as possible. He is a unified champion and has a lot of responsibilities and has been one of the most active champions in boxing. When you get bogged down with a Danny Jacobs fight, which took four months to negotiate, and everything got pushed back from a December date to a March date, then you have negotiations with Canelo. If it were up to Gennady he would fight three or four times a year. He knows one punch can change a career, and you don't know. So fight as much as possible. He is the most entertaining boxer today and he trains to put on a good show even if that means taking some punches to throw more back. He's sold out the last eight arenas he has fought in. It's a huge opportunity for the HBO subscribers to see him. Most fighters, once they make the successful transition to HBO Pay-Per-View, they don't go back. Having sold over one million pay-per-view buys against Canelo – having this fight at StubHub Center is a Cinco de Mayo present for the boxing fans, and to see Cecilia Braekhus in the first female bout on HBO along with the rest of the undercard fights.
How important is activity to the success of Gennady's career?
ABEL SANCHEZ: I think the activity is more for fan appreciation than it is for his career. We've gotten to the point now where he is an established star. The chance to see him in a place like StubHub in an arena where every seat is a great seat and then to be on regular HBO I think it is a present, like Tom said. Hopefully we can do a Cinco de Mayo fight next year, and September and that way the fans can continue to watch this star for another couple three years.
You have a very close relationship. How do you keep that separate from preparing for fights?
ABEL SANCHEZ: The great thing about working with an athlete that has an amateur pedigree coming from the Kazak system – it is easy to separate the gym, the fight and our personal life. We have to be very professional when we are preparing him and professional when we are taking him into the ring. When we start allowing emotions to get in the way, that's when we start to make mistakes, not just for the coaches but for the fighters too. We have to make sure we treat this as a sport and make sure we treat this in a manner that we have to prepare to be the best that we can be on that night. The emotion is after and the emotion is when we are not in training camp. Yes, we have bonded very well but it is my job to make sure that I look after his best interests and that means not being an emotional coach.
Do you think having Cecilia Braekhus on HBO will pave the way for more women?
TOM LOEFFLER: This is a huge opportunity not only for Cecilia but also for women's boxing. Originally it was going to be Chocolatito as the co-feature, which was one of the great combinations in boxing – he is such an exciting dramatic fighter and a pioneer for the flyweight and super flyweight divisions and responsible for opening a door and creating the super flyweight series that we've done with HBO. Unfortunately, due to the political unrest in Nicaragua, Chocolatito was unable to get his Visa in time to be here for fight week. That scenario opened the door for Cecilia. She was originally set to be on the pay-per-view. She sells out 10,000 seat arenas in Norway and does big television ratings, which is a big part of the pay-per-view international telecast. She is the only undisputed in the sport of boxing. She is the only boxer that has one more belt than GGG has. It's ironic that Edmund is training Vanes because the UFC had told Edmund, who trains Ronda, that there would never be a women's bout in the UFC and she eventually became the UFC's biggest star. I think that Cecilia has that personality to be a star and she's fighting a tough customer, Kali Reis, a former middleweight champion and she's coming down to challenge Cecilia for all the belts.
Can you tell me some strengths and weaknesses of Vanes?
ABEL SANCHEZ: In looking at some of the tapes, I have followed him since I have other fighters at 154. The strange thing about Gennady is that everybody that fights Gennady has to adapt to what Gennady does. So no matter what Vanes has done in the past against other fighters, he won't be able to do that against Gennady, he's got to adapt to what Gennady is going to bring into the ring. He will never be the same after this fight. None of the fighters that Gennady has fought were ever the same. Jacobs looked terrible in his last fight. Why? Because he went twelve rounds with Golovkin. I always prepare my guys to be the best they can be and the other guy is going to have to adapt to them. Obviously we know that he has a very good right hand. He's taller than Gennady. He's probably going to be a little faster at the beginning because he is a junior middleweight. He has decent punching power. If I try to formulate what he is going to bring to the table, it would change after he gets hit with the first shot. We are looking for the elite fighter that Vanes is but we are going to take it to him and if he comes forward the fans are going to be treated to a great fight. It's not a matter of giving away the game plan it is a matter of what Vanes is willing to expose and what he is willing to put himself through in a fight.
Have you been surprised by the negative backlash, because he is a pretty good fighter?
ABEL SANCHEZ: I am very surprised because Vanes was supposed to fight the guy that just fought Jacobs and he gave Jacobs all he could handle. Jacobs is probably one of the top three middleweights in the world and Sulecki was hitting him with shots maybe he shouldn't have hit him with. When people are badmouthing Vanes you have to realize these two guys were supposed to fight each other prior to Sulecki choosing to fight Jacobs and Vanes deciding to fight Gennady. Vanes is rated No. 1 in the WBC and his losses are to the guys that are also in line to fight Golovkin. Andrade put his hat in the ring when Canelo fell out. Lara has been asking for Golovkin for how long? One of the Charlo's has been asking for Golovkin. For this guy to want to step up and make this fight in two and a half weeks, you have to give him credit, one, that he took the fight, and two, that he thinks he can win. It's an opportunity to make history.
Gennady, what do you know about Vanes?
GENNADY GOLOVKIN: He is a good fighter. I remember him in 2004 in a couple of fights and he was good. He has a very strong chin and he is a little taller and has a longer reach and me. He has a lot of good experience. He has fought a lot of good boxers. I know my style and it matches up good with his but my style is much more interesting.
Abel, does Vanes height propose a problem?
ABEL SANCHEZ: No, Gennady likes to chop down trees.
Would you try to unify against Saunders or a Canelo rematch?
TOM LOEFFLER: It all depends on what happens May 5. I always try to look forward but these days everything is so convoluted with Canelo's suspension – he said he is ready to fight September 15; Gennady does have responsibilities for mandatories; it's been his dream to unify the division. We have tried to make a fight with Billy Joe Saunders a couple of times and that's how the whole Kell brook fight came to be because we wanted to fight Saunders in the UK and they couldn't do it then it went to Eubank then wound up with Brook. It's always been Gennady's dream to be undisputed.
Do you think GGG will go to the body more against Vanes? It didn't happen much versus Canelo . . .
ABEL SANCHEZ: We make an attempt to but it takes two to tango. If the guy is running away like Canelo was it is difficult to land those body shots. He hit Canelo with a body shot in the fourth or fifth round and Kenny Bayless admonished him for hitting him in the back – Canelo turned his back while he was running away and got hit with a shot. But Canelo is also known as a body puncher and he didn't throw any body punches. The styles have to mesh together and the two guys have to be willing to make a fight of it and in that instance, unfortunately, Canelo fought completely different than he fought the forty times before.
Have you noticed a difference in Jacobs in his two fights since he fought Gennady?
ABEL SANCHEZ: It's not only Jacobs. If you go back to Lemieux, to Stevens, to Wade, to Willie Monroe, they are never the same. Murray also. They are never the same after they go rounds with Gennady. Jacobs was supposed to demolish Arias and he had a difficult time with him, which was his first fight after Gennady and now the fight with Sulecki he looked terrible. He gets hit with everything in the book and the reason being, in my opinion, is once you go twelve rounds with Golovkin you are never going to be the same.
TOM LOEFFLER: We are happy to have these two men on. Gennady is making a record-tying consecutive middleweight title defense, and Vanes, who is young, hungry and has one of the biggest opportunities in the sport of boxing – to collect multiple titles in one fight. We have the best male boxer in the sport, the best female boxer in the sport, all on the same HBO show. That's a lot of championship hardware in one place!
Promoted by GGG Promotions, in association with Don King Productions and Joe DeGuardia's Star Boxing, and sponsored by Tecate, Chivas Regal, Jordan and Hublot, remaining tickets to the Golovkin vs. Martirosyan world championship event are priced at $750, $500, $300, $200, $100, and $50. They may be purchased online at
https://www.axs.com/ by phone at (888) 9AXS-TIX, or by visiting the StubHub Center box office.
Fans are invited to come early to StubHub Center for the Tecate Cinco De Mayo Fan Fest, from 3 to 7 P.M.