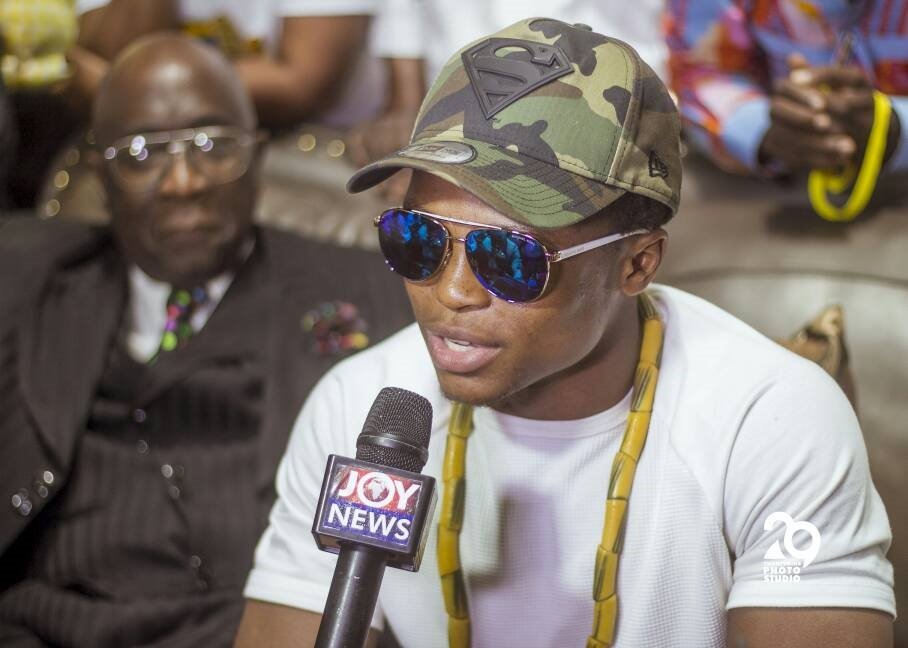 Ghanaians showed up in their numbers on Tuesday night to welcome newly crowned WBO junior featherweight champion, Isaac 'Royal Storm' Dogboe into the country following his resounding victory over previous title holder, Jessie Magdaleno in the USA last Saturday.
Accompanied by his dad/trainer, Paul and other members of Team Dogboe who plotted the sensational assault on Magdaleno , Dogboe was met on arrival by a high powered entourage led by former 3-time world champion, Azumah Nelson, President of Ghana Boxing Authority (GBA), Peter Zwennes and his board members, representatives of the Sports Ministry, traditional and religious leaders as well as fans of the 23 year old.
Dogboe by the victory, became Ghana's youngest ever world champion, beating the previous mark of 24 years held by the great Ike 'Bazooka' Quartey to also follow in the steps of legends like Azumah who was himself full of joy at the accomplishment by young Dogboe.
"I said Dogboe was going to be a champion because I'm the professor so when I see a champion I know," Azumah Nelson said at the welcome reception for Dogboe at the VVIP Lounge of the Kotoka International Airport in Accra.
"I must say a big congratulations to the father, Paul Dogboe, the world champion father and coach, he's done very marvelous. And to the champion I say congratulations, you did it all. God bless you," Nelson said urging the Ghana government to institute a special reward for Dogboe for a job well done.
Chief to call out the Sports Ministry and demand an immediate shift of investment and support into boxing in Ghana was Peter Zwennes, President of Ghana Boxing who was himself at ringside in Philadelphia for the fight.
"Paul Dogboe and his team have done a yeoman's job, I know they spent hundreds of thousands of Dollars to get this far, they deserve a big commendation for what they have done to redeem our image, restore our glory and our place of pride as far as professional boxing is concerned. It was an emotional moment for me at the material time when the fight was stopped in the 11th round, it reminded me of Azumah Nelson way back in 1984 in San Juan, Puerto Rico when he stopped Wilfredo Gomez, that was also in the 11th round to win the title ," Mr. Zwennes said.
"Professional boxing is the sport that has always put us on the world map and I have always said that professional boxing is the number one sport in this country. If you are talking about glory and achievements and laurels, it's professional boxing that has given this country all. Forget about those who talk about the Black Stars taking us to the World Cup, forget about those who talk about lesser sports," the Ghana Boxing chief pointed out.
"And if the Ministry as usual wants to come and take credit for success of other individuals for which we have not seen any concrete contributions, then they must sit up. If the Minister is listening, I want to make it loud and clear that this is the time for them to come and translate their help in practical terms for us to know that they are not just a soccer ministry, they are helping out in boxing," Peter Zwennes fumed.
Calmly relaxed and taking in the whole moment of appreciation of his budding greatness by his countrymen, was Isaac 'Royal Storm' Dogboe who could only give thanks to his God.
"In all things we give glory to the almighty God, he's the one that made it possible. As I keep saying whatever battles or fights I win is not by my strength but the doing of God. He's the one who should be praised, I'm just like a vessel that is being used.
Everybody that is here shouldn't be here because they want to praise me, they should be here because they want to give glory to God," said the highly religious Dogboe.
"The people, Ghanaians wanted this very much and God has answered their prayers. I thank God for my dad and the team around me for believing in me and motivating me. I didn't see this as a difficult fight, yes Jessie Magdaleno is a great fighter and he gave me a good fight but I just went in there and executed what I prepared for in training and by the grace of God it worked," the world champ stated.