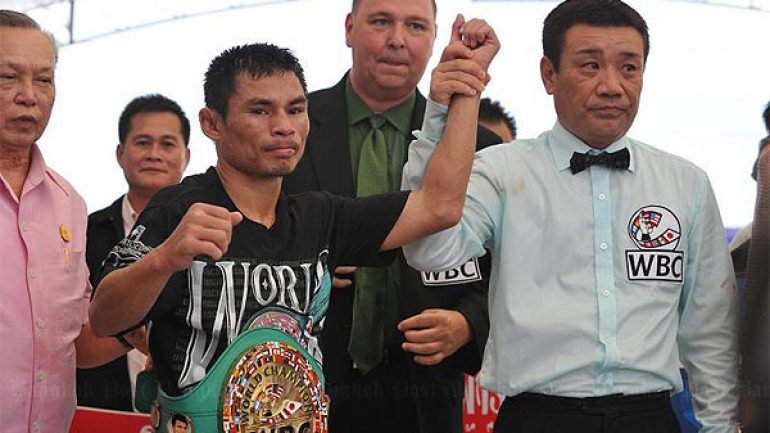 Known, colourfully, as the "Dwarf Giant," Thai fighter Wanheng Menayothin (photo: WBC) is quietly closing in on tying Floyd Mayweather's 50-0 pro record. Far from a household name anywhere apart from in his homeland of Thailand, the reigning, undefeated WBC minimumweight champion is currently 49-0 and his next fight, expected to take place in either April or May, against Panamanian Leroy Estrada, could see this unheralded fighter go to an incredible 50-0. And it's safe to say not too many people will even hear about it.
The 32 year old who stands just 5'2" has retained the world title, which he won in November of 2014, some eight times. Fans are now looking at Menayothin and wondering if he can break the legendary Rocky Marciano's 49-0 ledger (which he has now tied) and if he can go on to surpass Floyd Mayweather's incredible 50-0 record.
In the past, great fighters have gone better than both 49-0 and 50-0 – Julio Cesar Chavez most famously, with the Mexican icon reaching 89-0-1 before suffering a loss – but so far no fighter has retired and stayed retired with anything higher than an unblemished (no draws) 50-0 ledger (and that's Mayweather; who might, still, come, back – yet again).
Might the Thai fighter reach 51-0 and then retire, his place in boxing history secure? It's possible. What is certain is this: with all the recent attention Menayothin has been getting due to his numbers, many fans are checking him out on YouTube. A pro since back in January of 2007, Menayothin turning pro at age 21 and the WBC champ has boxed exclusively in Thailand.
Might he now be tempted to pack his passport and travel for a fight elsewhere? Fans are interested in Menayothin, primarily because of those numbers, but he sure is an exciting, action fighter also. Of course, some critics might point out how Menayothin's quality of opposition has not been as good as Mayweather's, or Marciano's, or Chavez's (recently, Menayothin has defeated a guy with a 21-44-2 record, along with a 7-8-1 fighter and a 2-4 operator).That said, it still takes a lot to get to 49-0 as a pro fighter. And Menayothin's 50th foe, Estrada, is a decent enough fighter.
Of course, the mimimumweight division is simply not as talent-rich as other weight classes. This is of course not Menayothin's fault (nor can he realistically be expected to move up, standing just 5'2" as he does). Still, all things considered, Menayothin's incredible unbeaten record deserves much respect.
Let's tune in (if we can) and see if the "Dwarf Giant" makes it to 50-0 this spring.