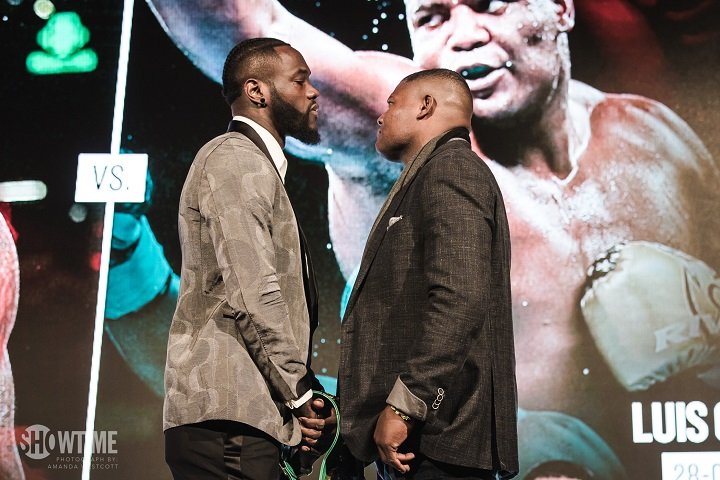 It's bombs away. It's kill or be killed. It's "Somebody's O has got to go!" It's the biggest heavyweight fight to take place on U.S soil since the days of Lennox Lewis and Vitali Klitschko. It's Deontay Wilder Vs. Luis Ortiz and it takes place this Saturday night in New York – at last.
Some people, the Wilder critics, say this is the acid test for Wilder, the biggest, even the first, test of his entire pro career (conveniently forgetting Wilder's on-paper-tough tests against Bermane Stiverne, Malik Scott and Chris Arreola – is it really Wilder's fault he made those fights look easy?). While others say "cheater" Ortiz is going to get what's coming to him, and that's a nasty, brutal and never-to-be-gotten-over KO defeat.
We will soon see, even though it looked, back in November, when Cuban lefty Ortiz tested positive for an illegal substance, as though we would never see this fight. But Ortiz cleaned up his act (he and his team insist no wrongdoing was ever done in the first place – or the second place) and Wilder, seemingly hell-bent in having this fight (to "punish" Ortiz, Wilder says earnestly) agreed to give Ortiz another shot.
So who wins?
This one is big, very big, and two of the biggest, most dangerous heavyweight bangers will be going at it, swapping leather-clad bombs in the heart of The Big Apple on Saturday, March 3 (remember the date – oh, you already do, real fight fans, as a certain "Fight of The Century" took place on this date some 47 years ago – this "FOTC" actually living up to the hype).
This showdown, a genuine Bad Blood, or if you prefer, Grudge-Match fight, looks set to also live up to the hype. Wilder, 39-0(38) is promising a KO win, so too is Ortiz, 28-0(24) with 2 No-contests. It's both fair and safe to say, there will be no 'feeling each other out' process in this one. Not in this battle. A heavyweight version of the famed Hagler-Hearns war might be just a little too much to wish for, but as far as big guys go, this one might not pale too far behind in terms of furious, relentless savagery.
Can't wait? Me neither.
Will this one be a case of who lands first wins? Or maybe whoever has the better beard, the better chin (still a mystery in the case of Wilder in the voice of his sceptics) wins? Will both men hit the mat in this battle? We all agree it will be a fun fight, an eventful fight and a memorable fight.
The last word (until bell-one) goes to Jay Deas, trainer of "The Bronze Bomber."
"I never, ever predict, especially not a round," Jay replied yesterday in response to being asked for his call on the fight his man will soon have. "We always work super-hard in the gym to win the fight. That's always the goal."
Who will score on Saturday, Wilder or Ortiz?
Prediction: Wilder gets off the floor to sensationally flatten Ortiz inside five hellacious rounds.