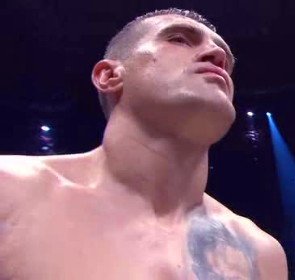 By Michael Collins: In dissecting what went wrong for the huge 6'7 1/2″ Mariusz Wach (27-1, 15 KO's) last Saturday night in his embarrassingly one-sided 12 round unanimous decision loss to IBF/IBO/WBA/WBO heavyweight champion Wladimir Klitschko (59-3, 50 KO's) in Hamburg, Germany, it comes down Wach's failure to let his hands go.
Wach had the built in power to win the fight if he had thrown some damn punches, but no. Wach fought passively by just covering up and every once in awhile throwing a wild right hand that frequently missed badly.
Wach's mistake was that he just covered up like a sparring partner instead of taking advantage of what could be his only opportunity to ever fight for a world title. I can't see Wach ever getting another chance at a strap unless the sanctioning bodies give him an inflated ranking off of a bunch of wins over lower level opposition.
Before facing Wladimir last Saturday night, the best opponents that Wach had ever fought were Kevin McBride, Jason Gavern and Tye Fields. Had Wach been forced to fight a top rated heavyweight like Kubrat Pulev I feel that Wach would have failed miserably and lost badly.
This is why it's so disappointing that Wach didn't put in a better effort to try and beat Wladimir. Wach was getting clobbered anyway by right hand after right by Wladimir, so he might as well have gone right hand crazy himself to try and get lucky. Wach did stun Wladimir in the 5th with a nice right hand, but he didn't go wild to try and finish the job. Wach let Wladimir clinch him to ride out the round. The smart thing to do would have been for Wach to land head shots while Wladimir was holding on.
Wach's were free and there's no rule against fighting out of a clinch. Wach needed to keep punching and not play it nice with Wladimir. When you're being grabbed 24/7 then you got to play it mean by throwing shots in the clinch to keep Wladimir from holding so much. Wach sadly didn't do this and he let the fight get away him early. Punching out of a clinch was a huge mistake that Wach made in this fight in addition to not letting his hands go.
If Wach had treated this fight like it was a three rounder instead of a 12 round fight he might have been able to KO Wladimir by going all out in the first three rounds. Wach had plenty of right hand power to KO Wladimir but he looked like he was pacing himself for fear of running out of gas.