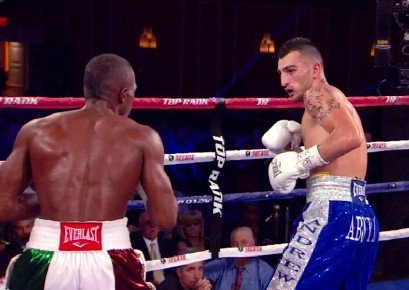 By Joseph Herron: Last night on "The Pugilist KOrner's: Weekend Wrap", veteran trainer Ronnie Shields shared his thoughts regarding Erislandy Lara's (17-1-2, 11 KOs) technical draw with Vanes Martirosyan (32-0-1, 20 KOs) on Saturday night at the Wynn Las Vegas.
Although the Cuban exile didn't take full advantage of his opportunity to meet Saul "Canelo" Alvarez in 2013, Mr. Shields is very proud of his Junior Middleweight star for fighting through a very unexpected situation.
"What most people didn't realize was that Erislandy injured his right hand in the first round," proclaims Ronnie Shields. "After the first round, he came back to the corner and whispered something into his manager Luis Decubas Jr's ear. I didn't find out until after the second round had started that Erislandy severely injured his right hand in the opening round."
"I told Erislandy to just box Vanes and feel him out for the first few rounds. That was the primary game-plan anyway. I wanted to see what Freddie Roach had planned for Martirosyan to begin the fight. I had a feeling that they were going to have Vanes uncharacteristically fight while moving forward, because they felt Erislandy wasn't as effective fighting while backing up."
"But Erislandy is a complete fighter. He is very versatile and can fight using different styles and tactics. Our plan was to outbox Vanes early and then start backing him up in the mid to late rounds. Because Vanes has never been an effective aggressor, I knew that we would eventually frustrate him, break him down physically and mentally, and take over the fight."
"But it became very difficult to set anything up without his jab or right hook. So I told Erislandy just to keep firing his left hand as much as he could. Lara was unusually pawing with his jab and almost back-handing Vanes, which you never see from a very experienced fighter like Erislandy."
"Lara couldn't throw his jab or his right hook because his hand was so swollen; he couldn't feel his right hand through the hand wraps. So I just told him to box him with a focus on the left hand."
But despite Lara's physical ailment, Ronnie realized that possible loss was looming in the distance if his fighter didn't pick up the pace and begin to find a home for the left hand lead.
"After about the fourth round, I told Lara that he had to start getting more active with his left hand and began urging him to let his best weapon go. I told him that we couldn't afford to continue having close rounds because we were fighting in a very pro-Martirosyan environment. He had no choice but to fight through adversity and let his left hand fly. I kept telling Erislandy to throw the left hand, throw the left hand."
In the middle rounds, Lara began to heed his veteran trainer's advice and threw his primary weapon effectively with counters and leads. According to CompuBox statistics, Lara landed 44 of 137 total punches during rounds five through eight, with a 32% connect ratio.
Ronnie is truly convinced that the unfortunate and incidental clash of heads in the ninth round, saved Vanes Martirosyan from experiencing his first professional knock-out loss.
"When Lara began to fire his left hand, it became target practice. Because Vanes isn't comfortable punching while moving forward, we knew that it was only a matter of time before we started to hurt him with the left hand and drive him backwards."
"Around the eighth round, Lara began to lead with the left and started to push him back. Erislandy was very effective throwing the lead and sometimes even doubling it up while moving forward. But because my fighter started to take the lead, it unfortunately resulted in a clash of heads with Vanes in the ninth."
"When the head butt happened, Lara threw a jab and Vanes was about to counter with a right hand and their heads collided. But Lara was about to throw a left hand over the right hand counter. The left hand was coming."
"I'm telling you right here and now that if the fight doesn't get stopped by the incidental head butt in the ninth round, Erislandy Lara knocks out Vanes Martirosyan in the tenth or eleventh round. I'm telling you, he would have stopped him with the left hand because he couldn't miss with it."
While there has been much speculation from Freddie Roach and Vanes Martirosyan about the intentions behind the clash of heads, Ronnie insists that Erislandy is not and never has been a dishonest fighter.
"Look, Lara is not a dirty fighter. Yes, he will frustrate his opponents, but when a southpaw fights an orthodox fighter, head butts will happen in boxing. My fighter has never been penalized or deducted a point for any intentional fouls throughout his entire pro or amateur career. He would never want to win in that fashion. If anything, Lara was deprived of a clean knock-out and the opportunity to face Canelo Alvarez for the WBC title because of the head butt."
After the clash of heads occurred in the ninth round of the scheduled twelve round match-up, the fight was reverted to the judges' scorecards. Judge Richard Ocasio scored the fight 87-84 for Lara, judge Jerry Roth scored the bout 85-86 for Martirosyan, and judge Dave Moretti scored the contest 86-86; creating an official fight verdict of "Technical Draw".
With an assumed emphasis on clean, effective punching, the experienced trainer doesn't understand why Erislandy Lara wasn't declared the official winner on Saturday night.
"Look, I trained Vanes and I knew that he wasn't comfortable coming forward. So I knew that he wasn't going to be throwing a lot of punches. I also knew that if it became a tactical fight, which it did, Erislandy was going to be the winner because of his ability to land clean and accurate punches while using the entire ring."
"Vanes is usually a counterpuncher and isn't comfortable taking the lead. He doesn't throw many punches while being the aggressor and everyone saw that on Saturday night. So if the judges at ringside are supposed to be scoring the fight with an emphasis on clean, effective punching, how did my fighter not get the decision?"
According to CompuBox statistics, Erislandy Lara landed 74 of 257 total punches thrown (29%), and Vanes Martirosyan landed 33 of 243 total punches thrown (14%) through eight full rounds of action.
"He landed the cleaner, more effective punches throughout the fight, and more of them with only one good hand. When we got to the dressing room and I took his wraps off, Erislandy's hand was so swollen. He couldn't even close it to make a fist."
"I guess we should just be thankful that the judges didn't job my fighter and give him the loss, because it was on a Top Rank fight card in front of a very pro-Vanes Martirosyan crowd. Whenever Vanes would merely swing and miss, the crowd would erupt. But the judges at ringside should be trained to know better. My fighter should have won that fight for landing more clean, effective punches throughout the entire fight."
Martirosyan and company have already stated that they would be willing to face the Cuban born fighter once again in a rematch in 2013. But the expert trainer isn't sure that the networks would be excited to purchase a return bout.
"I don't know if the networks would be willing to buy another tactical fight like we saw on Saturday night. Because both fighters are predominately counter punchers, you're not going to see very many exchanges. More often than not, Martirosyan versus Lara will result in a tactical match-up because of their styles. And if the networks aren't interested in buying the fight, there's no way a promoter will be willing to host an event like that."
"Of course Lara would be more than happy to fight in a rematch if the WBC and the networks were willing to stage the event, but quite honestly I would much rather see Lara compete in a more exciting match-up against either Canelo Alvarez or Alfredo Angulo. I think the fight fans would much rather see those contests as well. I think the fans would really love those fights. I know I would, because I know Erislandy would beat either one of those fighters."
Click here to Reply, Reply to all, or Forward