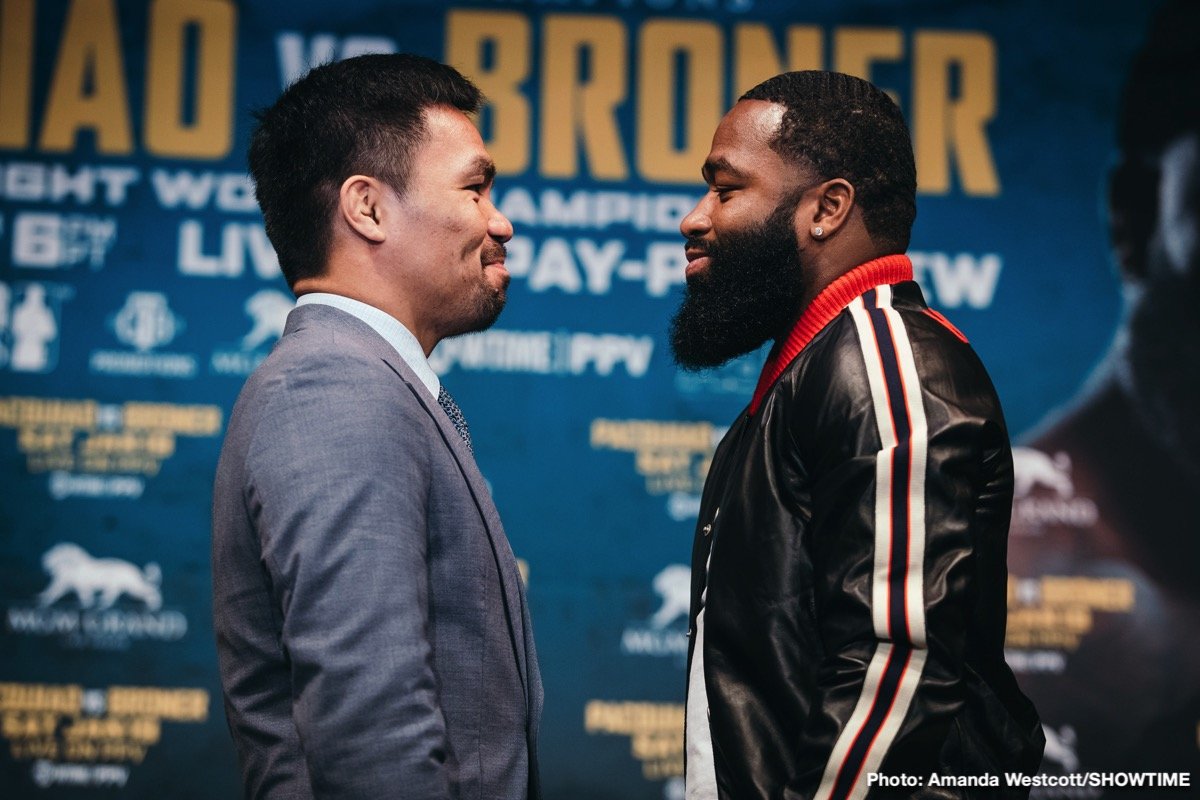 So what to make of today's presser to officially announce the January 19th clash between Manny Pacquiao and Adrien Broner in Las Vegas? Pacquiao, clad in a smart suit, was as gentlemanly as we have grown accustomed, while Broner, dressed in far more casual attire, was as classless as we have long grown tiresome of.
(Photo credit Amanda Westcott/SHOWTIME)
Pacquaio was as dull as he was respectful towards his upcoming foe, while Broner was perhaps entertaining to the lovers of trash-talk and unnecessary foul language. Actually, come to think of it, if Broner hadn't been, well, Broner, today's presser would have been duller than dishwater.
"Don't miss this great and prestigious fight," Pacquiao said.
"I'm here to f**k him up," Broner grinned.
In truth, this is a solid, if not great match-up. Nobody knows how much future Hall of Famer Pacquiao has left, while no-one really knows how much Broner had in the first place. Broner did say – between swear words and trash-talk – how a win on January 19 will see him "turn into a legend overnight."
But will it? Is Pacquiao still the ultra relevant fighter he once was? If Broner did win in Vegas in the first big fight of 2019, would it shock the world, or anyone? For hardcore fight fans, this one is a decent fight, a good fight, but nothing more, nothing less. Pacquiao has enjoyed pound-for-pound the best in the world status, Broner has come short. Whoever wins in January, this will not change.
But as offensive as Broner was at times today, he and Pac-Man were all smiles as they attempted the traditional (and somewhat tiresome) face-to-face stare-down. Both men cracked up laughing as they tried to go nose-to-nose, shaking hands as they departed. Maybe this is the best indication of what we can expect when these two fight early next year.
In the eye of the cynics, this fight is a mere prelude to a far more lucrative fight: Mayweather-Pacquiao II. But Broner may see to it that "The Fighting Senator" doesn't get that far. Still, everyone knows who the fans will be cheering for on the night of January 19th.