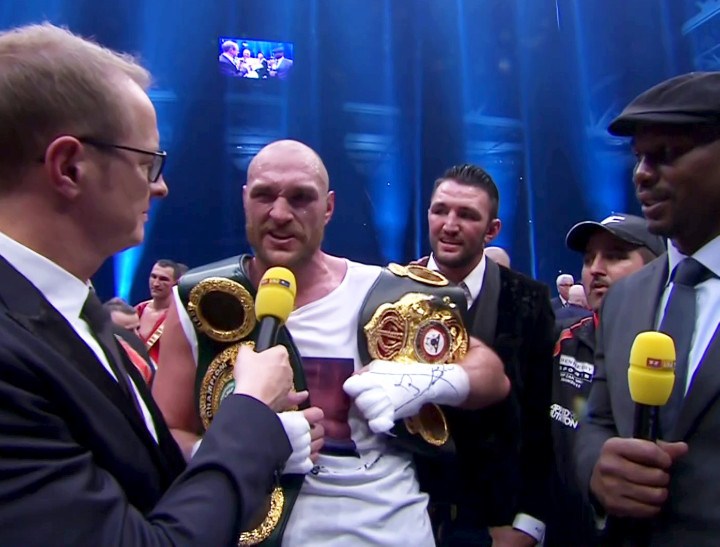 New WBO/WBA/IBF heavyweight champion, Tyson Fury, has warned WBC belt holder, Deontay Wilder, that 'he will have to wait' for any unification fight due to his rematch obligations to Wladimir Klitschko, though warned the American 'I'm bred to be a fighter' and laughed at the very mention of his name.
Following Fury's fantastic win over Klitschko in Dusseldorf, Wilder wrote two social media messages, the first of which said – 'I see you @Tyson Fury #ImComingForYou,' followed by another message in block capitals that read, 'I'm officially the best heavyweight champ of the world. Haters can acknowledge it or look foolish trying to deny it."
The oft-maligned Wilder won his title way back in January, and has been criticised for the quality and level of his opposition since that time, as he warms up for yet another voluntary defence in January [against TBA], granted in lieu of the fact mandatory challenger Alexander Povetkin would not be ready until next April/May for their eventual due-date.
Asked about the American champion at last night's post-fight presser, Fury was dismissive and clearly not in the mood to discuss a fighter he believes is a good few levels beneath him, though did take the time to sound out a veiled warning.
"Why do we need to mention Deontay Wilder?," Fury said post-fight. "Let's have a laugh at his name, shall we? Wladimir Klitschko was the no. 1 in the division, prob the P4P king, if you wanna say that.
"This man's [WK] been on top for so long, he's reigned as the champion of the world for the longest, now Floyd Mayweather's gone, Wladimir took his place. If I've just taken him out why would I have to be bothered about a novice basketball player who came to boxing a couple of years ago?
"I'm a true natural fighter, I've been doing it all my life. You get animals, dogs, horses, anything and it's bred into them to be what they are, for racing, showing, whatever, and I'm bred to be a fighter.
"If Deontay Wilder wants a unification he's gonna have to wait because Wladimir Klitschko has a round 2! [rematch]," he added.
Twitter @undilutedpoison