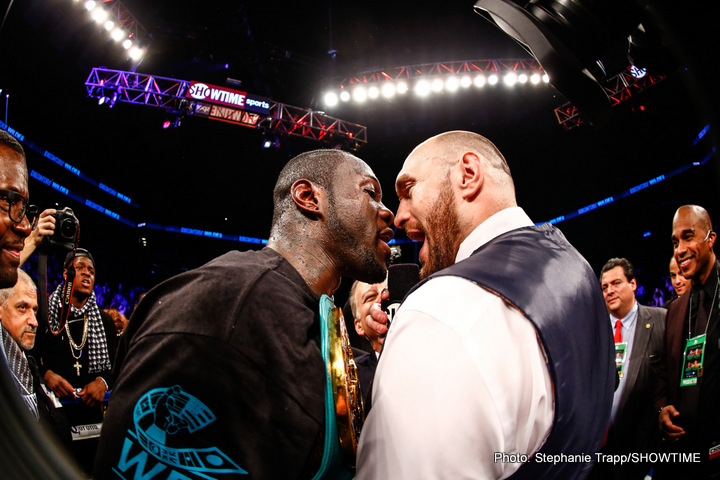 News has just broken regarding former heavyweight champion Tyson Fury's UKAD hearing. The undefeated former champ is now free to box again, his punishment for testing positive for a banned substance in early 2015 being a two-year suspension that has been backdated two years.
So Fury – and his cousin Hughie Fury, who has also been cleared to fight on, he also testing positive in 2015 – is now eager to resume his career. Fury of course last boxed in November of 2015, when he sensationally upset Wladimir Klitschko in Germany to take the world heavyweight titles. Since then the 29 year old has experienced all manner of setbacks; from depression to piling on a ton of weight, to appearing to lose interest in fighting.
But now, Fury – who along with Hughie maintain they never knowingly took anything illegal – is free to attempt to get back to where he once stood: at the top of the heavyweight mountain.
Fury has been back training hard for some time now, losing a good deal of the excess weight he packed on whilst inactive, and he has taken to social media, obviously thrilled with today's news.
"@anthonyjoshua, where you at boy? I'm coming for you punk, ent (sic) no1 blocking my path now," Fury tweeted just minutes ago.
And:
"Might get a quick fight in while I'm in Canada, on BJSaunders undercard," he wrote.
Of course Fury is (likely) joking about fighting as soon as this coming Saturday night, but he cannot seem to wait to get back in there. There has been talk of who Fury's initial comeback foe may be – with everyone from Shannon Briggs, David Price and Manuel Charr being mentioned quite recently – but for now, Fury can breath one big sigh of relief.
There were thoughts of him being handed a much harsher punishment, but now Fury has, as he says, a clear path ahead of him in which to achieve his goal of regaining the titles he never lost in the ring. Fury must still re-obtain his boxing licence, but the word is that this will be a mere formality.
So, get ready for Fury's well-publicised comeback, it could happen very soon.