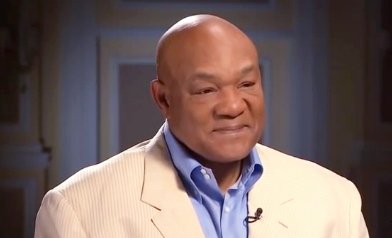 Heavyweight legend, in fact living legend, George Foreman never, ever quit in a fight in his life: the former world champion digging deep in so many epic bouts. Today, the finest elder statesman of the sport we all love so much has a roving eye on all the big fights and what they mean to boxing.
Like the rest of us, "Big George" was disappointed, shocked even, over how pound-for-pound entrant Guillermo Rigondeaux quit on his stool at the conclusion of just six-rounds against Vasyl Lomachenko on Saturday. Foreman, who pushed himself numerous times in numerous fights – his epics with Ron Lyle, Evander Holyfield and Michael Moorer being the stuff of legend – comes from a different era; one where quitting was simply unforgiven.
So what does the former two-time world ruler and former Olympic gold medal winner think of last Saturday night's events? George was kind enough to give this writer some of his time just yesterday.

Q: Champ, you never quit in your life – what are your thoughts on what Rigondeaux did against Lomachenko in what was such a historical fight?
George Foreman: "Well, I must say, you've caught me with an amazing question today, thank you. I needed that reminder. He [Rigo] shocked a lot of people; in fact I'd say he let them down. I do feel so sorry for Rigo, it will take a lifetime for him to live it down. For me, in my career, in the [Ron] Lyle fight, I kept saying to everyone how I'll die before I'm counted out. This was all because my guys told me to get up at the count of 8 in Africa (against Muhammad Ali). I knew I couldn't live without an excuse."
The question now is, can Rigondeaux possibly bounce back from the first loss of his pro career the way George did? Foreman, as we know, showed incredible desire in two comebacks that were launched after the loss to Ali in 1974: George showing the world what he was really made of, first in the classic rumble with Lyle and then, as a so-called "old man," in the battles with Holyfield and Moorer.
But is George cut from a seriously different cloth; one that is foreign to fighters today? Rigondeaux has Foreman's sympathy, but not too many fans are as generous as the heavyweight legend is.